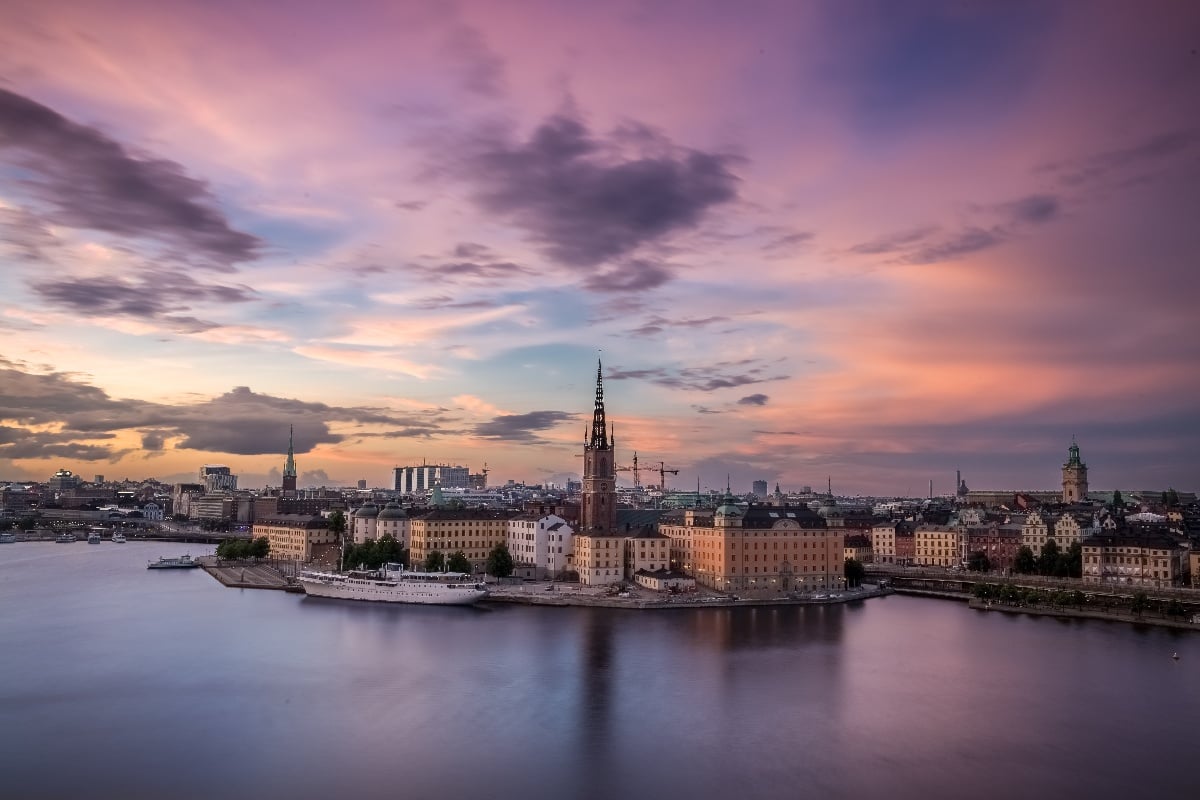 UP Sweden
UP is Sweden's leading cloud based B2B & B2C international marketing agency. Today we have our Creative Hubs in Stockholm, Uppsala, Gothenburg and Malmö. We love Sweden!
UP THERE, EVERYWHERE
Sweden's leading international marketing agency in the cloud
UP was born in Stockholm over ten years ago and today is Sweden's leading international marketing agency in the cloud. With our global community of over 200 people we offer truly seamless collaborations on projects 24/7. This is why our clients can expect more from UP.
In Sweden we have our creative hubs in Stockholm, Uppsala, Gothenburg and Malmö and we help our clients in industries from life science, medical device, health, beauty, industry and destination marketing to reach their domestic and global audiences.
Today the high involvement marketing area, traditionally called B2B, is more dynamic and exciting than ever. We help our clients not only define their brands and offerings but also find and connect with their customers globally.
With our cloud-based agency model, we combine local connection and global knowledge and reach, giving our clients world class service on both the strategic and tactical level. As a full-service marketing agency, UP provides marketing communications, digital and traditional advertising, and brand strategy services to clients around the world. Our team members include brand and marketing strategists, copywriters, creative directors, designers, film specialists, inbound specialists, planners and many others. We are happy to meet you wherever you are. The team will gather at your location, one of our Swedish creative hubs, or in the cloud.
If you're looking for amazing creative work or brilliant ideas with flawless campaign execution, we are UP for it!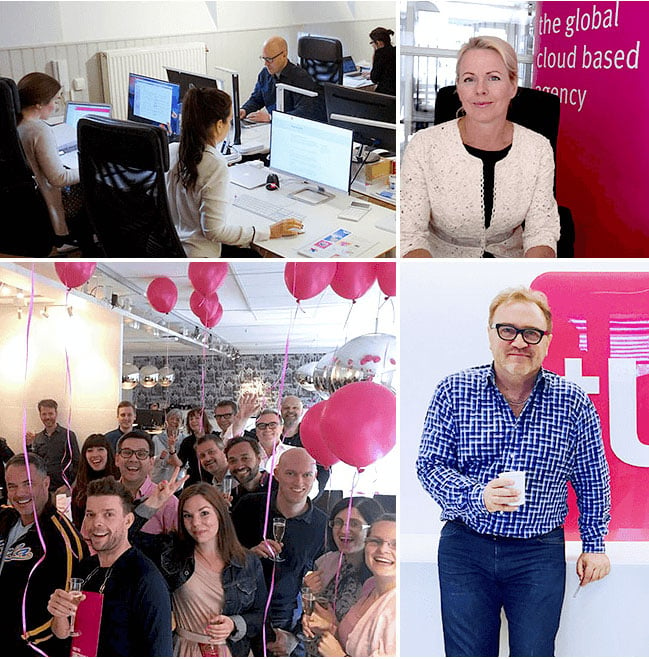 Stockholm, Sweden
Where to find us:
GT30, Grev Turegatan 30, 114 38, Stockholm
We have a vibrant and active community in UP Sweden with our HQ Creative Space located in the heart of Stockholm.
The mix of people in UP Sweden is truly international and we are easily Sweden's most international agency with Americans, British, Finns, Bulgarians, French, Chinese and even Swedes working with us.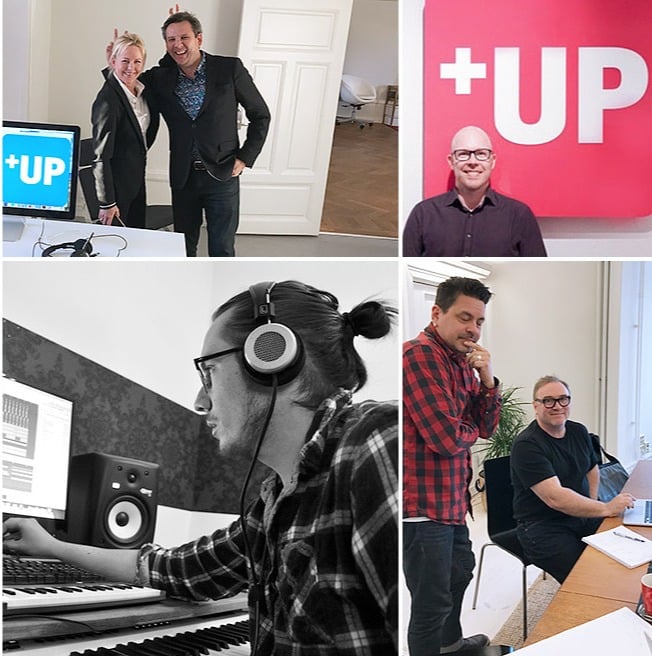 Uppsala, Sweden
Where to find us:
Uppsala Castle, Entrance D, 752 37 Uppsala
UP has a second Swedish base, in the beautiful city of Uppsala, that lies about 80 kilometres north of Stockholm. Located in Uppsala Castle (sounds a bit grand, and it is!), the UP Creative Hub has amazing views looking down over this old academic city famous for its discoveries in the life sciences. With our own strong life science and health focus, Uppsala is a perfect base for UP and we just love working here.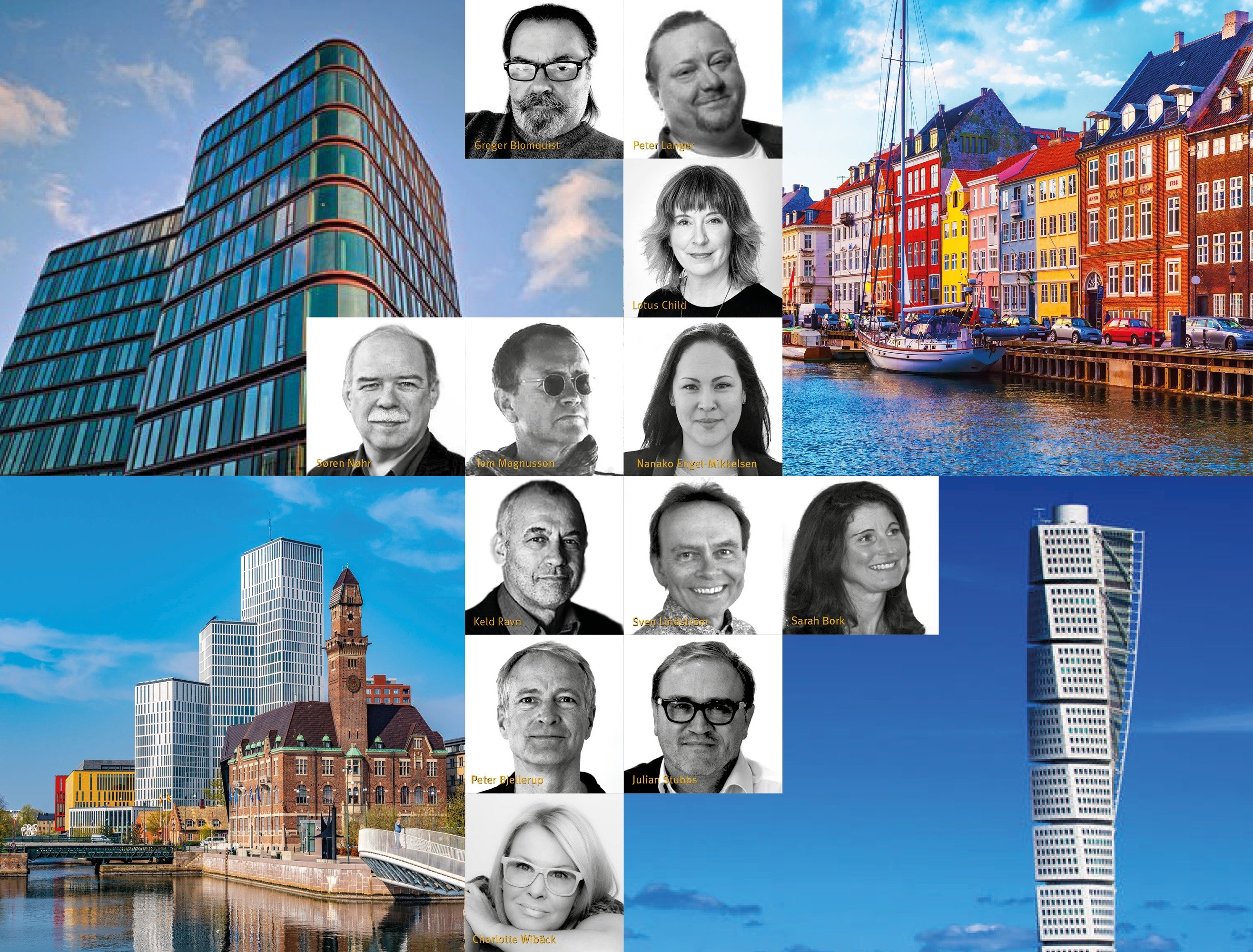 Copenhagen + Malmö
Southern Sweden and Denmark
UP has also a strong community in Copenhagen and Malmö. UP Copenhagen + Malmö combines the best of Swedish "fika" and Danish "hygge" in one team. You could call them the creative bridge in this vibrant region, actually the greatest metropolitan area in Scandinavia.
With UP Copenhagen + Malmö you get our local experience from a wide range of services and industries - covering all UP Focus Areas, with a blend to match the local mix of industries - connected to the global UP community around the world.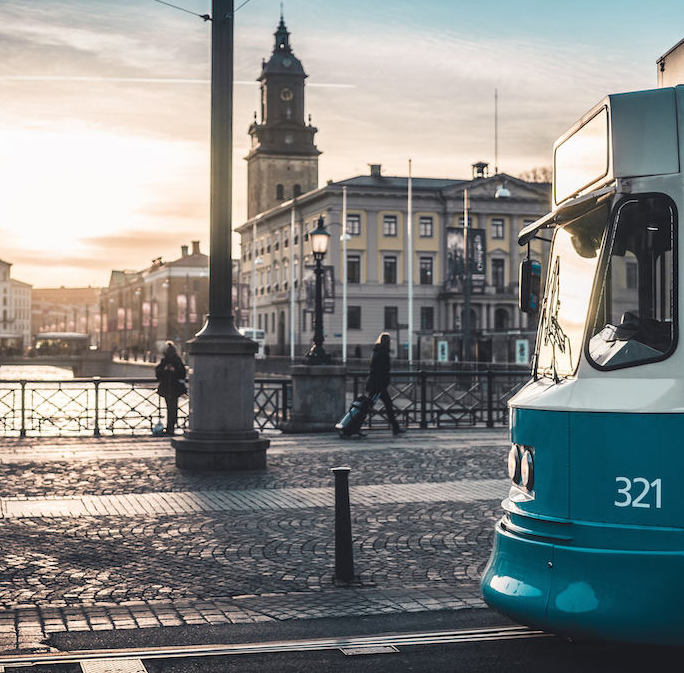 Gothenburg, Sweden
Where to find us:
Amoeba Creative Spaces, Tredje Långgatan 13D, 41303 Gothenburg
Home to much of Sweden's export industry (and many of its most international brands), Gothenburg is a small city with a global reach. A famous seaport, Gothenburg and its businesses have always looked way beyond the horizon. So when the sea wind blows, our industries answer the call. And we theirs. The UP Gothenburg team is headed by Account Manager Camilla Nordström and Creative Director Linus Bergkvist.
Where we excel
Creating timeless destination brands here and abroad
Home is where the heart is and Sweden is a fantastic country to live in and visit. UP has had the pleasure of working creating brand and marketing work for some of Sweden's truly amazing destinations, such as Stockholm, Royal Djurgården, Sigtuna and Arvidsjaur.
A remarkable mix of marketing & science
We have a special strength in technology, life science, medical device and health marketing. Our team members have experience working with some of the top brands in the world: Tecan, Thermo Fisher Scientific, Siemens, GE Healthcare, Schindler, Astra Zeneca, Phillips and many more.
Join us for fika
At UP we don't just talk about B2B or B2C. but P2P people to people. We help our clients really connect with their customers - wherever they are globally. If that's what you need maybe you should get to know us. Nothing beats sitting down and having a real conversation. Really getting to know each other. That is the way to start a good business relation. So drop by for a Fika as we say in Sweden.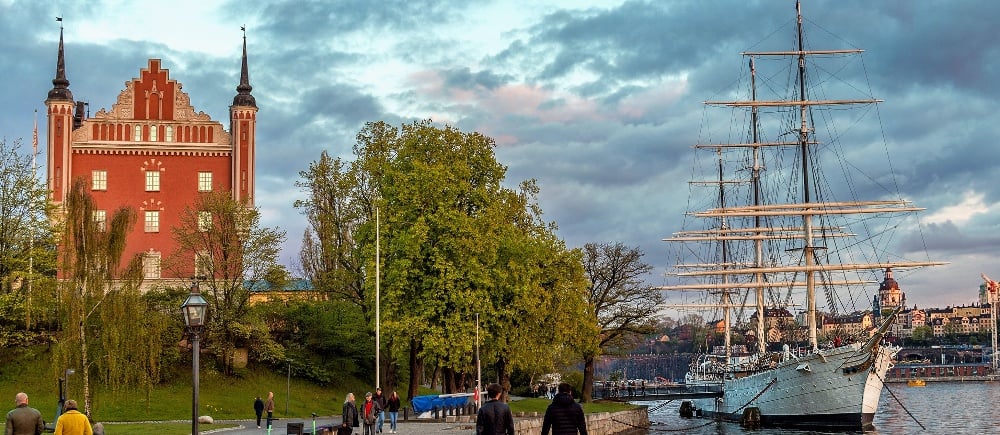 Branding Stockholm: The Capital of Scandinavia
place branding | branding | sweden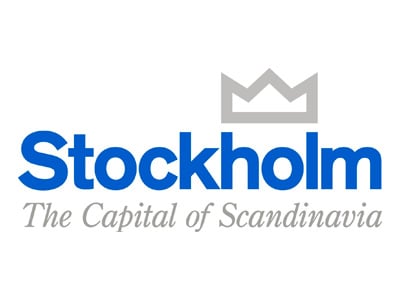 VIEW MORE WORK
Why choose UP?
Full service agency
A full service global agency combined with quality client service and great creative work never goes out of fashion. We are old school in this respect.
Next generation agency
UP is on the leading edge of technology used in running our own business. Added to this we're a global community of self-invested and like-minded individuals. Our success depends on happy clients and great work.
Local or global teams
UP is both truly local and global. We work in distributed global teams, so you get the best people for the project. Then getting to know your team, building relationships is our priority. Exceptionally experienced, always available and a nice bunch to boot.
Looking for real expertise, for a global market?
Got a brief? Looking for people who really understand your market? We've probably got someone who's done that before. A vast range of expertise can be called upon from UP around the world to support your marketing.
The UP business model: commercially smart
Because of our unique business model we have lower overheads which means we always deliver best value. You pay for the time spent and not the inflated overheads of traditional agencies. Many of us have been clients - and we know what we would want. Expect More.
We love the way we work together
Everyone at UP has embraced our model by choice. We are all agency advocates and with our NextGen UP business model it means we get to do what we love, but in a completely unique way. We know that there's no other agency on earth like us.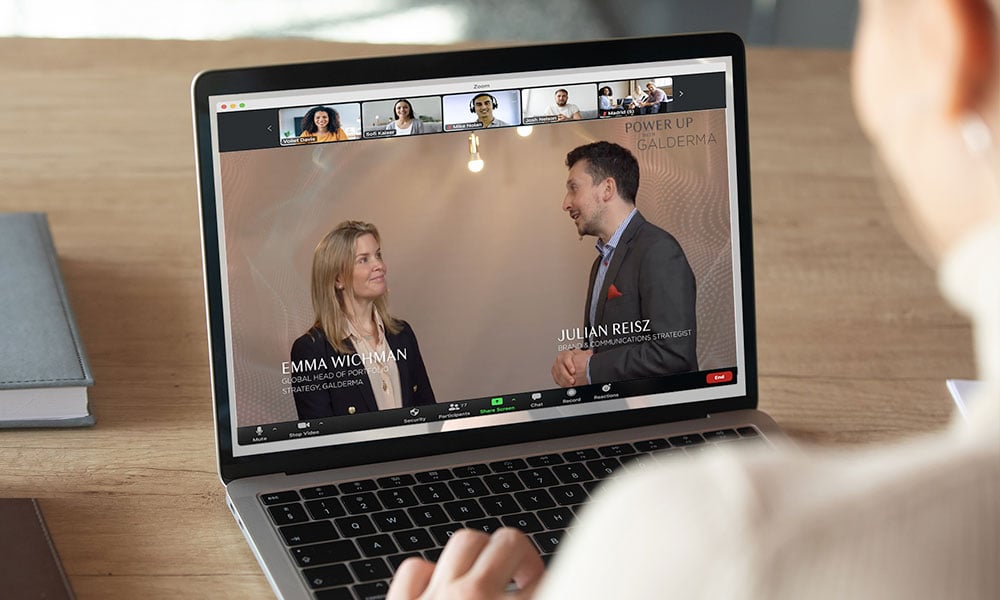 Webinar series reaches 22,000 HCPs during a pandemic
Life Science | WEbinar | Sweden
VIEW MORE WORK
Meet some of our Swedish team
"Yesterday, I participated in a brainstorming session with 14 people from all around the globe, all with very different skills and experience. About 20 original ideas came out of that one-hour session. Thoughts are not born in a vacuum – they always arise from learning, interaction and exchange."
Robert England PhD, Head of UP FOR LIFE
Dagens Industri Featured Article About UP
March 2020
UP THERE, EVERYWHERE was featured this Monday 2nd March in the Entrepreneur section of Dagens Industri, the leading daily business newspaper in Sweden.The feature's headline was 'The Agency That Grows With No Employees'.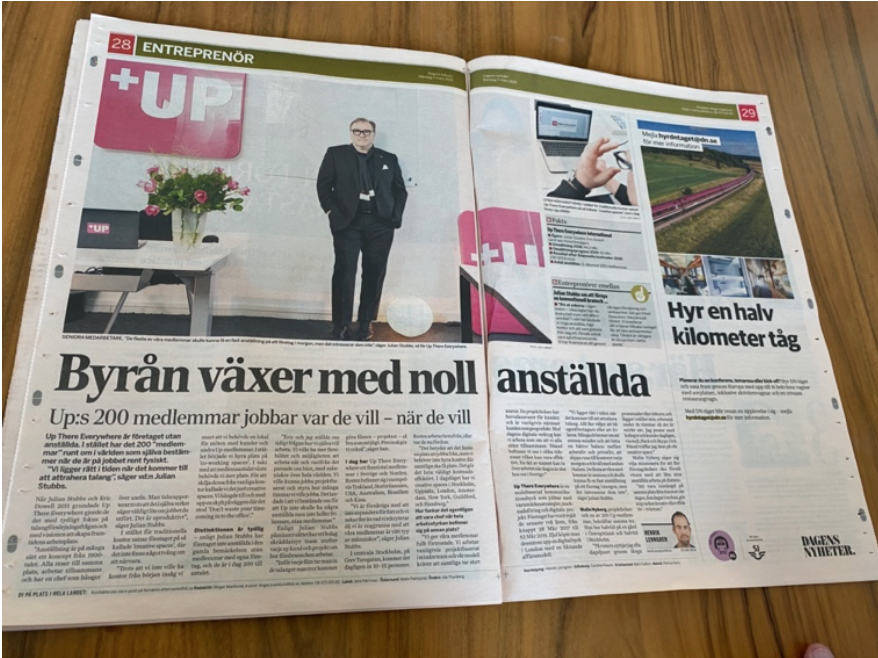 Read More Up News
Our recent blogs & insights
06 Jul 2023
In my previous blog 'The Power of Like-Minded Teams: Unleashing Succes...