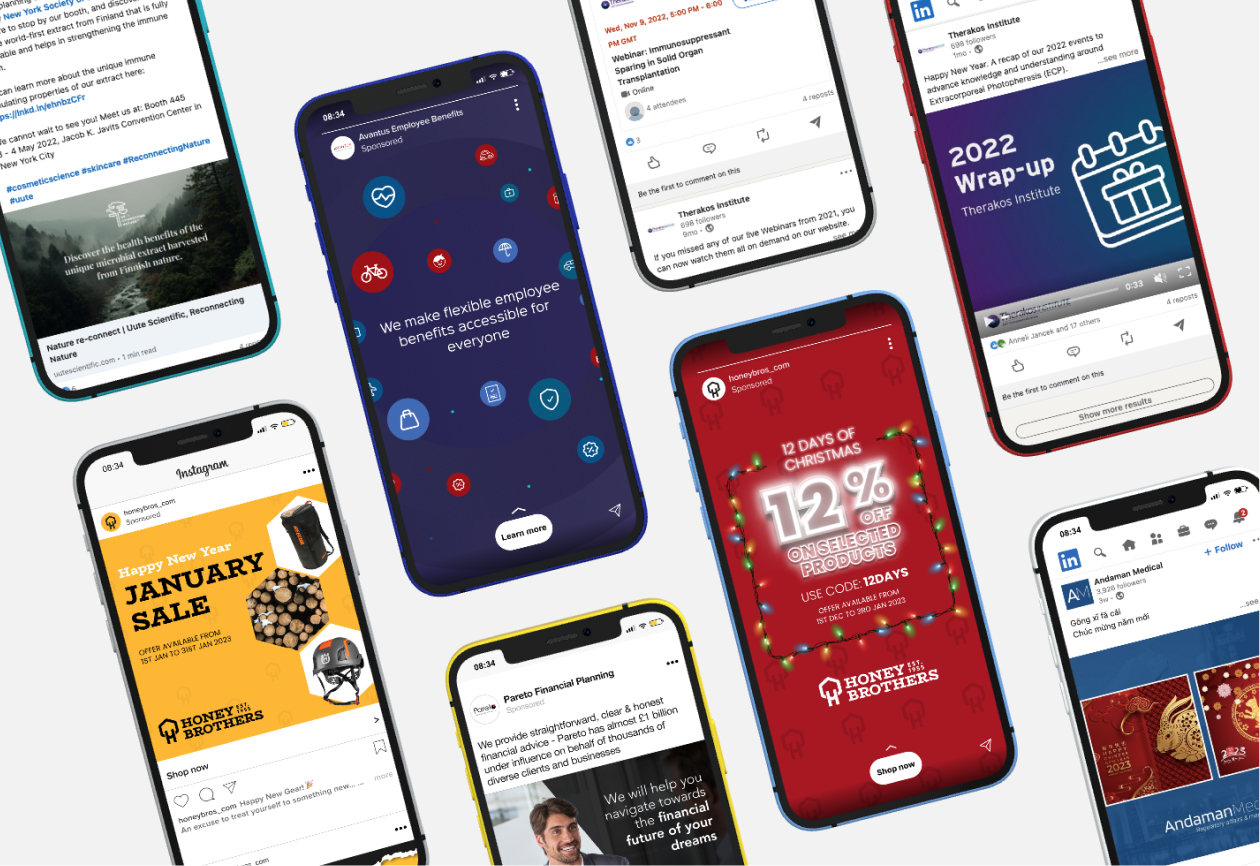 Expert social media services
At UP, we're all about creating meaningful connections. Our team of social media experts have a wealth of experience in paid and organic strategies. Across a range of industries and clients, on local and global B2C and B2B campaigns.
Social media strategies that connect with the right people
Determine the best channels, ensuring maximum impact
We optimise continuously to drive growth
Our social media services can help grow your business. Whether that's through brand awareness campaigns, or driving consideration. And when combined with our digital marketing services, we can deliver serious ROI.
"Working with UP for DIGITAL on our meta campaigns has been an absolute breeze! Knowing that this crucial aspect of our marketing was in safe hands and taken care of, was a real weight off our shoulders. We saw a significant return on investment!"

We know social

Social strategy
We identify strategic opportunity for your social media presence, including organic and paid. From here, we work together to identify the best KPIs and CTAs to deliver results.

Paid social
Following an audit, we work with you to set clear, measurable KPIs and conversion funnels for all media types. Whether thats on Meta, LinkedIn, Twitter, or TikTok. The key is continuous optimisations to deliver the best results.

Content production
Our services are designed to help brands stand out and engage their audiences. We create rich, attention-grabbing content, that aligns with your brand and resonates with your audience.

Organic social media management
We work with you to create a calendar of content that aligns with your branding and resonates with your audience. Offering guidance along the way, we post, schedule, and monitor your content. Keeping a close eye on the best days and times to post, for maximum reach and engagement.

Creative
Our talented creative team produces slick and engaging creative for social. Whether it's carousel images on Instagram, static imagery for LinkedIn or a video on Facebook. We have a breadth of creative and design expertise to support your needs for both ads and organic posts.

Reporting and optimisation
We are as passionate about reporting as we are about creating! Our team tracks your campaign performance, and provides valuable data for optimizations. Whether that's adjust ad spend, creative, or copy – we're all eyes!
Transform your social media game with us
If you're not sure where to start, let us help you! From choosing the right #hashtags to generating leads, we produce social media strategies to deliver results.
Build relationships and grow your brand
Supercharge your social media presence with eye-grabbing content
Tailored strategies with unmatched results to unlock global success

Use the form to get in touch with the team.
Let us know how we can help you