The UN formally recognized International Women's Day in 1977. In the nearly 50 years since that time, women have made strides around the world in efforts to equalize status as human beings, in the workplace, as well as in the pay they receive – compared to their male counterparts. UP THERE, EVERYWHERE proudly supports and recognizes women and what they bring to the table each and every day. Today we bring you a few words from some of the women in leadership at UP, read on to learn their secrets.
Alice S. - Managing Director, UP FOR DIGITAL
Great women support great women
We sometimes get wrapped up in our own journey and the obstacles we're facing, and it can become all-consuming. Be a support to other women by listening to them, always having each other's backs and celebrating their wins beside them.
Raise your hand
When given an opportunity to lead, have the confidence to volunteer and say yes. And do your best. We are all busy, but to get to where you want to go, grab the opportunities that you're offered. Women are more likely to create respectful, diverse, fair and sustainable businesses, so prove it.
Embrace your differences
Everyone will approach leadership in a different way so don't try and change yourself to fit in a mould that's not your shape. Listen to your gut, it's your subconscious actively using the years of experience you have to make decisions.
Jo C. - Account Director, SWC Partnership
Be confident in yourself and your potential. If you are authentic and hardworking, you will take people with you. Stay curious, ask questions and, listen, learn as much as you can. Be consistent so people know they can rely on you and know your values.
Find a champion, someone who believes in you and builds your confidence through their confidence in you.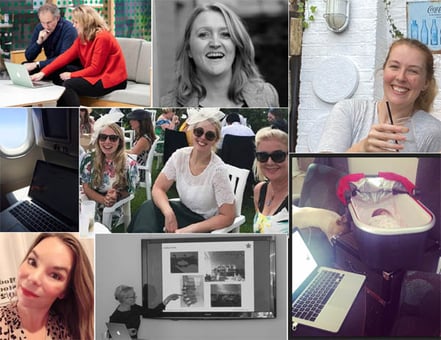 Kate A. - COO, UP THERE, EVERYWHERE
No fear
As women in business, we operate in a world that has, for so many years, not made room for us. And you will come up against walls constantly. Show no fear because you have a right to be here. Courage will get you a long way.
Know 'your people'
Women throughout the globe are brilliant at leveraging community to succeed. Business is no different. Knowing who your people are, those that you can lean and rely upon is a strength that will lift you higher.
Don't hide your femininity
Linked to tip one, simply being female has historically been linked to weakness, yet we juggle life, career, motherhood and more every minute of every day. Don't hide or be conscious of your femininity. Embrace it and intertwine it with your working self. The more of your authentic self you can bring to your business, the easier the journey.
Stef G. - Account Director, SWC Partnership
Don't be afraid to be heard, and voice your opinion. Believe in your ideas and get others to believe in them too. Pushing the boundaries and stepping outside of your comfort zone will help you grow and build on your own self-confidence too.
Don't say sorry or try to please everyone – change the way you use language, and don't intentionally soften. It's a common habit to soften communications as a woman and be overly apologetic without cause. It's the need to feel like you're trying to keep everyone happy and to please.
Anna P. - CFO, UP THERE, EVERYWHERE
Aside from the tips of prioritizing, delegating and balance, which are indeed important, I want to underline the importance of your close community. The people you work and surround yourself with. I am thinking about the mentors and inspirational leaders, the believers, but also the "can do" people that are always up to good, efficient and qualitative delivery.
On many occasions, this can be people that root for you and have your back, but it is often even more valuable to have people who challenge you and encourage you to think again, to think new and from a brand new perspective.
As we build our businesses, we'll encounter challenges that we have never faced before. That's where having a mentor comes in handy! Find someone who has experience in your industry and who is willing to share their wisdom with you. Not only will they help guide you through challenges, but they can also provide valuable insights and perspectives you may not have considered
In addition to mentors, surround yourself with people who believe in you and support your goals. These people will be your cheerleaders when you need a boost of motivation.
And lastly, don't be afraid to connect with people who have more experience or knowledge in certain areas than you do. They will challenge you to learn and grow and ultimately make your business stronger.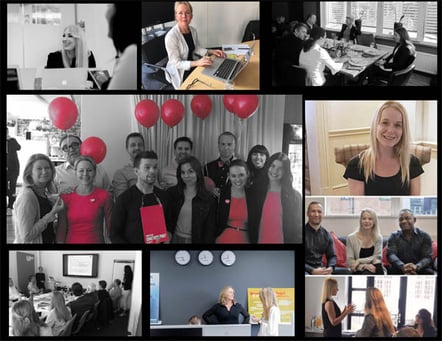 Lisa B. - Account Director, UP THERE, EVERYWHERE
At the onset of my career, I worked in the marketing department of a mutual fund company, but it soon became clear that this lifestyle wasn't for me. The long commutes, confinement to an office, and lack of control over my career left me unhappy.
Consequently, I ventured out to start my own business, and the birth of my first daughter provided the perfect opportunity to do so. 30+ years later, I have thrived and succeeded by focusing on several objectives.
For starters, I always have a clear vision and a well-planned strategy to achieve my goals. At the beginning of every year, I note down what I want to achieve, whether it's expanding the business, maintaining it, or downsizing it, to ensure that my business goals align with my family life, thereby promoting a healthy work-life balance, preventing burnout, and enhancing productivity.
Additionally, I advocate for taking calculated risks, pivoting when necessary, and learning from mistakes. While initially skeptical of joining UP (I didn't see how I could fit one more thing into my workload), I took a chance and became a member to work on an urgent project that needed my assistance, and made one of the best business decisions of my life, thanks to my persistent friend. Building strong relationships with customers and colleagues is also critical for long-term success.
Finally, I prioritize continuous learning and staying abreast of industry trends and innovations.
Anne B. - Group Account Director, UP THERE, EVERYWHERE
Energize your clients
Clients are most often very, very busy people. Sometimes to the point of exhaustion. One thing that makes a big difference is to energize our clients.
Clients expect great planning, briefs, creative solutions, control, budgets and delivery. But one thing they often comment on is how we energize them and their teams - make them feel that anything is possible. Whether it is giving them energy and ideas through a creative process or a briefing session, or a long photo shoot - I love to find ways to make them feel that any goal is possible, any deadline, or any budget.
Learn more about about UP FOR DIGITAL, SWC Partnership