Case Study: Galderma Webinars
How to reach 22,000 customers with webinars during a global crisis
How it was done
Galderma is a global dermatology company dedicated to patient wellbeing and scientific research, with a particular focus in the field of skin aesthetics.
Location
Sweden
Sector
Health
Service
Film & webinars
Background
As a premium innovator of aesthetic solutions, Galderma partners with healthcare professionals (HCPs) on the front line of patient care to provide effective and innovative science-based injectable treatments. With these medical and consumer solutions, Galderma aims to fulfil their mission to improve the quality of people's lives by giving them access to the latest innovations in premium aesthetic treatments.
As many countries and businesses were entering lockdown during the COVID-19 pandemic, Galderma wanted to help their HCP partners to establish new, digital channels to help build their business – with everything from branding to online consultation. Galderma asked UP to produce a series of webinars to engage with their HCP customers during this challenging time. The goal was to support them during this crisis by delivering live, high quality, practical education and training that would enable them to improve their marketing and patient care online.
The brief
Galderma, as a global company, wanted the webinar to be accessible in multiple time zones around the world. They also wanted to make sure that the webinars represented their brand well. As a company dedicated to providing the highest standards in aesthetics, it was essential that the webinar series looked great and was easy for anyone to access. It was also important that the webinars were produced quickly as the information was crucial to helping HCPs adapt to changing market conditions.
The solution
The first requirement in the process was to design the content of the webinar series. As the focus was brand and marketing, UP was in an excellent position to reach out to our global team who have expertise in everything from branding and social media marketing, to digital video production. Working closely together with Galderma, UP quickly devised a series of five webinars that each ran three times per session to cover different global time zones.
Another important criteria was to match the extremely high standards Galderma applies to their own business, in the webinar series. To enable this UP converted a local conference room into a studio setting with professional lighting, a printed floor to ceiling backdrop, three cameras, and a production team to ensure an engaging webinar stream.
A separate team in the green room area handled questions as they came in. The webinar was delivered live from the "studio" as well as taking feeds from different experts around the world, giving the whole production the feel of a TV show. This professional production was then fed into an online webinar platform making it simple for HCPs to login securely from anywhere around the world and enjoy the show.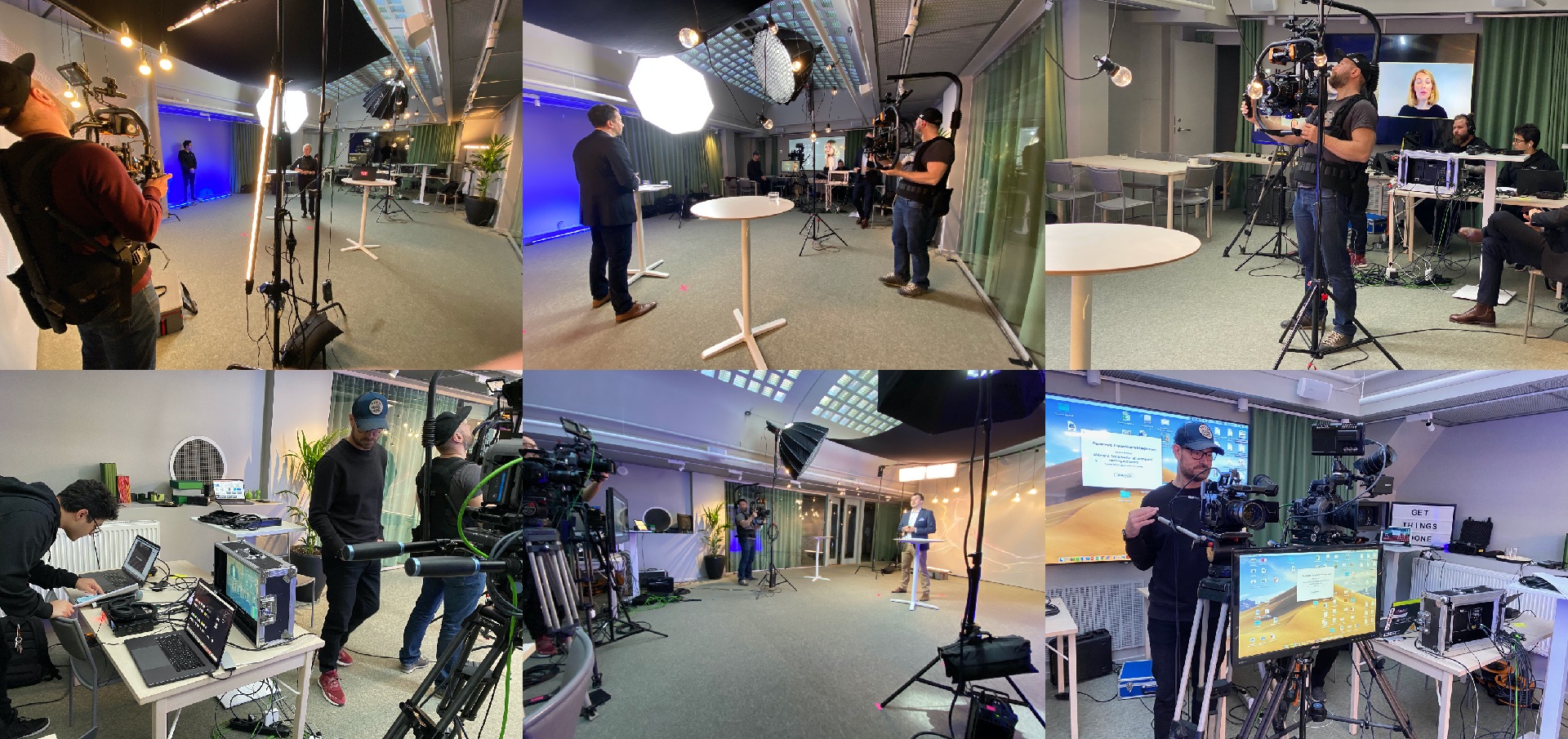 The results
The result was a series of 5 webinars covering essential topics in marketing for HCPs:
Building your brand online
Social Media: attracting and retaining customers
Premium consultation online
Digital engagement with different generations
The power of influencers
During the five weeks that the webinars ran, they were viewed in more than 100 countries and by over 22,000 HCPs. The stream was carefully monitored by UP and after the first Webinar went live, we noticed comments and requests from attendees in South and Central America for Spanish translation. To respond to this request, we quickly brought in simultaneous translation to translate the live content into the closed caption function. Subsequently viewers in these markets increased. The webinar films were also subsequently downloaded and viewed by more than 10,000 people wanting to see the webinar series.
The webinar series was a resounding success. It was actually much more similar to a TV show than a standard webinar and helped Galderma engage with their customers by delivering timely and practical tips they could implement directly. This helped Galderma to reinforce their brand as a company committed to providing the very highest quality and advice to their customers.