Flexgenius is part of the Avantus Group of companies; they own and operate a group of successful independent companies, and although each company has a different focus, they all have the same philosophy – to take advantage of technology and techniques to deliver genuinely exceptional results for their clients.
Location
United Kingdom
Sector
Financial services
Service
Websites & ecommerce/ Inbound & content
Background
FlexGenius is a premium HR and employee benefits platform that incorporates enhanced communication and publishing tools. The bespoke branding options and targeted-marketing tools combine to give the employee a very personal experience. Unlimited flexible benefit choices and the integrated reward and recognition module ensures that FlexGenius delivers an unparalleled proposition.
The Avantus group has been working with UP for DIGITAL for more than five years.
The brief
The FlexGenius platform desired a complete/full/comprehensive digital strategy for their premium offering. They required a website and new client acquisition strategy targeting specific types and sizes of businesses across the UK.
The solution
Research and strategy is how every project starts at UP for DIGITAL, and we began by gaining a full understanding of the competitive landscape as well as the target audience for the platform; this included a full keyword audit and competitor analysis. We then merged the top level keywords into their brand messaging.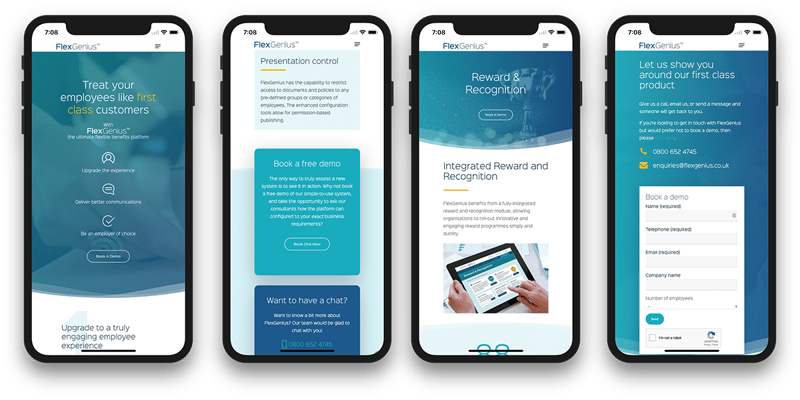 Website
A new website for the premium HR and flexible benefits platform: We opted to build the site on WordPress to ensure we could adapt and change the site quickly and easily and add in a variety of landing pages for the different market sectors that required targeting.
Online Marketing
Once the brand's core proposition had been created we launched a number of Social media campaigns across LinkedIn, Facebook and Instagram alongside the usual pillars of Google PPC and retargeting.
Email
Finally we set up the platforms for management of their bulk email strategy – building their email list and then using content to convert leads into inquiries.
The results
A huge success:
The platform has been adopted by a plethora of UK and international businesses and continues to add new clients each and every month.
Avantus has appointed UP for DIGITAL to act as their internal marketing support on a weekly basis. We monitor their lead generation and create new content for their websites, emails and blogs as well as launching new campaigns.