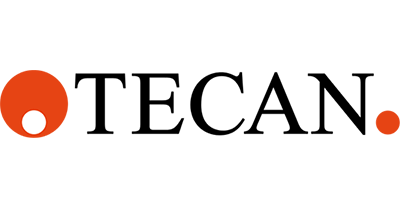 Tecan Group is a global leader in automated laboratory instruments and solutions for life science research and clinical diagnostics. Over the past 5 years, Tecan's earnings growth has accelerated as the company has transformed its image from trusted automation provider to innovative market leader, shaping the future of healthcare by bridging the gap between research and diagnostics.
Location
Switzerland
Sector
Life science
Service
Website & content
Background
When Tecan decided it was time to realign and reposition their brand to better reflect their empowering technologies and vision for the future, they turned to UP FOR LIFE to lead the way. In 2015 we set out to create a fresh brand for Tecan, together with a new website and a content marketing strategy that would serve as an engine for transformation.
The brief
A key objective of the content marketing program was to drive organic traffic to the website while improving the quality of sales leads with a steady stream of highly targeted content. Challenges included a high publication frequency, the technical nature of Tecan's business, and the diversity of target audiences with specific needs at every stage of the sales funnel.
To ensure long-term success, a robust process for content generation and management of a consistent publication schedule was essential. In particular, a mechanism was needed to provide balanced coverage for Tecan's multiple business units, each with its own budget and objectives, as well as teams working in different geographical regions. This was a global task, for which our multinational team was ideally suited.
The solution
To lay the foundation for an effective and sustainable content marketing program, we conducted intensive workshops with Tecan's global teams to clarify their goals for the program, identify target audiences, and define buyer personas. By involving stakeholders across business areas and functions, the workshops created a sense of ownership in the process, providing the understanding and motivation they would need to gain internal buy-in for the program.
The next step was to create a robust process to produce, publish and manage a steady stream of content across multiple channels. This included setting up a marketing automation system, editorial board and publishing calendar. Rather than directly promoting Tecan products in The Blog and other media streams, our strategy was to attract readers at every stage of the sales funnel with engaging content designed to address specific search questions and pain points.
Tapping into our global community of science writers and SEO experts, we established a reliable pipeline of around 100 pieces of content annually, creating topical pieces optimized around top-performing keywords, tracking their effectiveness, and optimizing tactics as needed for continuous improvement.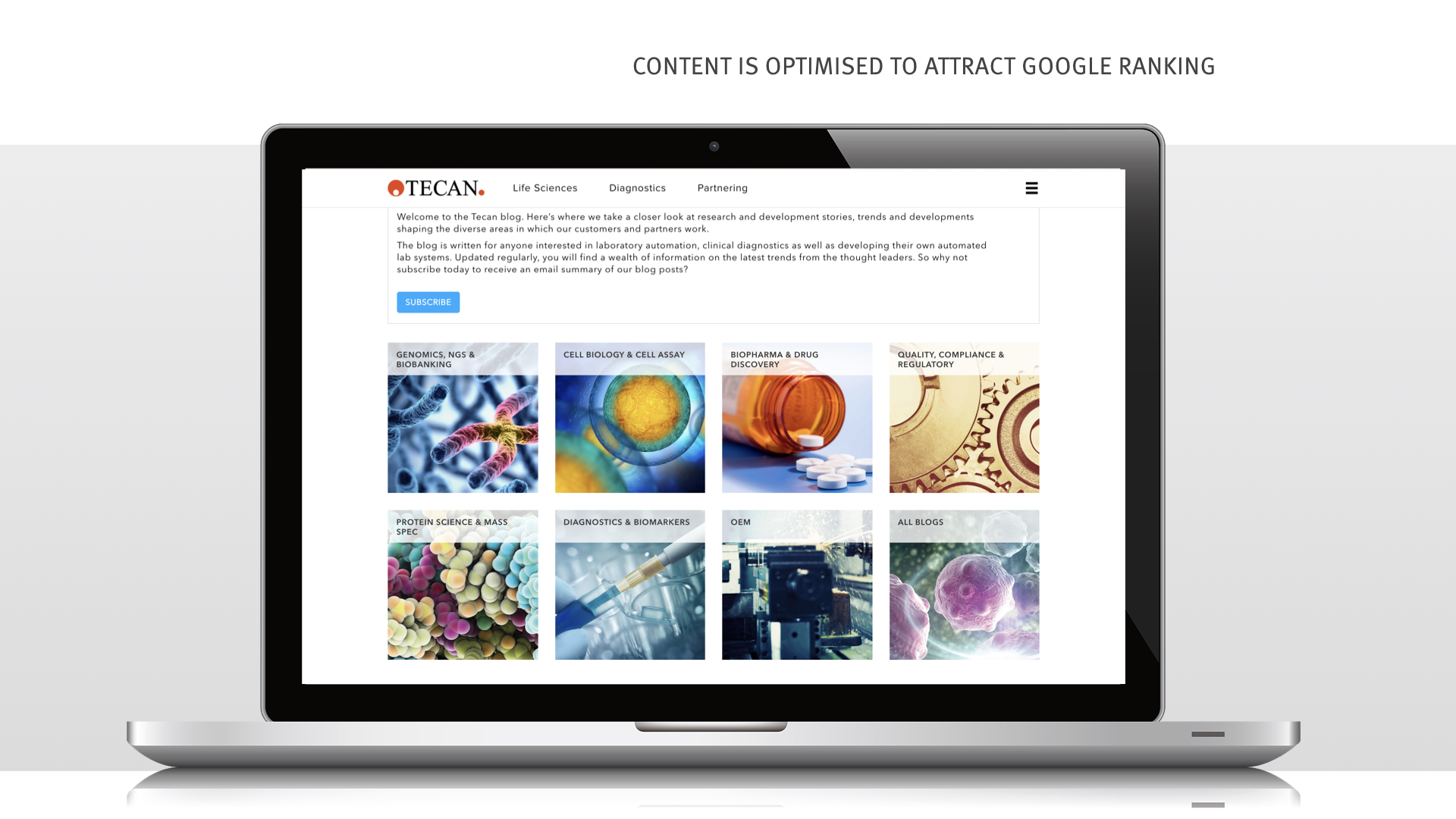 Through a carefully planned content strategy, Tecan is generating more leads than ever before. Content-oriented campaigns can be used to replace lost leads from trade shows.
Linda, Tecan account director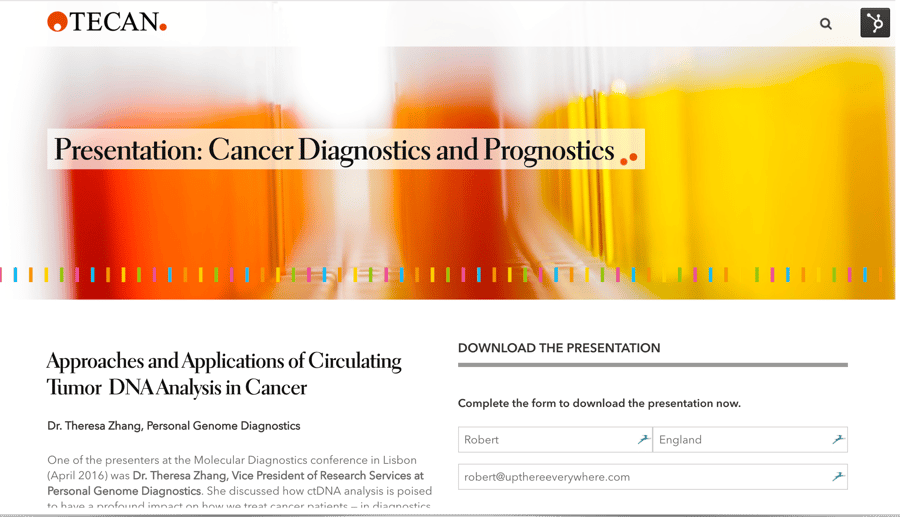 The result
Together with the brand makeover, Tecan's new content-driven website was a transformative step for the business. A more customer-centric approach not only generated higher quality sales leads, but also helped position Tecan as a true thought-leader in the industry.
In the 5 years since the program was established, the impact has exceeded expectations.
Organic traffic has grown by 300% and the visitor rate continues to climb year on year. Today, the rate of new contacts from organic traffic is 4 times higher than from paid search, and accounts for twice as many contacts as direct traffic.
This represents an excellent return on investment.
Our analytics show that the benefit from Tecan's content marketing program accumulates over time, with articles continuing to generate reliable leads for years after the initial investment. By crafting content that focuses on persona-relevant topics and speaks directly to customer needs at every stage of the sales funnel, the new strategy produces leads of much higher quality, contributing to increased conversion rates and sales growth.