The Sartorius Bioprocess Division is a leading global supplier of instruments and consumables to the biopharma and biotechnology industries
Location
United Kingdom, Sweden, USA
Sector
Life Science
Service
Content development, infographics, web app, digital & social campaigns
Intro
The Sartorius Bioprocess Division is a leading global supplier of instruments and consumables to the biopharma and biotechnology industries. Recently, through several acquisitions, the company has strengthened its product offering in downstream bioprocessing, securing a highly competitive position. They approached UP for help in developing a thought leadership and lead generation campaign.
The brief
The challenge was to strengthen the global position of the Sartorius downstream bioprocessing chromatography product portfolio. The project included an educational campaign to raise awareness in parallel with a global digital campaign to promote two already developed content assets.
UP's task was to deliver compelling and creative new educational content around the downstream processing chromatography products to be launched on the Sartorius website. In addition, the project involved creating a lead generation campaign using two existing digital assets: a white paper and eBook discussing process intensification strategies.
A mandatory was to comply with the very comprehensive Sartorius corporate identity and brand guidelines while developing creative and attractive deliverables.
The approach
Using UP's signature BASE-UP approach, the team, together with the client, defined the brief. Following this, the team moved into the audit phase, which included an immersion workshop with key stakeholders, desk research, interviews with specialists, and training on using brand guidelines and corporate identity. Several brainstorming sessions were held with the client. The outcome was a list of the creative content pieces to be developed, along with a skeleton description and proposed format.
A selection of promoted LinkedIn posts from the campaign including video

The work
UP developed a style for scientific illustrations that offered an appealing but educational look, while still complying with the Sartorius brand identity guidelines. UP also developed a copy style that was professional, educational and reflected the voice of the customer in order to establish a thought leadership dialogue. The outcome included:
Educational campaign content
A series of educational blog articles for publication on the Sartorius "Science Snippets" website

An interactive, JavaScript web app that encourages users to discover how to build their optimal chromatography process via an interactive decision tree comprised of questions and helpful answers and guides.
A series of illustrated infographics with information hotspots
An e-glossary
Digital lead generation campaign
Creative concept and campaign message platform
A social media campaign strategy for LinkedIn, Facebook and Twitter
Copy development for posts that support the campaign
Budget recommendations for paid boosts of organic posts and social ads
The result
The campaign has just launched so early data is confidential, however the social campaigns are, as expected, drawing traffic to the site, to the web app and to the downloads of the White Paper and infographics.
Early signs from LinkedIn are that we are seeing a conversion rate of between 5%-6%.
"The great team spirit of the Sartorius and UP members who worked on this project made it possible to deliver excellent results which have been highly praised by the client."
Interactive web app
One of the more complex parts of the project was the interactive JavaScript web app that encourages users to discover how to build their optimal chromatography process via an interactive decision tree comprised of questions and helpful answers and guides.
UP for DIGITAL coded the complex decision tree that was constructed by UP for LIFE's scientific writers.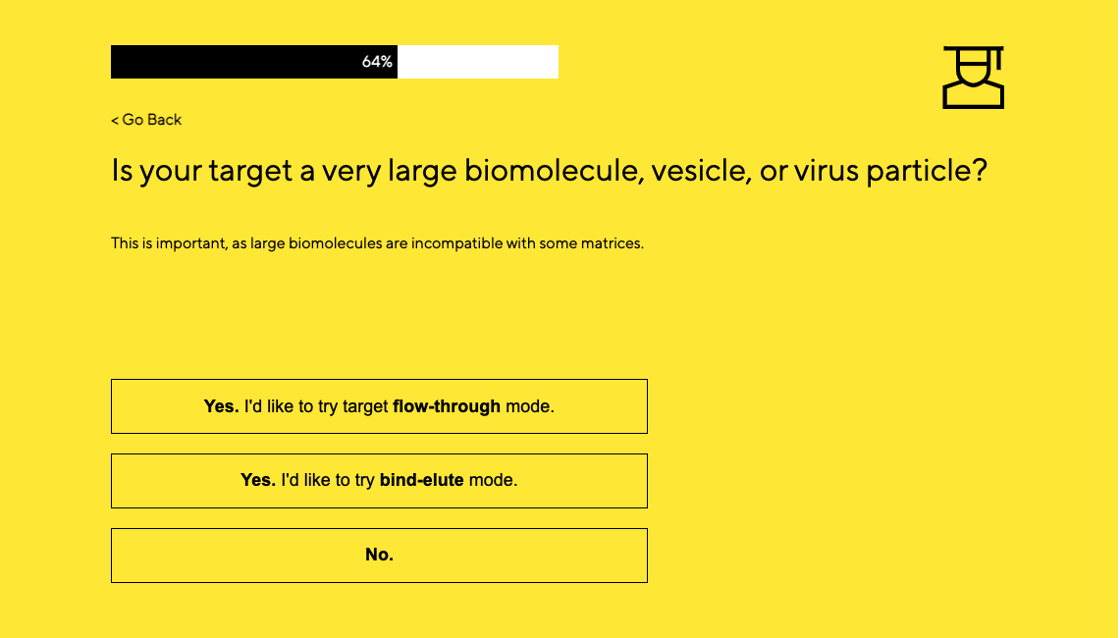 One of a series of infographics with information hotspots