Rokers, as a suite of companies, owns a number of businesses all based near Guildford, Surrey. It has a wide variety of businesses but the main revenues come from the pet store animal feed business.
Location
United Kingdom
Sector
Consumer
Service
Web design & ecommerce
Background
The old website was rather dated and the user experience was a long way from being optimal: The ecommerce (shop) section of the site was built on Drupal and was not simple to manage or upgrade, and the site structure and design was outdated and sub-optimal for SEO.
As well, the main EPOS system for the shop did not have a real-time link/API with the website.
The brief
There were three workflows for the project:
Information architecture and UX design
Website development on nopCommerce
API integration to in-house EPOS system
The Rokers brand underwent a complete overhaul before the project started so the site benefited from a completely new design and optimized user experience.
The solution
The critical requirements:
Web orders were all handled online

Automatic integration with ParcelForce

Automatic integration with SagePay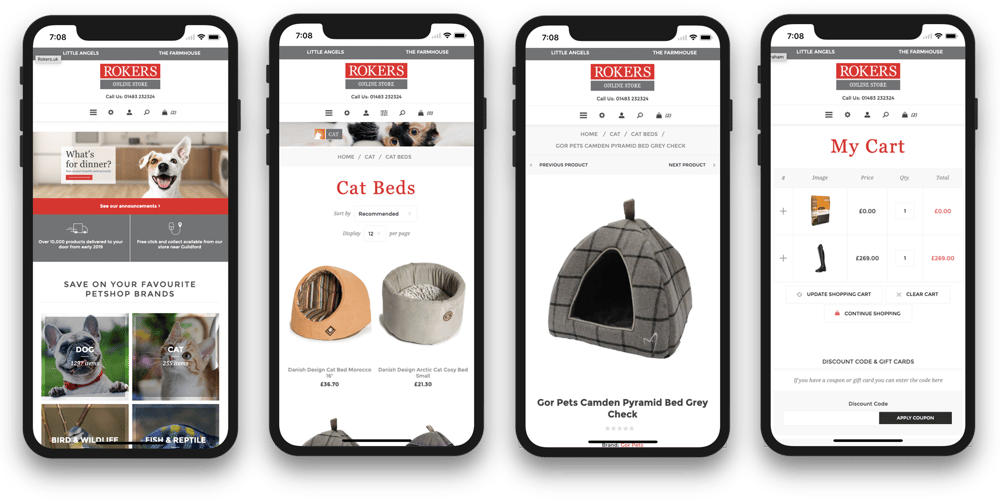 EPOS:
Product integration with existing system, Premier EPOS
Customer integration with Premier EPOS
Premier EPOS was used in-store so all data has to be synced with our store database (SQL server)
Feature list:
Store
Approximately 10,000 product lines
Re-order previous sales facility
Delivery and "click & collect" options; some products will be delivery only, some click & collect, or both. (Option to have a split cart for both types of products – Click & Collect and Delivery)
Automatic integration with Parcelforce
SagePay as the payment gateway
Star products to appear at top of lists
Customer notified to increase quantity to qualify for discount
Loyalty scheme
Multiple discount options for admins
Products staged before showing to the public, so no products are shown until full image, descriptions etc. are entered
Email / SMS customer when back in stock functionality
Newsletter / Loyalty Card signup
The results
The website has literally just gone live with a host of new features so we will be embarking on some fun online marketing for the pet shop.
Want to know more?