OGT is a leading global provider of diagnostic genomic solutions, their goal is to enable researchers and clinical decision makers to reach the right decisions for each patient, every time.
Location
United Kingdom
Sector
Life Science
Service
Branding & Web design
The quality and innovation built into their products for NGS, arrays and FISH reflects their commitment to improving the future of genetic clinical care.
OGT's philosophy is simple – they exist so that genetic based medicine can continue to progress and improve the lives of patients through the application of effective, accurate and simple to use genetic analysis products; created for scientists, by scientists.
A total refresh!
OTG appointed UP to help them refresh their complete brand identity and then re-structure and redesign their website and digital presence.
To create a brand that matched the expertise and prowess of an absolute expert in hybridisation technology, clinical research and diagnostic solutions.
Auditing OTG and their competitors
UP followed the BaseUP process to determine where the OGT brand sat within the competitive landscape. Through an internal and external audit we were able to identify a highly product and transactional market with very little focus on what scientists were working toward – the improvement of human health.
In turn, this uncovered opportunity for OGT to take a more customer and patient-focused approach to partnering with clinical genetics and cytogenetics laboratories to help them achieve positive patient outcomes.
An evocative tag line was developed:
By bringing humanity into the brand the UP creative teams helped to deliver a story of partnership. Highlighting the OGT team's strong customer service approach and unparalleled excellence in scientific knowledge.
A unique and beautifully crafted brand was born. Mimicking the intricate and complex nature of the industry through bespoke illustration, pattern and a newly defined brand architecture.
Creating a modern, integrated website
When the UP for DIGITAL team were introduced to the project, OGT had a website that was not mobile responsive, and they also had a brand/product website for Cytocel that was built on a propitiatory CMS.
The two websites were visually out-dated, not mobile responsive, and more importantly did not represent the single business. Our job was to bring them together, and make the customer's experience easier, and allow for the business to showcase (and sell) their genetical product ranges.
We also needed to give the OGT team a CMS/platform that was easy to use, easy to update the website and add new products, and make sure the business continued to rank well on Google.
The multiple work-streams we focused on were:
A single website for both brands to allow for cross-selling opportunities

Developing an online tool for lead generation

Developing a platform to support the sales team with existing customers

Developing a comprehensive information Hub (podcasts, blogs, vlogs and articles)

A custom web-application for the NGS Panel builder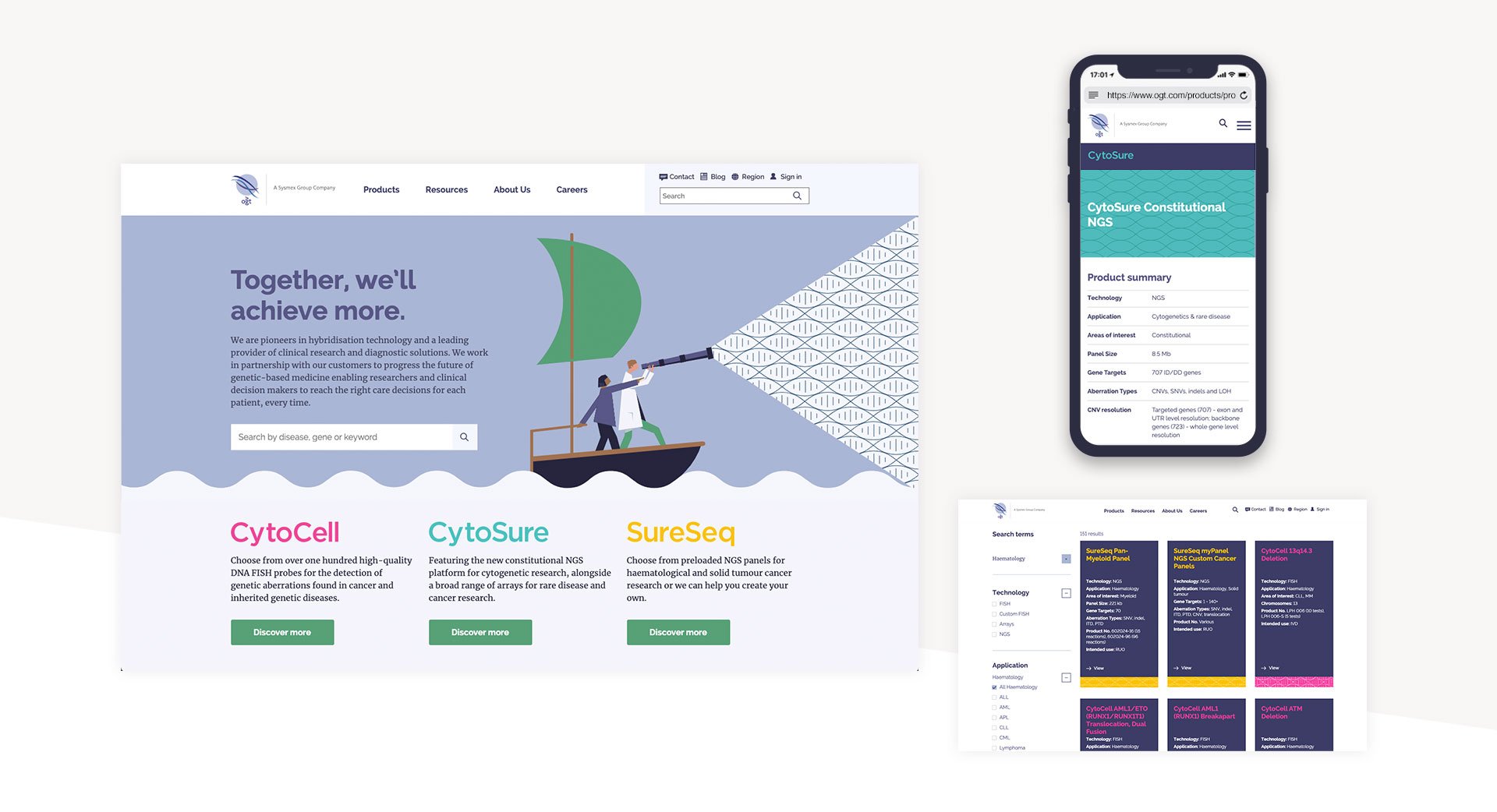 An easy to manage, responsive website
We followed our tried and tested process for designing and building brilliant websites and eCommerce stores.
We used Asana, our project management platform, to keep the client and internal team informed on our progress,
The site was built on Umbraco, allowing for easy multi-lingual capability, product management, and basket functionality.
We developed:
A fully responsive, user-focused site

Created an engaging design, with great use of new illustrations, videos and animations, directed wholly by the agreed new look & feel developed by the UP brand team

Delivered a CMS system which is easy to use, update, quickly create new landing pages and manage day to day

All products have been developed to have an easy-to-tailor shopping basket functionality (not obviously eCommerce)
A genuinely stunning rebrand, complimented by a stunning, and usable new website and one very happy client.