Mum&You are an award-winning, super premium, eco-friendly and cruelty-free baby brand. They are a subscription service with a conscience. Not only do they boast a nappy that biodegrades in 14 days, but they donate to children's charities worldwide.
Location
UK
Sector
Consumer
Service
eCommerce & Digital Marketing
The brief
Mum&You recognised that in order to launch their brand to mums in the UK, their efforts would be best applied digitally, but weren't entirely sure where to begin or how. That's where the team came in. As a digital marketing agency, building brands is what we do. Whether that's launching start ups or driving awareness and therefore consideration for existing brands.
The solution
We met with the Mum&You team for a collaborative session to gather the information we required, to find out more about them and gain insight into what they wanted to achieve.
We discussed:
brand positioning
product positioning
product promise
customer personas
brand personality


Digital Marketing
What's the most effective way to launch a consumer brand to new parents? Through a well planned, targeted series of digital advertising campaign. We worked with Mum&You to identify the data segments to reach their target audience, and the best campaign types to drive traffic.
We started by creating our research and development analysis, which helped both us and Mum&You understand where they currently sit and what we can do. This included:
keyword research and analysis
reviewing meta data, meta descriptions and keywords/phrases and creating our recommendations
competitor analysis including their keywords and

PPC campaigns
After this was completed, we can begin to set up PPC campaigns across:
Google Adwords
YouTube ads
Remarketing across the Google network

Social media ads

on Facebook and Instagram
PPC and social media advertising
As a fledgling brand in a busy category, the best way to drive awareness and consideration in one swoop is through sampling. Together with Mum&You, we created ads to promote free trial packs. But there's so much more that goes into such a campaign than simply sending trial packs to potential customers.
Next, we devised and created a digital marketing framework with a five tiered funnel:
Discovery (acquisition)
Education (acquisition)
Trial (conversion)
Loyalty (conversion)
Advocacy (acquisition)
The campaigns were then split into platforms, which we identified to be the most effective for the goals set. Eventually, the ad-set had:
8x awareness ads over Facebook, Instagram, YouTube and Google PPC
12x trial ads which also included Google retargeting and an email marketing journey
5x loyalty based ads, primarily on social media and email
3x advocacy ads, primarily made up of video ads on social media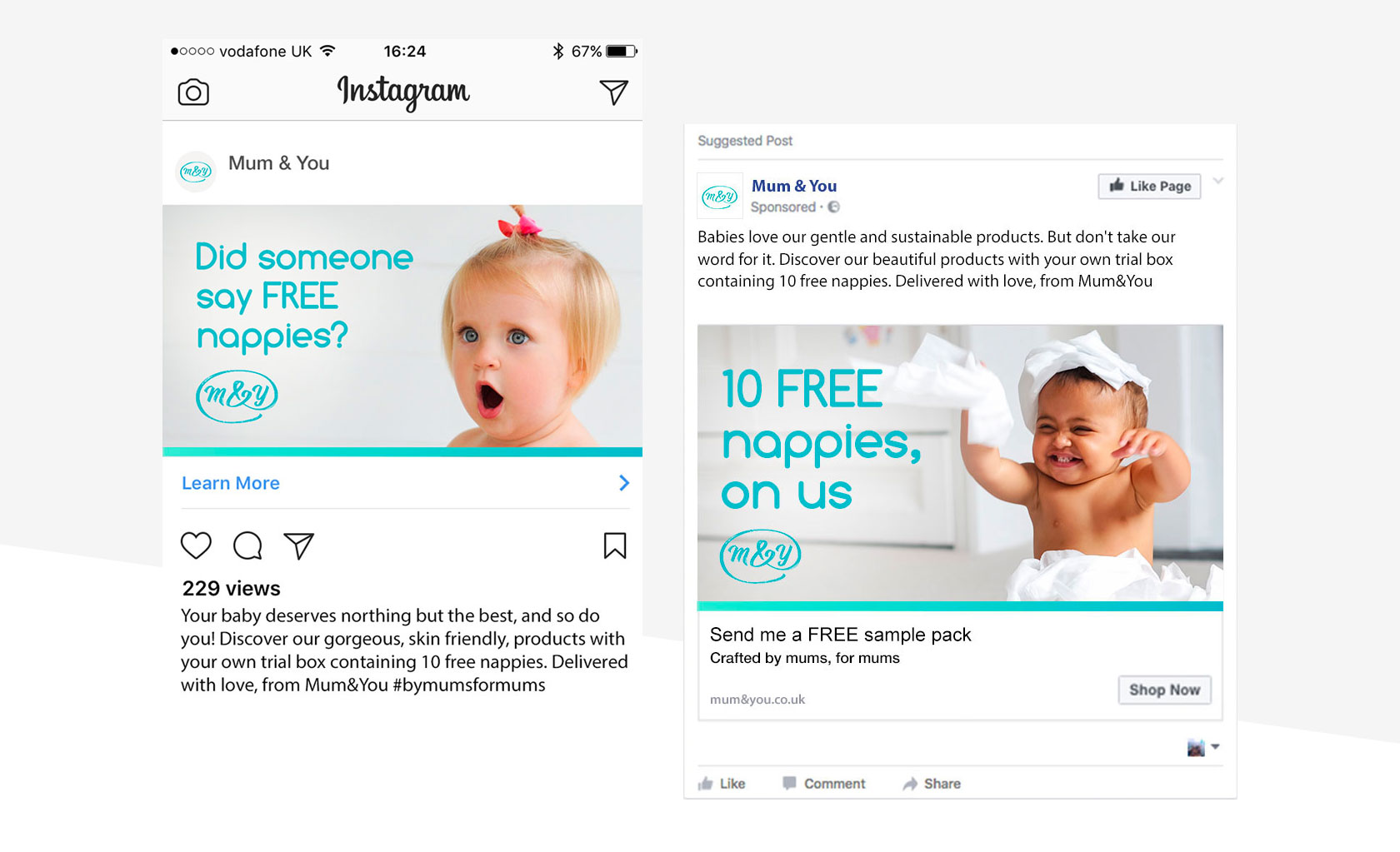 Website
A solid ecommerce website that's designed intuitively and easy to manage is essential. It soon became apparent that their existing website was going to need a lot of work to achieve this. Instead, the web design team designed a stunning store for Mum&You.
Their new website allowed them to:
Showcase their products through attractive carousels
Create pop-ups for promotions
Pin featured and recommended products
Customise product options
Integrate reviews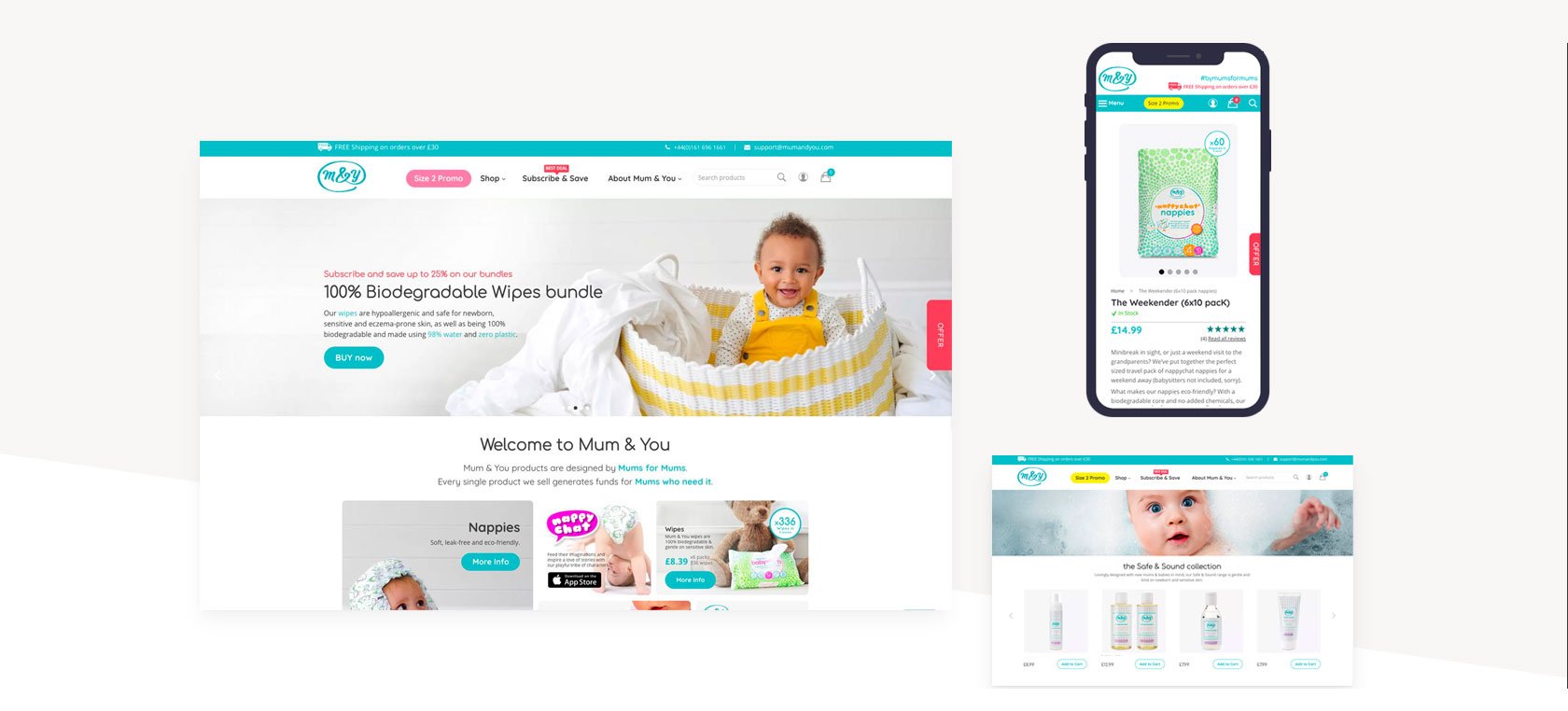 The result
Mum&You are now a successful brand, selling direct through their website and retailers such as Ocado and Amazon. While we have empowered them to manage their digital ads in-house, we continue to support them. Whether it's e-commerce development or consultation on upcoming projects, we are there.