Meerundhus is a leading German travel and tourist specialist who sell self-catering holiday homes in the most beautiful areas of Denmark.
Location
United Kingdom, Germany, Denmark
Sector
Consumer
Service
Travel, Tourism & eCommerce
Background
Meer und hus is a specialist travel and tourism agency for Danish holiday homes in the most beautiful areas of Denmark - Vejlby Klit and Ebeltoft.
They supply the German market with the best holiday homes and vacations.
The brief
The Meer und hus team have run a successful Danish holiday home business for more than 20 years, and were looking to upgrade their legacy online system and also looking to overhaul the complete user experience for customers looking to book online.
They were looking for an agency to help with three workflows:
User Experience design and UI design - ensuring the process for searching and booking a holiday home was as simple as possible
Content management system - the new eCommerce site had to be built on a popular CMS that was easy to use by the administrators, and was globally supported.
API integration with the main Danish holiday home database.
The solution
The UP for DIGITAL team followed our tried and tested process for building successful eCommerce stores.
It focuses equally on defining the user experience via an interactive prototype and wireframes, and defining the technical scope for the back end and CMS/platform choice.
We spent a number of workshops defining the user experience, and then our technical architects (and the client) agreed that Umbraco and Ucommerce would be the best CMS option.
The UI design team created a clean, clear and modern user interface that resonated with the German market, and the technical team built flexible page components allowing the administrators to create flexible pages in addition to the core holiday home database.
The API integration to the holiday home database is future-proofed and flexible to allow for the edition of future search variables.
And most importantly the site switch over was smooth, invisible and seamless.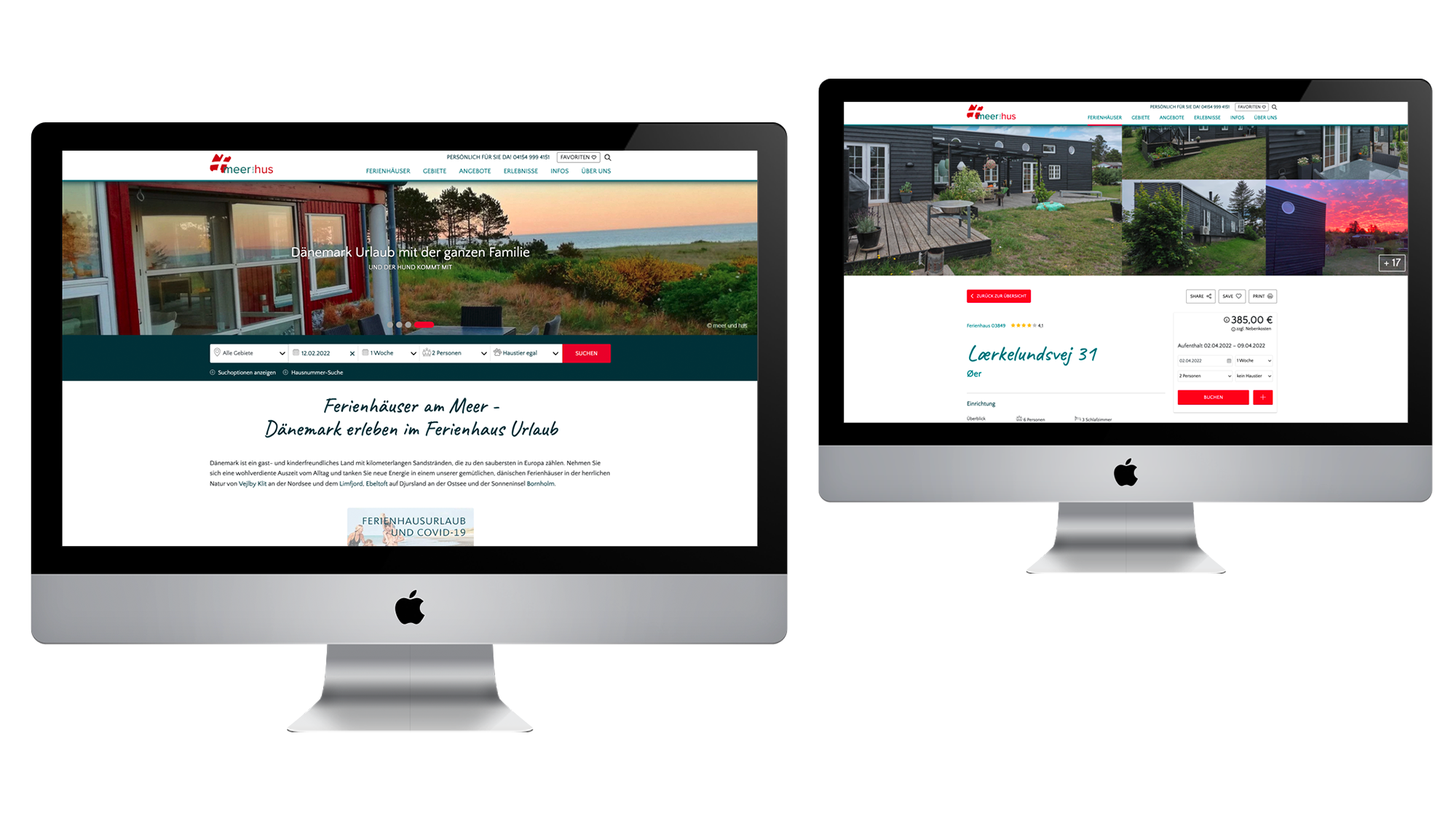 The result
A huge success! The new eCommerce platform launched in early 2022 and was an instant success with the german holiday market. With the pandemic restrictions starting to be relaxed many German families are looking to go to "drive to destinations" and Denmark is an obvious choice.
Summer availability is already limited!