Originally a brand favoured by film technicians and professional make up artists. Given the incredible quality, they became a fast favourite with consumers, worldwide. Since the first scene, their show-stopping lashes and high-performance adhesives have been their core focus. With an extensive range of accessories, The Eyelash Emporium offers a one stop shop for good quality eyelash extension supplies.
Location
United Kingdom
Sector
Consumer
Service
eCommerce
The brief
Having built their original eCommerce site back in 2012, and due to phenomenal sales, The Eyelash Emporium came back to UP for DIGITAL, looking to update their online store with a multitude of new features and fresh updated branding. They needed a shop integration that would allow them to manage their:
Orders
Stock levels
Global shipping
Professional course bookings
All while staying on brand, and easy for their team to use.
The solution
Enter Shopify, the most flexible eCommerce platform. Ideal for entry level and up, Shopify is the go-to solution for simple commerce sites.
We also enabled some custom features:
Email marketing plugins
Discount codes for subscribers
Chat bot plugin for customer services
Customer login area
Trade only customer processes
Integrations for online events to help them continue training during the pandemic
Once the global store was established we then worked on a number of key local websites for their focus territories.
Australia, Portugal and Ireland were the first territories to get localised sites.
In 2022 we helped The Eyelash Emporium launch their Direct to Consumer (D2C) retail store. Whilst the main eCommerce store has always targeted the professional beautician community, there is now a retail version with a vast array of products for those wanting professional products at home.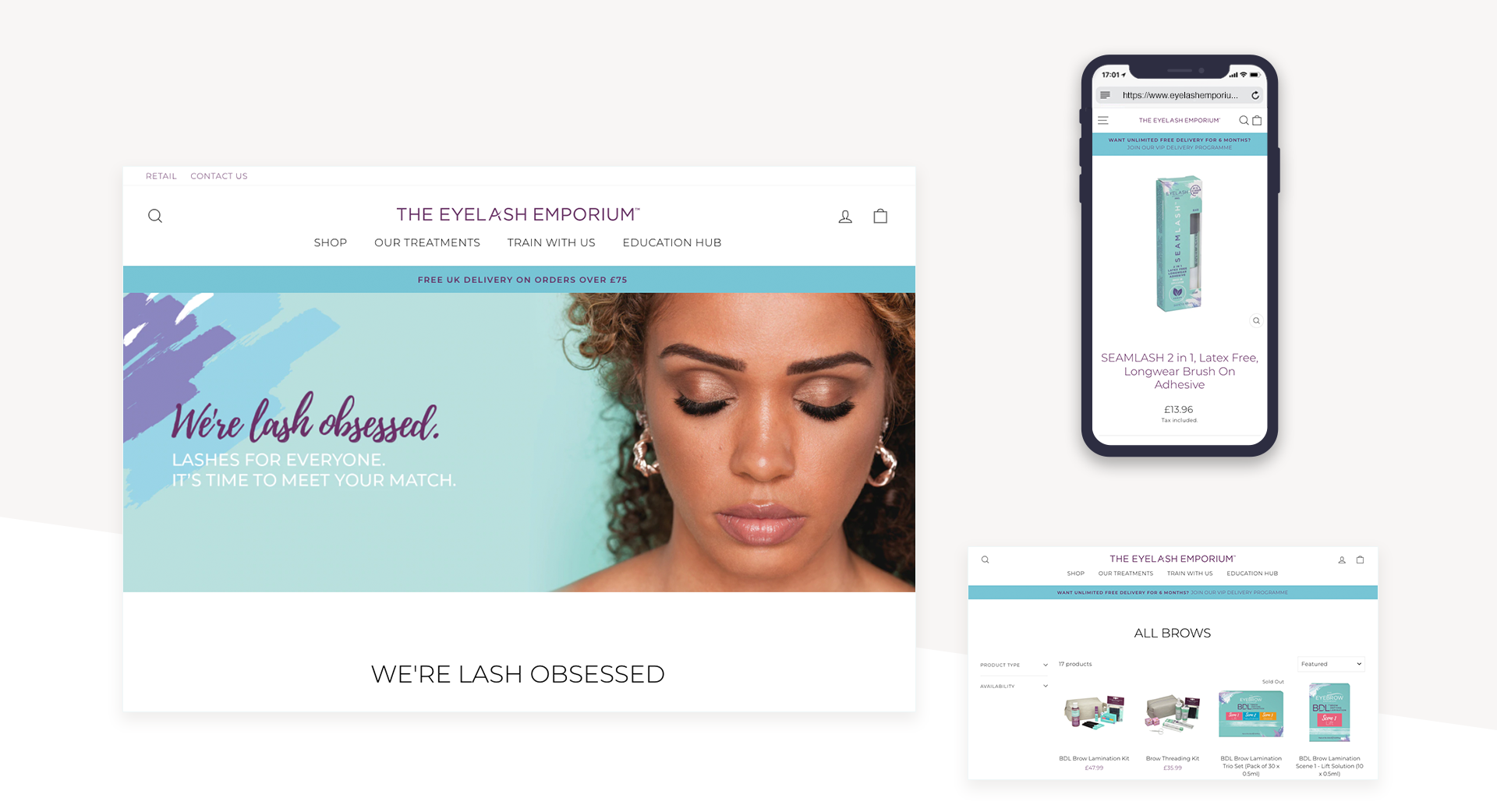 The Result
From their initial foray into online commerce, through to today, we have supported The Eyelash Emporium.
From helping them grow their sales, optimising the website, to strategic advice for new sales and marketing tactics.
We have enjoyed supporting and empowering them along their journey. From small fry online store, to becoming part of the Grafton International stable of brands.
To this day, we continue to support The Eyelash Emporium team manage their website. From developing new features, to making strategic recommendations to their fabulous in-house marketing team.
One of our oldest clients and definitely one of the best success stories of eCommerce at its finest!