Envirotainer is the global market leader in secure cold chain solutions for air transport of pharmaceuticals. They ensure that sensitive pharmaceutical products are always kept at the right temperature, wherever they travel in the world.
Location
China
Sector
Life science
Service
Digital marketing
Background
Envirotainer's technology enables functional drugs and medicines to reach their patients no matter where they are. However they needed a greater awareness within China of their service in order to drive leads and sales.
The brief
They have a base in Singapore and a small sales team in China but zero presence in the Chinese search engines. Our role at UP was to increase their visibility to Chinese audiences who could use their service. To make things interesting, Envirotainer asked if we could complete the project in just 3 months. We are always UP for a challenge.
The solution
To begin with, UP conducted market research in China by interviewing senior logistics experts to determine how they would find trusted industry information. We also learned what kind of industry specific language needed to be used in order to produce messaging that resonated strongly with our target audience.
The interviews dictated that we should produce a digital campaign in the Chinese press as this would be seen by very influential people from industry leaders to government officials. It would also drive traffic back to the Chinese Envirotainer website.
We partnered with PR Newswire Asia as a trusted source of news with a potential audience of over 8 million. We selected four articles written by UP for the Envirotainer website that were also relevant to the Chinese audience and exemplified key benefits of their service. These articles were translated to Mandarin and submitted to the newswire over a short timeframe to compound the effect each article had on our client's visibility.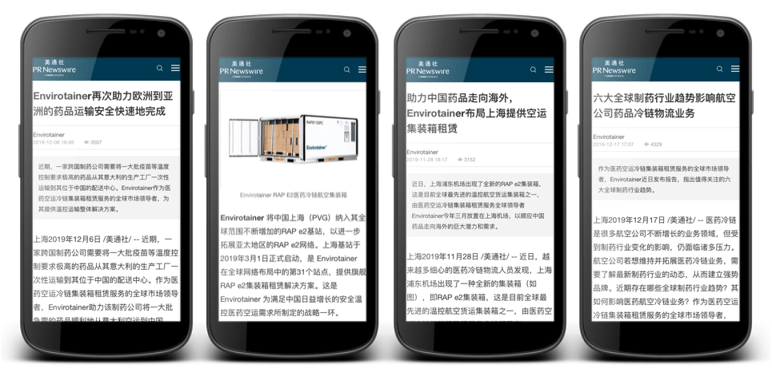 The results
After only three months, the campaign led Envirotainer from having no visibility in Chinese search to having high brand awareness in the top 3 search engines (Baidu, Sogou and 360). The 4 articles published were picked up 400 times by news outlets all over Asia.
Another benefit of using press coverage in this instance is that the articles remain online and continue to send traffic and SEO authority to the Envirotainer website. This could not have been done using other traffic generating methods such as online advertisement. While short, this project continues to deliver for our client and lays a solid foundation for future campaigns.