Azets is a large international accounting, advisory and business services company. Originally part of the Cogital Group, which was formed of hundreds of independent firms, the decision was taken to rebrand them all to Azets. This unity represented the next phase in the group's development.
Location
United Kingdom
Sector
Finance
Service
Websites & ecommerce/ Inbound & content
The brief
With the large rebrand due in September 2020, Azets wanted a unifying, stable, beautiful and easy to manage website. The new website and rebrand needed to demonstrate excellent services for clients but also deliver a revitalised and cohesive business for all employees. Every eye in the business was on the launch date.
The technical requirements were complex. Replacing the existing websites affected by the rebrand would mean a large number of redirects, close to 100 offices to contact and over 400 employee profiles.
The requirements also included:
A system with an open API, allowing integrations with 3rd party software
Integrate with existing centralised CRM and marketing automation platforms
Optimised SEO strategy to help generate more leads
Help define a clear growth and scale strategy to future-proof the website
Easy for the central team to maintain and update
The solution
This was by no means a small website design and build. With over 2500+ website redirects created and upwards of 600 pages, attention to detail was crucial.
UP for Digital took Azets through our tried and tested, 6-step development process. This includes testing, deploying and optimizing the website once it has been developed. Plus their rigorous QA testing to boot.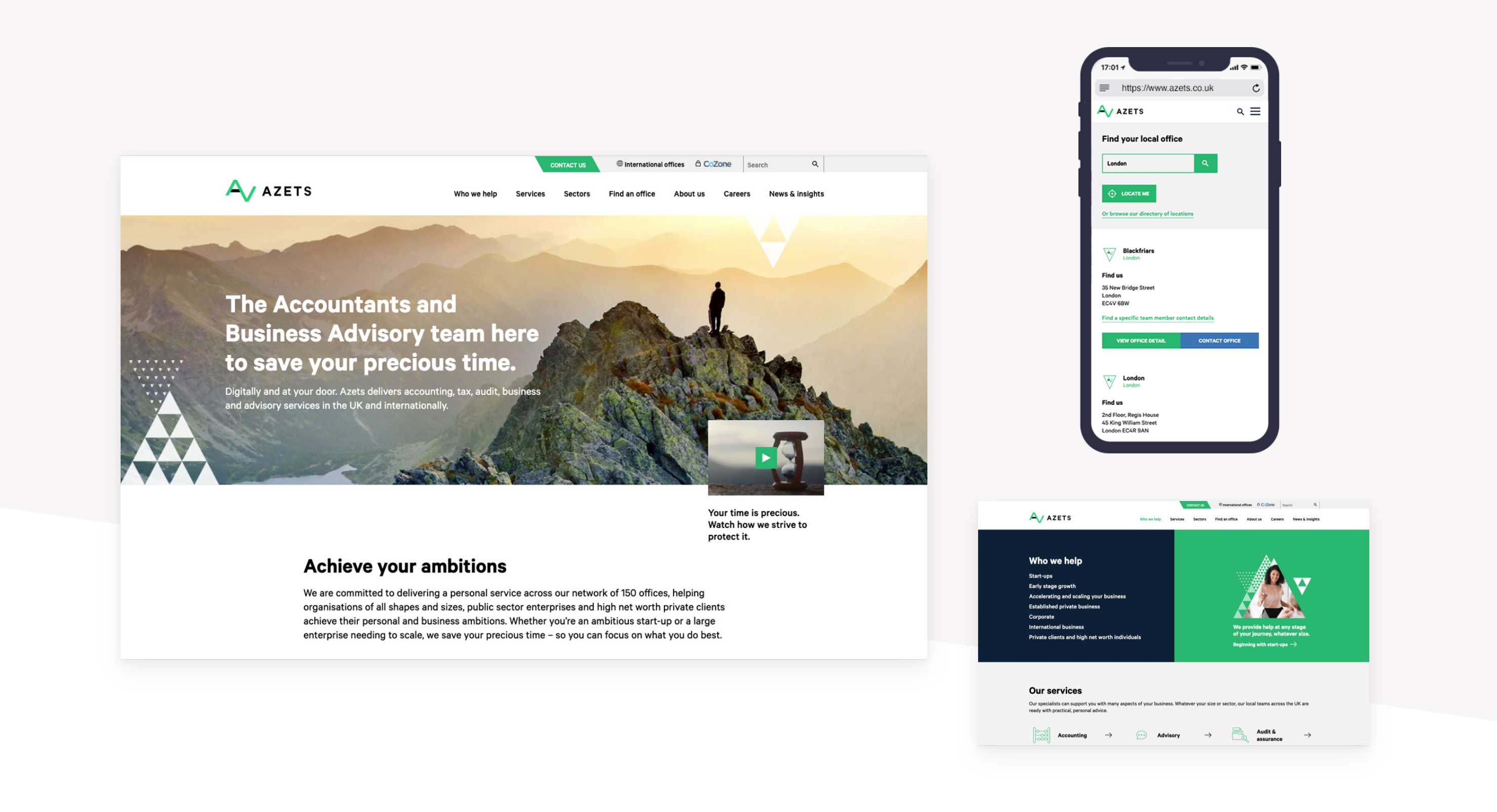 The results
UP for Digital delivered a stunning website for Azets, reflecting their super sleek new branding. It serves both clients and employees beautifully. It is fully optimised for SEO, responsive and geared up for any new integrations they may need in the future.
From the technical development of the backend, to helping scope out user journeys, there's not a page nor button that hasn't been considered.
And while deadlines to deliver are all of paramount importance, regardless of the project, it was absolutely crucial to deliver on time (which of course we did!). The website launched on the same day all their offices reopened with their new branding front and centre.