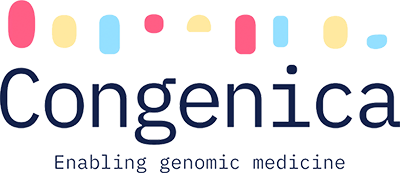 Congenica is a digital health company enabling genomic medicine with the world's leading clinical decision support platform for the interpretation of complex genomic data. Congenica integrates genetic data into healthcare, empowering clinicians to provide life-changing answers that transform the lives of individuals, patients and their families.
Location
Cambridge, UK
Sector
Genomics
Service
Inbound, website, SEO
Background
Congenica contacted us to help them address a lack of visibility of the company through search engine results and news coverage. Although the brand and the value propositions were well-established, relevant prospects were not finding Congenica through their web searches or news channels frequently enough for the organisation to meet its commercial aspirations.
Congenica needed support from a partner that understood the life sciences and diagnostic markets and could provide support across the full marketing mix.
The brief
Help Congenica to achieve its commercial goals faster.
Raise awareness of Congenica with stakeholders, developing engaging content, communicating compelling clinical evidence and attracting and converting customers through a mix of corporate comms, inbound and account-based marketing.
The solution
Following a benchmark audit of Congenica's website and communications we refreshed their persona and built out customer journeys and multimedia content campaigns in HubSpot. We installed and integrated HubSpot, refreshed the website and developed an account-based marketing strategy to target key organisations in the US and Europe. We also developed more than 30 pieces of content including scientific blogs, clinical cases, whitepapers, case studies, press releases and thought leadership articles.

"The mix of marketing and industry expertise provided by the team at UP helps Congenica achieve its marketing goals faster. Their solution-driven approach and the support their team provide us with is better than any other agency partnership that I have experienced."
Noah Konig, Head of Marketing, Congenica
The results
Over the course of a year disrupted by the COVID-19 pandemic the Congenica- UP partnership exceeded every target it had been set, doubling website page views, doubling the number of subscribers to the blog, increasing the number of MQLs delivered to the sales team by 6X compared to the prior year.
We also generated media coverage in industry publications such as GenomeWeb and The Pathologist, and helped support a successful Series C funding round.