C-RAD is a medical technology company specialising in producing surface guided radiation therapy (SGRT) solutions. Their technology has many advantages for cancer patients, and the clinics delivering the treatment: Improve patient safety and treatment outcomes. Enhanced accuracy of the treatment, and efficiency of the therapy workflow.
Location
Sweden
Sector
Medical Technology
Service
Web Design & Build
Our website doesn't reflect our brand
With many of us affected by cancer, working with a company whose mission is to improve quality of life and treatment outcomes is something that we can all get behind.
Even as one of the top choices for premium vendors in their field, C-RAD still ranks brand awareness as key in their search strategy. They want a website that is easy to find, with content that places them as clear leaders in their industry.
C-RAD is established as offering a premium product at the highest market standard. However, the general consensus was that their website didn't quite support this aspect of their reputation. They were keen to make it clear to website visitors that they are a premium partner and brand.
Overall, they knew that their website and resources were in need of improvement for them to achieve this. And from here, identified three objectives:
Drive high-quality website traffic through a smooth, intuitive journey.
Improve the internal inbound processes for their sales and business development teams.
Create a go-to resource hub for new and existing customers and distributors.
We designed and built a fully responsive website with secure content hub
All our projects follow our unique, tried and tested BASE-UP process:
We start by auditing both C-RAD and their competitors' websites, delivering SWOT analysis.
Next, we use this information to build an interactive prototype of the new sitemap and wireframes.
Then we design, develop and test!
For website projects, we enlist the help of a project manager to keep track of time, budget, and objectives. This helps manage expectations and gives the client a point of contact who can liaise between the teams.
At the start of web projects, one of our considerations is future-proofing what we do. Longevity is important for value, regardless of budget. We factor in their long term goals to ensure they don't outgrow their new set up.
We always ensure that the CMS we build on is best for the client. That's to say, not only will it integrate with their CRM and marketing suite (in this case, Salesforce and Pardot), but is easy for their internal teams to use. The build also included a secure, custom online learning portal for customers and distributors.
Next, we optimised their SEO to help make sure they are not only discoverable on search engines, but the basis for future PPC campaigns.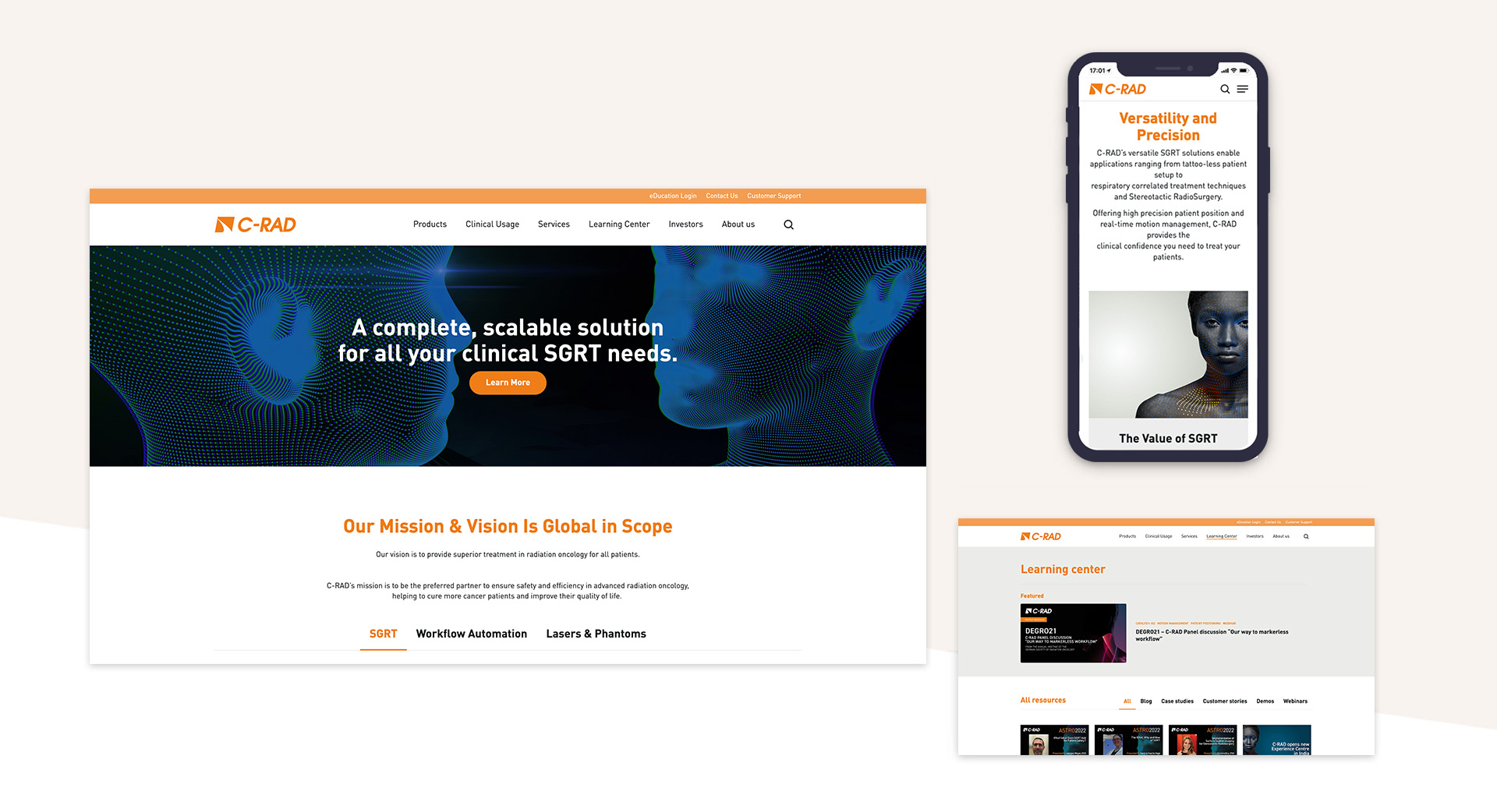 +230.6% uplift in new users
The new C-RAD website went live in December 2021, delivered within budget, on time, and meeting the objectives set. They now have a responsive website, with improved user experience. Both of which are advantageous for their brand positioning.
C-RAD has told us that their internal teams are confident in navigating the new CMS. Not only are they able to manage content, they can make ongoing, informed optimisations, based on analytics.
"The UP for Digital team is always very responsive and easy to collaborate with. I am very satisfied with the technical execution as well as the creative solutions and design of the website. The team is proactive and service minded in their ongoing support and constantly strives to improve."

Basak Karakus
Digital Marketing Coordinator
The business development team is able to track, report, and follow up with leads using the Salesforce CRM integration. This makes for a fully traceable sales funnel that can be analysed with ease.
Within the first year of the new website, C-RAD reported some impressive KPIs:
+230.6% uplift in new users, year on year
+117.5% increase in page views, smashing their target of 100% increase