BVA is a large membership community for the veterinary profession in the UK. Their goal is to ensure that their member's work is understood and valued by the public, that they're supported to grow and thrive both personally and professionally, and that their expertise is heard and respected by the people shaping our national policies.
Location
United Kingdom
Sector
Sustainability, CSR & non-profit
Service
Websites & ecommerce
Background
In September 2018 UP for Digital received an RFP from the British Veterinary Association (BVA) for a UX overhaul, and complete technical rebuild, of the BVA website. As the largest not-for-profit membership community for the veterinary profession in the UK, the BVA champion, support, and empower more than 18,000 vets of all ages, stages, and disciplines. The website is the go-to hub for veterinary journals, news, views and opportunities.
The brief
It was an exciting request to receive. This was partly because it presented a complex challenge, which is what gets us out of our pajamas in the morning, and partly because here was a potential client who were struggling with a technology platform that was reaching its end of life and they were being coerced to take up a replacement that did not feel right for the organization.
Winning the project was one of the highlights of our year, as we knew we could genuinely help the organization: we had the technical capability to help BVA achieve all of their complex 3rd party integrations while at the same time as incorporating slick e-commerce functionality, and integrating with their existing internal legacy CRM systems.
However, the main driver was to improve the user experience for the vets, as reports from customer research, and a deep dive into their analytics, revealed that the site was not serving their needs as best it could – especially accessing professional journals; we had to deliver a simple user experience for their membership community.
Concurrent with that, their Ektron content management system was reaching the end of its life. We needed to transform what had been reported as "a negative emotional experience" (AKA frustration and irritation) interacting with a creaking system.
The solution
Firstly, we ran a thorough audit on how vets were using the current BVA website and secondly, we ran a half day workshop with the Association's senior management team to better understand the core outcomes they were after and what really mattered to them. Then we created a site map based on findings from the analytics and the workshop. This ushered in a consultation period where together we nailed down the vets' requirements and ensured that they were being reflected in the site's structure.
The next step was wire-framing and prototyping, where we really started to align information architecture with the user experience. All agencies do this of course. Where we differ (in our meagre opinion) is in our thoroughness. We work iteratively. We produced an initial set of wireframes, got feedback from the client, and then made improvements. In effect, we let the Association's team put on their tweed caps and test drive the site – click on buttons, go down whatever back roads and country lanes they wanted to follow.
Our level of prototyping is extensive. The BVA got the full works. Over a period of six weeks we ran half a dozen two-hour workshops with different teams, examining the user journeys through each relevant section. No stone was left unturned, no cul-de-sac left unspotted – we prototyped every page.
Alongside usability is the look & feel: function and aesthetics. By the time we were working with BVA they had already commissioned a re-brand. We were more than happy to work in partnership with the branding design team. Using a style-tile we developed specific elements like header, footer, fonts, color palette, image treatment, and iconography: our one-page digital brand book defined how every individual element would work together and how they would work in isolation.
Once that was signed off, we were in a position to style up all the components necessary for each page and compile a full widget list.
Finally, we built all elements and integrated each component into the new Umbraco content management system. Writing this it does sound simple, but there were over 40-page components that all needed to be built and tested across every device from mobile to desktop.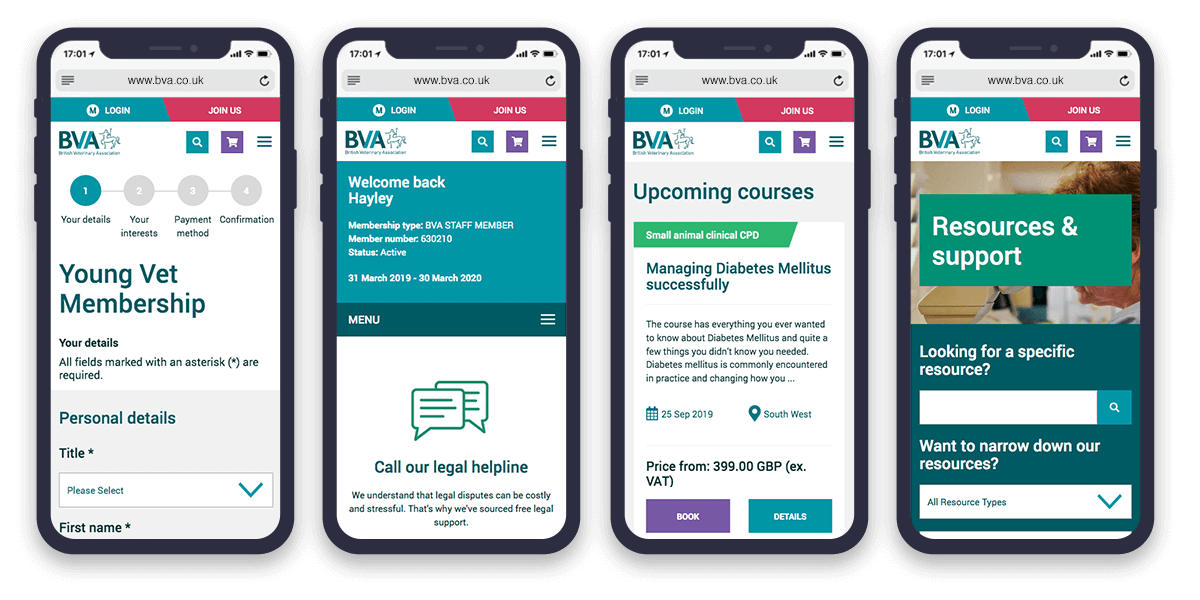 "The UP for Digital team were fantastic: Outstanding UX design, technical Umbraco experts, back-end expertise with integrating our site with our CRM platform and the BMJ journals, and all wrapped in a slick project management process. You have restored my faith in agencies."
- James Mullarkey, BVA, Head of Digital
The process
Like Rome, usable, effective, hard-working websites are not built in a day. Transformation is a long journey over, sometimes rough, terrain. But we've got it charted, with all the necessary ropes, crampons and compasses in our kitbag, not to mention our team of digital sherpas. The first step is half the journey, to paraphrase Lao Tzu. We call it groundwork.
"The fact that we had a key single point of contact – the BVA's Head of Digital – who believed in us and championed the project made our lives a lot easier."
- Alice Smith, MD, UP for Digital
Flexibility on every page
The objective was to enable the BVA's content team to have complete flexibility on every page, and to have the ability to add or remove every specific component within their pages, effectively the micro-management of their own content. No longer are pages built using page templates, they are now created by building their pages using flexible page components.
Some clients prefer the UP writing team to generate content, especially where there is a high-volume need to resource inbound marketing purposes, but the BVA had the resources in-house.
Then came the back-end build. Having the interactive architecture meticulously drawn up within the wireframes is an enormous bonus. Even so, on this job there was a lot of integration work required, not least with the BMJ (British Medical Journal), which writes and publishes all the Vet Journals, that include the many features and articles that BVA members want to access. The build also required a bi-directional integration with the BVA CRM (MS Dynamics) that required a payment gateway to take membership subscriptions and an easy-to-use self-serve members area. This included mechanisms for flagging up items like upcoming CPD events and notifications as to when individual memberships are due to expire.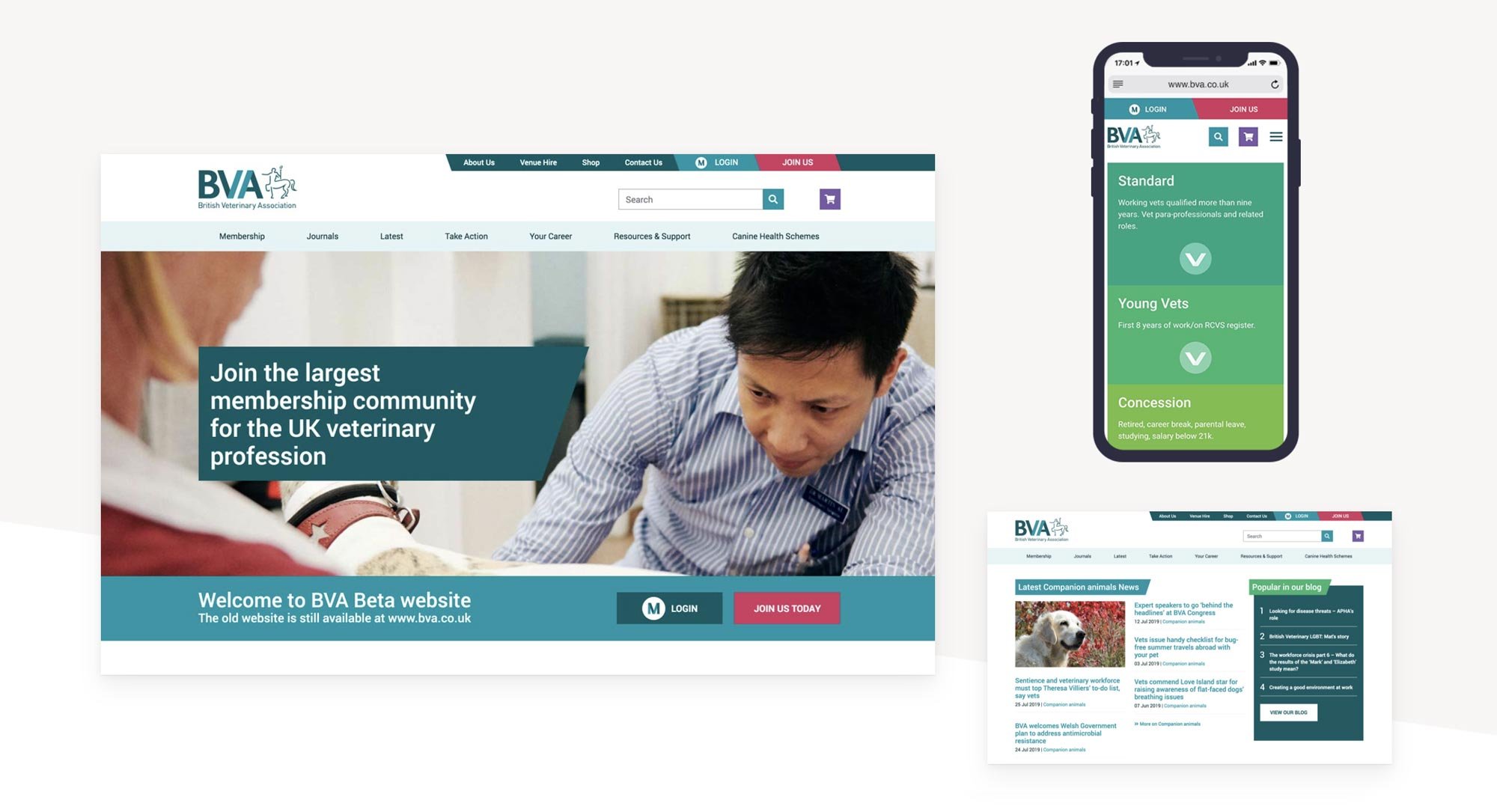 The result
It took just over a year from being commissioned to delivering the site. The site finally went live in December 2019. So yes, we created all features great and small for the BVA and these were matched by the many benefits. Smart as a tailored suit. Comprehensive. Ordered. Highly navigable. Logical. And above all else, not just easy to use – but pleasurable to use.
Which leaves us one thing to say - it shouldn't only happen to a vet. If you fancy thoroughness, involvement, the full works and the opportunity to wear your own tweed cap and driving gloves contact us!