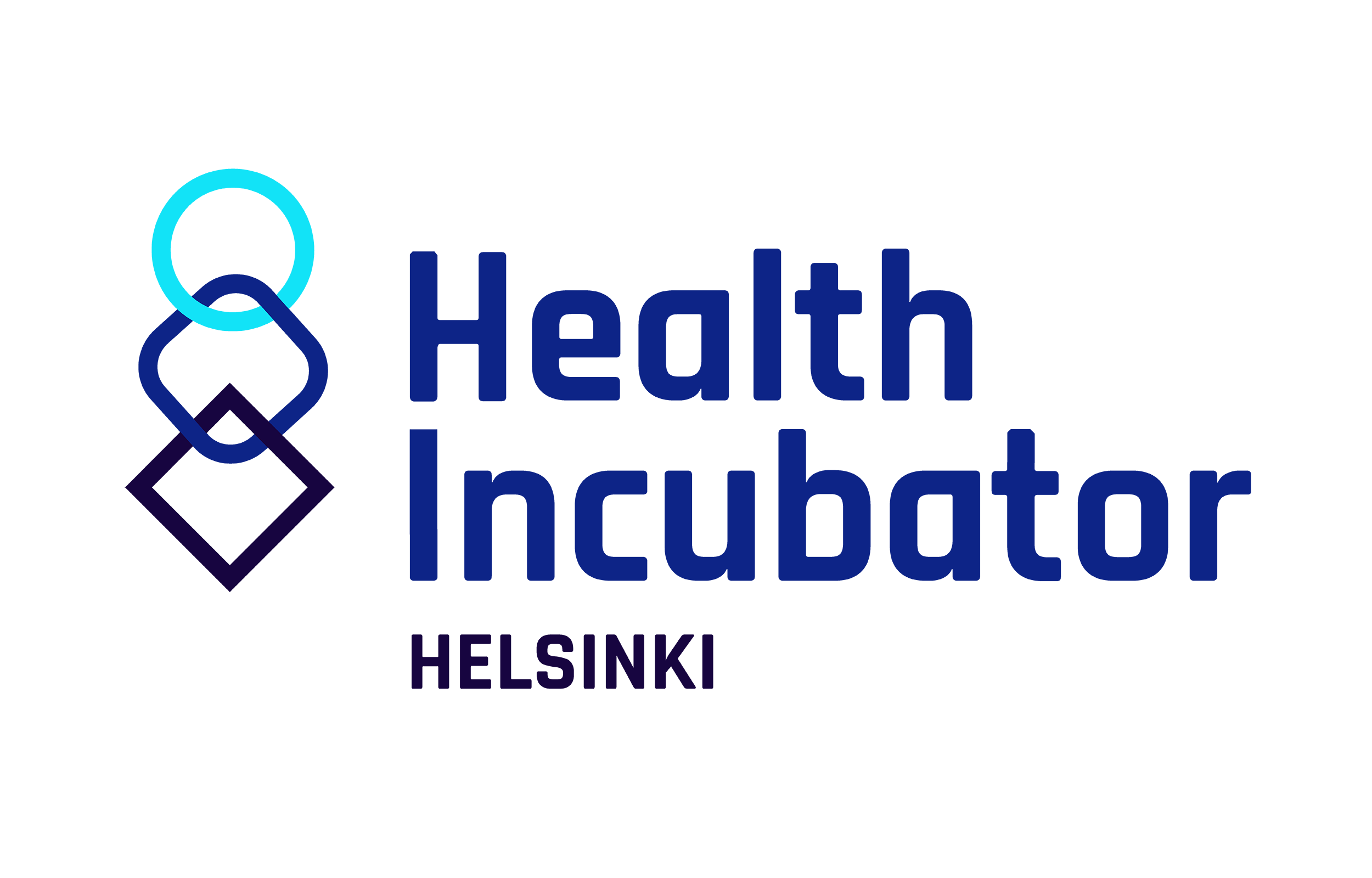 Health Incubator Helsinki is a long-term incubator program driving the transformation of health innovation, research findings and expertise into international business, and attracting new talent and companies to Helsinki. The program, created and operated together with Health Capital Helsinki, provides long-term support including tailored mentoring and advisory services, within the thriving Helsinki health ecosystem.
Location
Finland
Sector
Health
Service
Digital Marketing and Social Media
Background
In November 2020, Health Incubator Helsinki invited UP to provide a response to their tender for digital marketing services. The concept is unique in the Nordics in its focus and duration: the incubator focuses solely on health, and the program is up to three years long. As well as impressive mentorship, support and advice, successful applicants also have access to broad networking opportunities and working facilities.
The brief
The UP for LIFE team were delighted to provide a response to the tender and even more delighted to win the project and work with the Health Incubator Helsinki team. Our understanding of the target audience is deep, meaning we could incite them to take action and apply.
The brief was clear: create growth for the Helsinki region's health and health technology industry.
The immediate goals were to get as many high-level applicant teams as possible for the upcoming application window in February 2021. Raising awareness for this high-quality business incubator amongst promising start-ups, universities and investor groups was vital. Finally, together we were tasked with increasing the recognition of the Helsinki region as an excellent health competence centre and start-up environment among the target groups.
The solution
Before charging into digital execution, we worked with the Health Incubator Helsinki team in creating a clear position and core creative concept for the campaign. It had to be a simple, engaging campaign with a clear call to action: apply. As a digital, online campaign we worked mobile-first for the initial outreach and the user's initial exploration of the opportunity.
Generating quality interest and leads that aligned with the existing brand was a task we were ready to take on.
We took the Health Incubator Helsinki team through our tried-and-tested DIGITAL BASE-UP® process which focuses the mind on the most important elements to get a digital campaign working perfectly and efficiently. We use it to work in an agile way that was required for this project.
After a detailed briefing session, we ran a thorough audit on existing communications, previous insights and research on Helsinki as a health tech hub. We reviewed the existing website and social channels to identify areas of opportunity for optimisation. Finally, we examined commercial targets, acquisitions to date and conversion process. This discovery stage was vital to make sure we knew what had worked previously, know what pitfalls to avoid and what the commercial goals were. It's amazing how often this step is missed; we avoid those dreaded red faces with our process.
Now we could agree on the campaign strategy. We agreed on target personas and audiences we could define on the social channels. A creative concept for the campaign was delivered, key messages, ad strategy and detailed recommendations for their technology stack. Then we got to work creating all the assets, the complete ad plan and got everything ready for launch.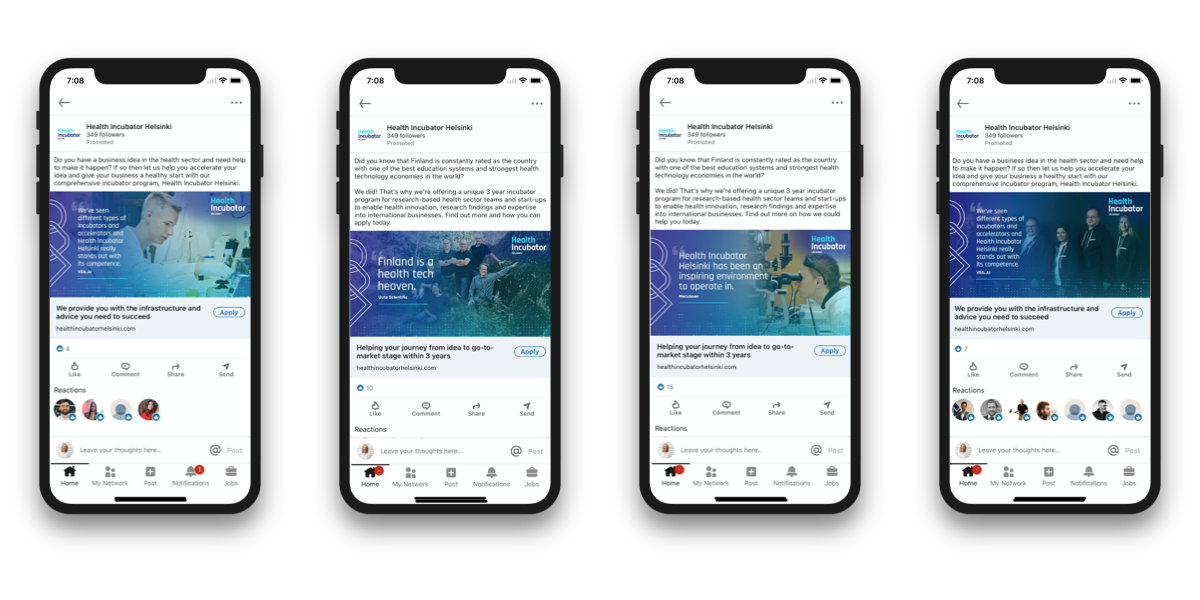 "Working to a tight deadline and a clear goal made our process shine. No time wasted and a beautiful campaign leads to great success and wonderful opportunities for a group of innovative start-ups."
- Alice Smith,
General Manager
UP DIGITAL
The process
Running successful digital campaigns takes a lot of management, optimisation and dedication. Day to day, week to week, campaigns were A/B tested, optimised creative was adjusted and fine-tuned until we hit the sweet spot. We saw applications come in, leads fill inboxes and engagement rise.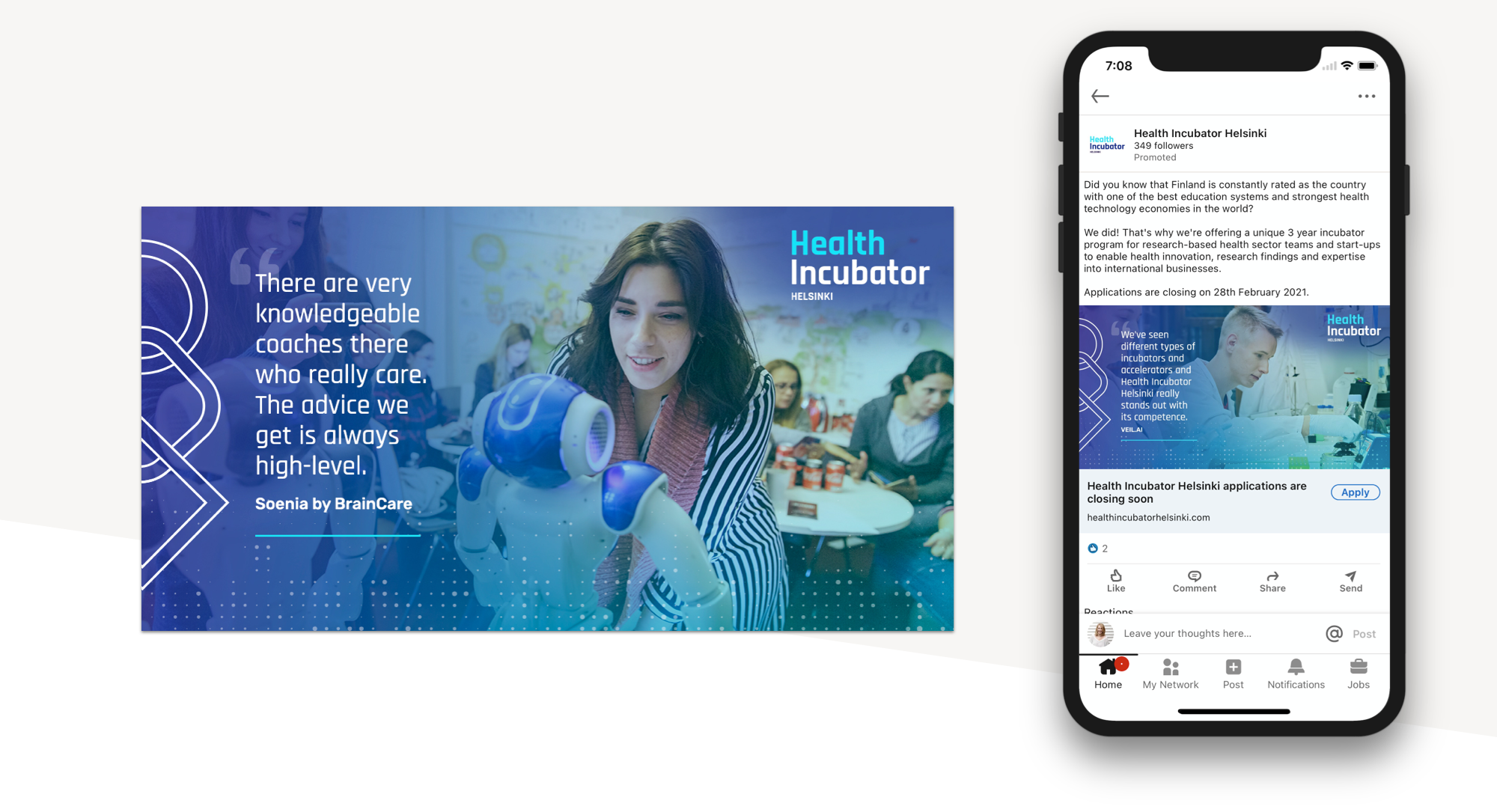 The result
Health Capital Helsinki reached its goals and 13 health and life sciences startups with very high growth potential were selected for the second program, starting in April 2021. In total, the incubator received 34 high-quality applications from Finland and around the world in less than 2 months.
As well as a successful application round, the ads delivered 325,262 impressions and over 1,133 clicks. A fully GDPR compliant list of email subscribers was created so Health Incubator Helsinki could continue its momentum and communication.
We're gearing up for the next round of campaigns, the support and success continues on.