Trying to find the perfect flexible office space in an international city like Amsterdam is not easy. But when UP THERE, EVERYWHERE - the world's first global cloud based agency - met with the folks at B.Amsterdam, we knew that we finally found a home for opening an UP Creative Space in Amsterdam. The member- oriented community at B. fits perfectly with UP, and we love the creative vibe that permeates throughout the entire building.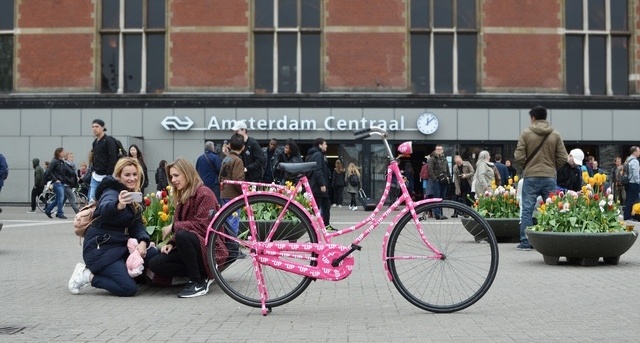 Cloud -based agency UP feels more and more at home in the Netherlands
The UP Creative Space Amsterdam is located at B.Amsterdam in building B.1 on the Johan Huizingalaan 763a, which has a professional yet slightly edgy, industrialized feel. Amsterdam joins the UP global family of Creative Spaces in Stockholm, Hamburg, and New York, and coming soon to Silicon Valley.
Today, UP Members span the globe totaling 180+ brand strategists, art directors, production artists, copywriters, social media experts, digital marketers, film and sound producers, Inbound and content marketing experts, market researchers, and account executives around the world, including other great cities such as London, Dubai, Boston, and San Francisco.
A truly global agency
"We are probably the most global agency not only in Amsterdam, but the world," said Lawrence Masle, COO of UP THERE, EVERYWHERE. "With our disruptive, cloud-based platform, we provide our clients with access to some of the best strategic brand and creative expertise across the globe, with a full range of integrated agency services."
UP loves working with globally oriented companies and organizations. We bring global thinking and access to a team of highly experienced brand strategists, creatives, and account executives to our clients, helping them to reposition their brands, refresh their identities and house styles, and develop integrated communications and content for their local and global markets.
Not new to the Netherlands
While UP is just putting a physical flag down in Amsterdam now, it has been active in the Netherlands since the agency was founded over 6 years ago. There are now 20+ Members based in the Netherlands, and in typical UP fashion, about half of those are Dutch, while the other half are from other parts of the world.
Over the past years, UP has had the privilege of working with Dutch based organizations like DHV, the International Water Association (IWA), Zienrs, Ingenico ePayments (Global Collect), Robin Radar, the Dutch government, and the cities of Amsterdam and Utrecht. And with the establishment of an UP Creative Space in Amsterdam, UP is looking to work with more Dutch based companies and organizations.
About UP
UP THERE, EVERYWHERE is the world's first global cloud based agency. UP was global from day one. Providing our clients with access to our global talent, anywhere around the world, 24/7. It's about providing exactly the right talent to work on your business, no matter where you happen to be. And because our people are based around the globe, we can keep working for you across multiple time zones. Agencies have been hampered for decades by traditional organizational structures with too high overheads. It's a system that's broken. Enabled by our cloud based platform and digital tools, UP is capable of delivering far better services and value than has ever been possible before.
What that means is we are simply more effective than any other agency on earth. That means you can expect more.
For additional information, contact:
Lawrence Masle
Tel: +31 6 10 93 44 55