Hashtags. #Hashtags. I'd say most of us are aware of them – to varying degrees admittedly. We've seen the good, the bad and the ugly (hello #susanalbumparty). And while we can't all be social media aficionados overnight, we're here to help you get to grips with things in the meantime. Every day is a school day, right?
So, let's get started on our guide to using hashtags to help optimize your social media engagement.
What is a hashtag?
Think of a hashtag as a search term. They are like keywords or key phrases that you'd use for your web content. SEO for social media if you will. For example, if this article was shared, we could use hashtags like:
#HashtagGuide #HowToUseHashtags #SocialMediaOptimization
Similar to when you are developing your keywords, steer towards those with lots of results for increased reach opportunity. Yes, there's more competition, but there's also more demand. Most social media platforms will give an approximate number of posts or followers for the hashtag you're looking to use, as well as other popular variations: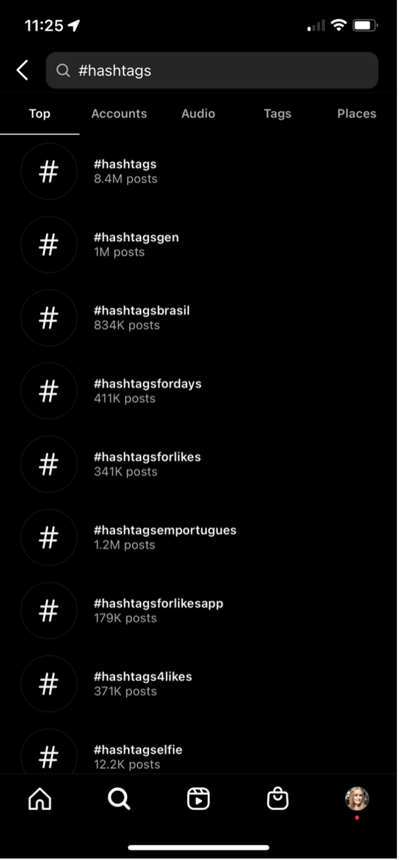 And for our friends using screen readers, make sure you're using CamelCase. That is, capitalizing the first letter of every word. RNIB says:
This means that the words in the hashtag are read out correctly by screen readers. It also makes them easier to read for everybody else. For example, you would write #HowISee, rather than #howisee.
Which platforms use hashtags
Twitter is the OG when it comes to hashtags. However, they are also used across most platforms including LinkedIn, Instagram, Facebook, TikTok, YouTube and Pinterest. Each have their own etiquette on how, when and where to use them but let's focus on the main players that you're likely to be using for your business.
First: the top questions on how to use hashtags
#1 How many hashtags can you use in a post?
The maximum number of hashtags you can use in a post differs on each platform:
Instagram 30 on a post, 10 on a story.
Facebook is less clear on maximums but in general they suggest 1 or 2 per post, keeping it super focused.
Twitter recommends no more than two relevant hashtags per tweet.
LinkedIn also suggests the minimalist approach, recommending two broad hashtags and one niche per post (but we have found trial and error works best).
YouTube allows up to 15 hashtags in the video description, with the first three showing above the title.
TikTok doesn't limit hashtags,

per se

, but the character limit for captions is just 100. So far, there doesn't appear to be a disadvantage of cramming in as many as you can!
Additionally, you can add more hashtags to your TikTok content in the comments without getting penalized (yet!) however these won't be prioritized.
#2 Are hashtags better placed in the post or comments?
Ah, the social media chicken or the egg debate. Some say hashtags absolutely MUST go in comments, whereas others (like me) don't see a difference other than aesthetic, so just pop them at the end of the caption (on Instagram) or your main post (in LinkedIn, Twitter, Facebook).
Instagram's Creators account where it shares tips on how to grow your audience. Here, Instagram says you should use relevant keywords and hashtags in the caption and "NOT" the comments. Instagram's search tool is like going down a rabbit hole, so hashtags are one of your best and only bets at increasing your reach. So, if you've been dumping all your hashtags in comments then you should probably stop that.
That said, research suggests if you have over 100,000 followers, it is better to place your hashtags in the comments. However, chances are, if you have that many followers, you probably don't have any real need to bother.
For more data on where you should place your hashtags based on followers, have a look at this: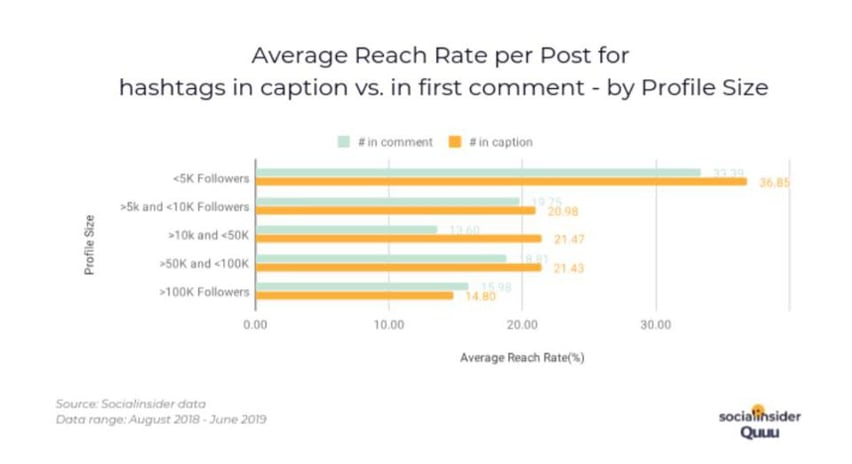 #3 Where can I find the best hashtags for my content?
Once again, all platforms will have their own in-app insights. For example, Twitter shows what's trending, Instagram has the explore tab and LinkedIn makes suggestions when you're posting: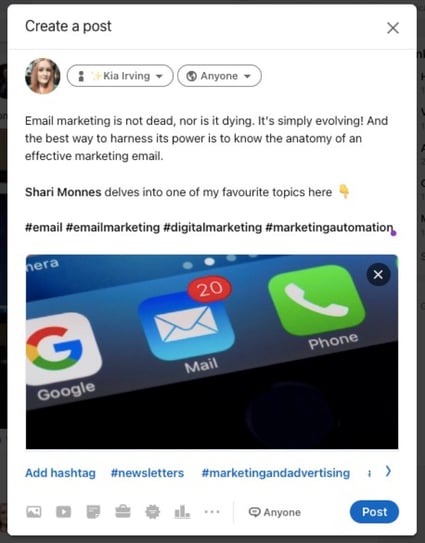 In general, we recommend researching the number of posts and followers that relevant hashtags have. You can use services like RiteTag, HashTagify or Keyhole to research the volume of followers and reach for various hashtags.
If you're stuck for ideas, here's a good starting point for hashtag inspiration: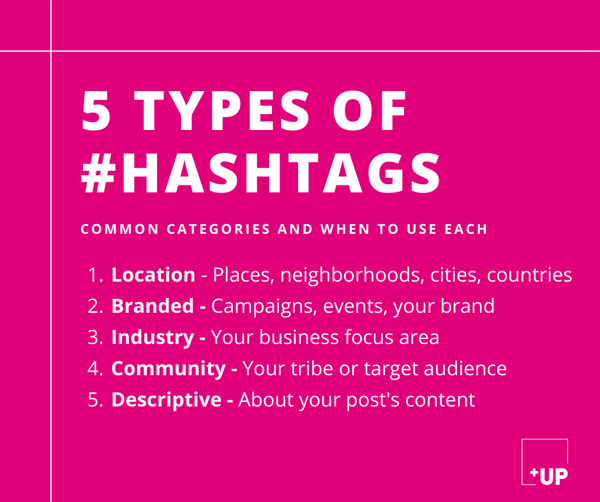 Next: some data on hashtag usage
It wouldn't be much of a best practice article without some data!
Twitter
Using hashtags with your tweets can increase their engagement by 100% for the individual, and 50% if you have a brand.
The sweet spot for the right number of hashtags to use per tweet is between one and two. If you follow a strategy like this closely, you can gain 21% in engagement.
Tweets that use more than two hashtags might experience 17% less engagement.
Tweets that only include a couple of hashtags have a 55% higher chance of being retweeted by someone.
Based on research from Twitter, ads that don't include hashtags get 23% more engagement.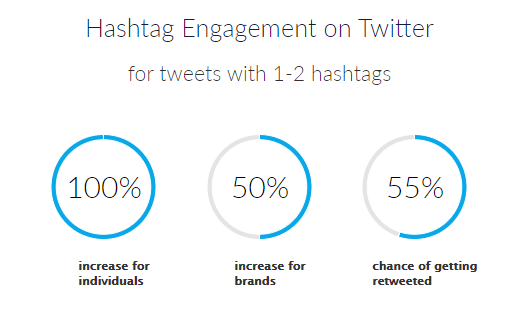 Source: https://thesmallbusinessblog.net/hashtags-statistics/
LinkedIn
The most used hashtag on LinkedIn is #marketing.
A hashtag can increase your engagement on LinkedIn if you already follow that hashtag.
Instagram
87% of accounts put their hashtags in the caption, compared to 12% in the comment section.
Source: https://thesmallbusinessblog.net/hashtags-statistics/
Facebook
Generally speaking, hashtags don't get a lot of engagement or usage on Facebook. And what's more, the Meta gang are pretty vague about how they work and their effectiveness… In this instance it is very much trial and error.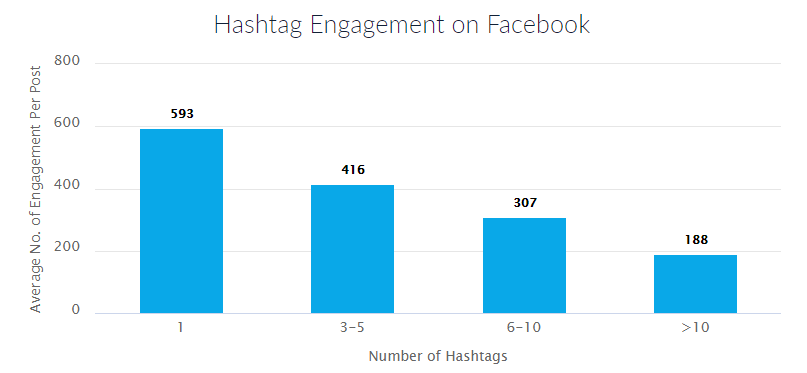 Source: https://thesmallbusinessblog.net/hashtags-statistics/
Hashtags are helpful when you are trying to expand your reach with a Facebook campaign. Just make sure that your Facebook post is set to public so that even people who aren't following you can see your post with your hashtags.
TikTok
A lot like Facebook, finding meaningful data on TikTok hashtags is elusive.
As a best practice, write your copy and then see if certain keywords can be made into hashtags. #Do #not #hashtag #every #word. Not only will this look like spam, there's no point in tagging words that aren't important.
Finally: a few hashtag Do's and Don'ts
Here are some key punctuation do's and don'ts:
DON'T add spaces. Multiple word hashtags should be grouped together. For example: #JustDoIt not #Just Do It.
DO capitalize multi-word hashtags. Title casing (or Camel Case) will vastly improve readability and will prevent hashtags from being read incorrectly. (See #nowthatchersdead or #Susanalbumparty)
DON'T use symbols or punctuation marks. Grammarians may cringe over turning "I'm" into "Im" or "you're" into "youre", but hashtags operate under their own rules. Thus, Hillary Clinton's 2016 campaign slogan "I'm With Her" became #ImWithHer in hashtag format.
DO include punctuation around your hashtag. If your hashtag is in a sentence and should be followed by a comma, end mark, or other form of punctuation, including one will not affect the tag.
DON'T use hyphenated words. This will split your hashtag. So #real-time should be #realtime and solid-state is #solidstate.
DO check your spelling. Hashtags can often be overlooked in proofreads, but a misspelled hashtag is a missed connection.
DON'T make them too long! Hashtags should be easy to remember and concise. Not only does it make them easier to read but also less likely to result in typos!!
And just like that, you should now be armed with a good starting point to begin leveraging hashtags for social media—from the sweet spot of how many to use and where to use them, to finding the most relevant ones for your content.
Read more: How to develop a winning social media strategy
Need more help with social media content and using hashtags?
Reach out to UP for Social Media Services.