You probably have not failed to notice that content marketing is a popular topic of conversation these days. Everyone is talking about it, but what is it really? Let me help to sort out the concept that is on all marketers' lips these days.
What is content marketing?
Content is not really a new fangled marketing invention. The truth is that content has been used in marketing for a long time, but it has gained a new significance in the era of social media. With access to blogs, video streaming and social apps, anyone can become a publisher.
Content marketing is thus a mix of commercial communications, marketing and public relations published in, for example:
Newsletters
Podcasts
Facebook
Instagram
Snapchat
YouTube
Blogs
What content marketing isn't
Content marketing isn't about creating more brochures for your product. A blog post that talks only about your services or your latest product updates isn't making effective use of content marketing. Content marketing relies on providing value to your target audience. It's about sharing something useful that helps your prospects or customers do their jobs better, or improves their lives. It might help them solve a problem, or define the criteria they use for evaluating options. So in summary, content marketing isn't:
Product brochures
Sales pitches
Spec sheets
Advertising
It's about serving your audience by providing information or support that helps them solve a problem or make a more informed decision.
That's why nearly all top-performing B2B content marketers today ( 90%) put their audience's informational needs ahead of their company's sales/promotional message.
How does content marketing work?
The old-fashioned marketing approach of self-serving sales messages has difficulty penetrating through the media noise today and holding attention on the Internet, where something better is just a click away. In today's digital world, it's all about writing content that people want to read and then (hopefully) share further on their own channels.
What determines the kind of content you should produce for different channels? The answer is: your customers and their search habits. If you have nothing interesting to say, no one will want to read your content.
The goal is to offer the reader interesting, useful and relevant content in order to build a long-term relationship that may eventually lead to the reader purchasing products or services from your company. With good content, you begin to establish a relationship with your potential customers long before they are ready to make a buying decision.
Why use content marketing?
In order to:
Strengthen the brand
Attract new customers
Develop a long-term relationship
Build trust and increase sales
Attract leads via search engine optimization (SEO)
Build your company's reputation as an industry leader or expert
When you work with content marketing, you share original and useful content that helps you build an audience and develop a reputation as a knowledge leader in your industry. That's not to say you can't use paid promotion to help grow your audience, but the goal is to focus on building a relationship that lets you share your expertise with potential customers.
The bottom line is that good content draws an audience. However, content marketing is a long-term process that requires time and effort to develop – like any good relationship.
How are content marketing and inbound marketing related?
In general, content marketing is just one component of inbound marketing.
Inbound marketing is a set of tools, technologies, and processes that work together to bring traffic to your website, convert website visitors into leads, and eventually into customers. Inbound marketing uses content to help build an audience and provide the right message to the right person at the right time.
In inbound terms, we call this process "nurturing the funnel." This means you create content that helps customers understand or define their problem, then understand what sort of options exist to solve it, and finally how your product or services can help them.
Inbound content is designed to be optimized for SEO so you can be found in organic search results. But to be successful it must also be targeted to the correct audience and answer their questions. Good inbound content is often highly visual and easily shared.
To maximize your success in attracting visitors, converting those visitors to leads, and nurturing them through the funnel to become customers, content must be part of a larger inbound marketing process. Content alone can generate traffic, but it can't capture leads, or move leads down your sales funnel, qualify them or turn them into paying customers. That's what inbound marketing does.
What are some reasons that businesses fail at content marketing?
Statistics show that most businesses these days are using content marketing, and yet many of them are not successful. Ninety-four percent of B2B small businesses use content marketing. In 2014, only 9 percent of B2B marketers rated their organization as "very effective" at content marketing. In 2019, around 27 percent consider their content marketing efforts to be very or extremely successful. That shows improvement, but still not the success story that is possible.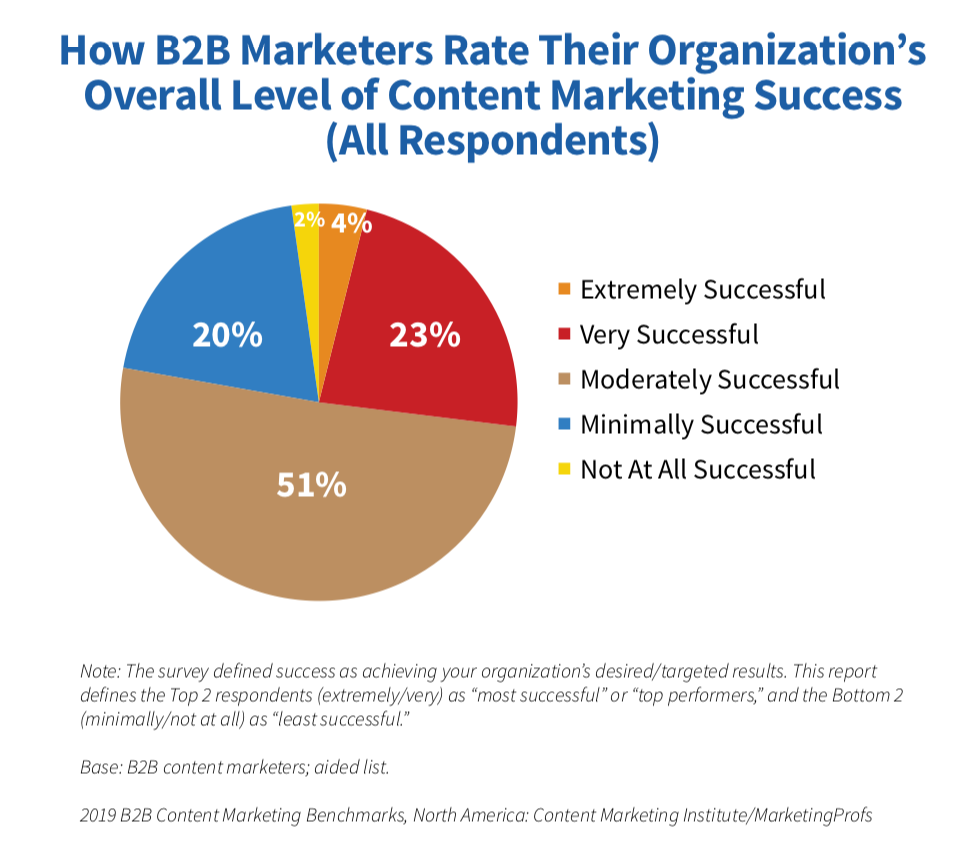 The main reason many businesses don't have success with content marketing is that they fail to plan. Without a marketing strategy designed to achieve specific goals or attract a specific type of person (what we call a 'persona' in marketing speak), your content is missing the mark. Some other reasons your content marketing efforts could fail are:
Creating the wrong kind of content
Producing boring (or overly promotional) content
Not understanding your target audience
Not promoting your content
Hiring inexperienced writers
Defining your target audience, understanding their wants and needs, and creating a strategy designed to account for SEO and the buyer's journey, makes all the difference.
How can you succeed in content marketing?
Recent research by the Content Marketing Institute uncovered some insights about creating a successful content marketing program. The report reveals:
Benefits of a documented content marketing strategy
Impact of using marketing technology
Types of content distribution methods that work
Top goals achieved during the last 12 months
Have a look:
By planning ahead, developing a well-crafted persona based on research and feedback from your sales team, and considering both SEO and a promotion strategy when creating content, you'll be more successful.
Want to know more?
Get our guide to producing effective content and inbound marketing.