It doesn't matter how long you've been working in ecommerce. For most, a shared vision of growth = success is a unifying factor. What does matter, however, is that you have a well-planned strategy in place, and you're supported by an ecommerce CMS that can grow with you on your journey.
Whether you chose a DIY option, have an ecommerce or agency partner onboard, or you're thinking about the latter, analysing your operations and strategic plans are essential. What you might have thought equalled success a year ago, might be very different now. And indeed, a lot has changed in this life altering pandemic.
So, grab a cup of whatever you fancy, and let's examine (what we regard to be) the best ecommerce platforms, followed by some sage advice on strategy.
Part I: Our favourite ecommerce platforms
There are many ecommerce platforms to choose from and identifying which one is best for you and your business requires you to have a clear vision for your brand. For example, you'll need to consider the size of your business, technical ability, team resource. It's also important to think about what kind of features you'd like to have like filters, checkout options and custom features.
#1 NopCommerce
Our favourite ecommerce platform has to be NopCommerce. Where to begin on why we rate it so highly?
It's secure. It's fast. And the custom features are limitless. We have deployed tons of NopCommerce sites and no two of them are the same. Not only this, but it's totally scalable, suitable for those starting out and enterprise size alike.
Case study: MicroBarBox
We have worked with MicroBarBox since it burst onto the luxury alcohol gifting scene some years ago. Playing a pivotal role in their launch, we helped with branding, digital marketing and the build of their ecommerce site.
We chose NopCommerce due to its scalability and customisable options, making it ideal for brands with big plans! Over the years, we have added some unique customer features, plus developed security features centred around the sale of age restricted products online.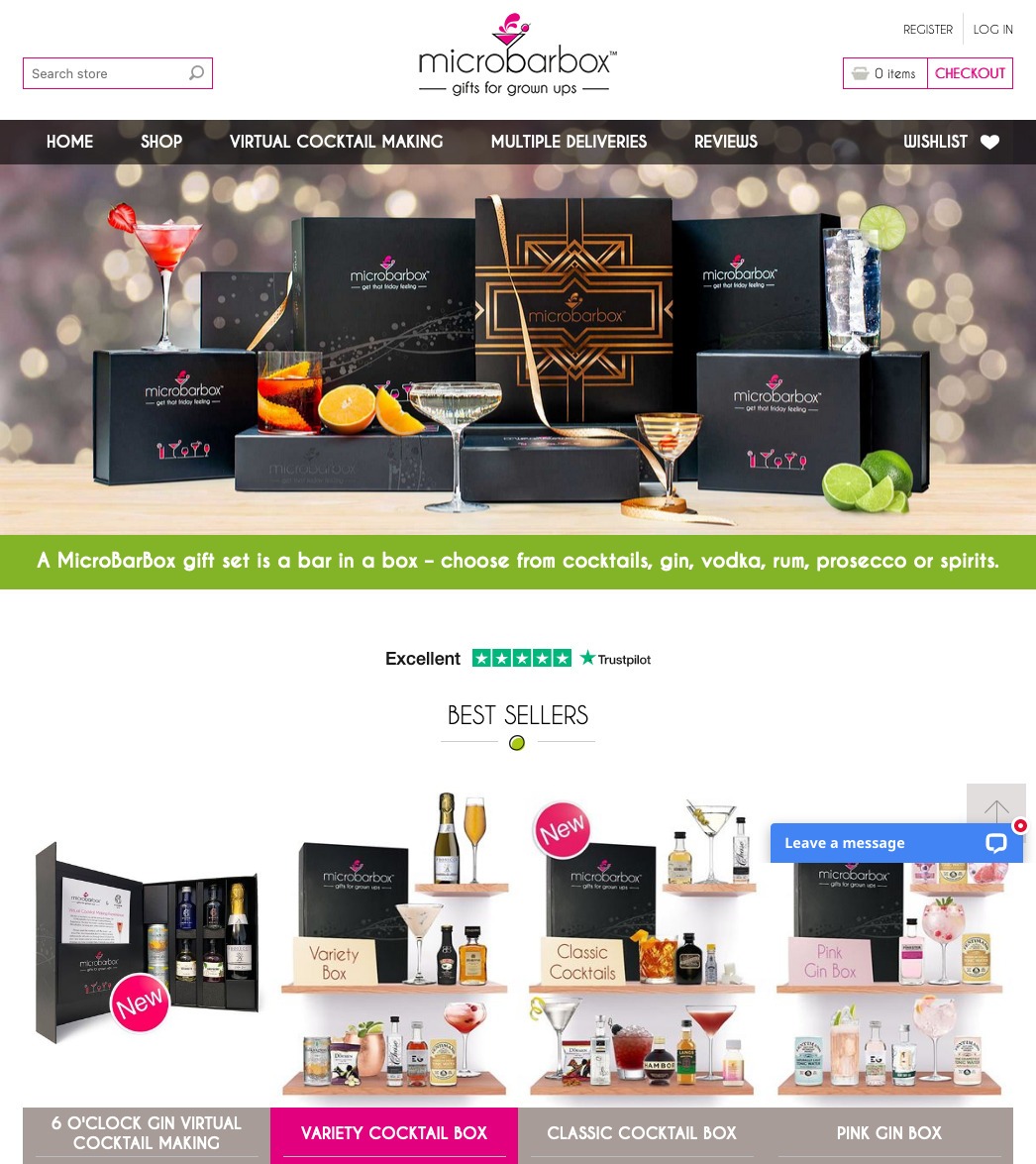 Find out more about how we worked with MicroBarBox to build their brand and ecommerce website.
Case study: Rokers
Although a local business, the Rokers online store is by no means small fry. By the time we had rebuilt their website and ecommerce store, there were over 10,000 products and over 9 pet and home categories listed! And with the need for many, many filters, payment and delivery/collection options, there was a lot to sink our teeth into.
NopCommerce was the ideal ecommerce platform once again. With integrations to SagePay and ParcelForce as must have options, as well as Premier EPOS to ensure their store and customer data would link up, this platform made light work of a large, complex project.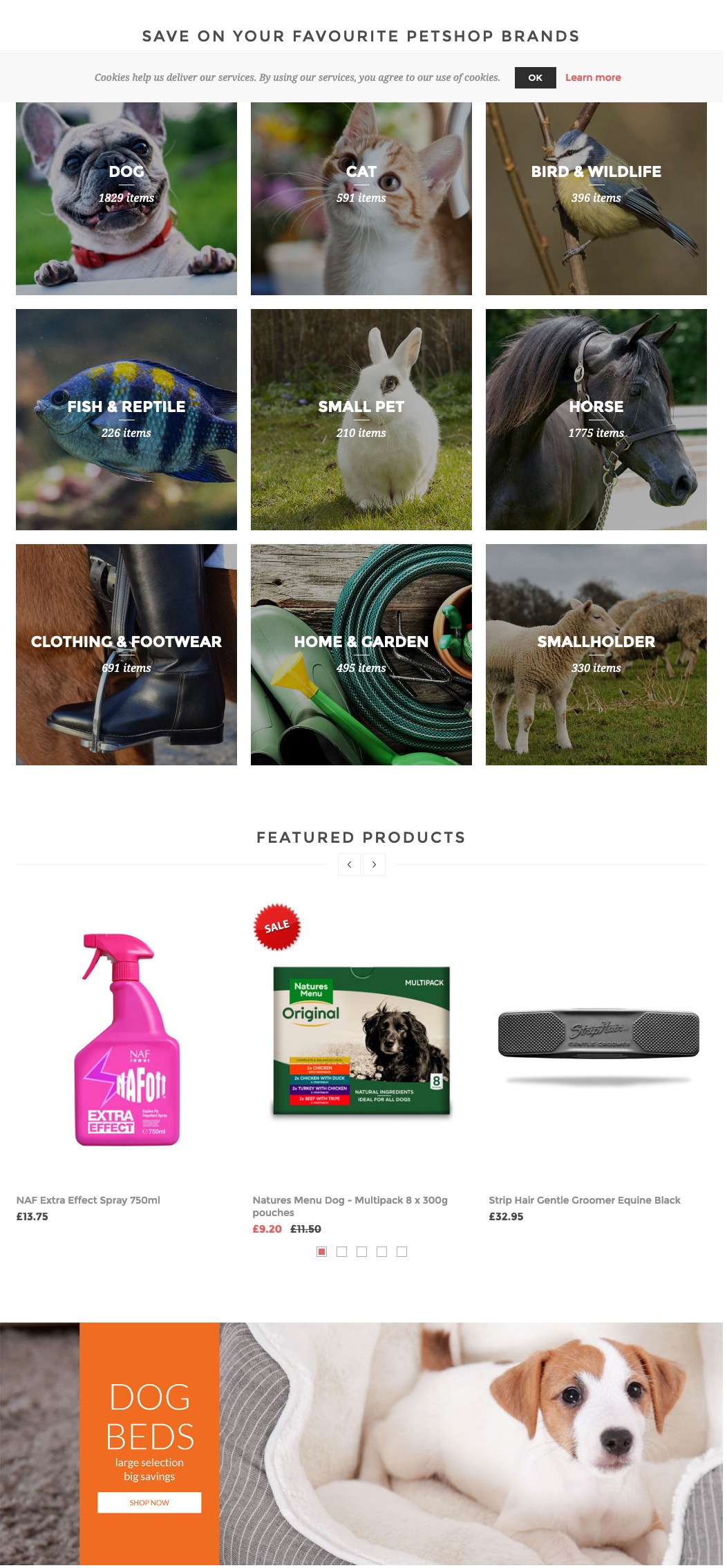 Find out more about the features and customisations we built into Rokers online store.
#2 Shopify
While Shopify is usually synonymous with new or boutique online stores, that's not to say it isn't a scalable ecommerce platform!
Shopify's plus points are the reasonably priced platform structure, with many built-in options for payment gateways, security, and options to integrate with other apps. Not only this, but it's incredibly easy to use and has a good level of customisable features too.
Case study: Zone3
The world's highest rated triathlon brands website is indeed built on Shopify Plus! The premier included a staging site for us to build and test before launching their new, clutter-free webstore.
What's so special about this? We were able to plan user journeys with Zone3, improving their UX (user experience) while also implementing a better SEO strategy!
The Zone3 website focuses not only on clothing and accessories by gender, but also discipline, so it's really clear to navigate to what is needed.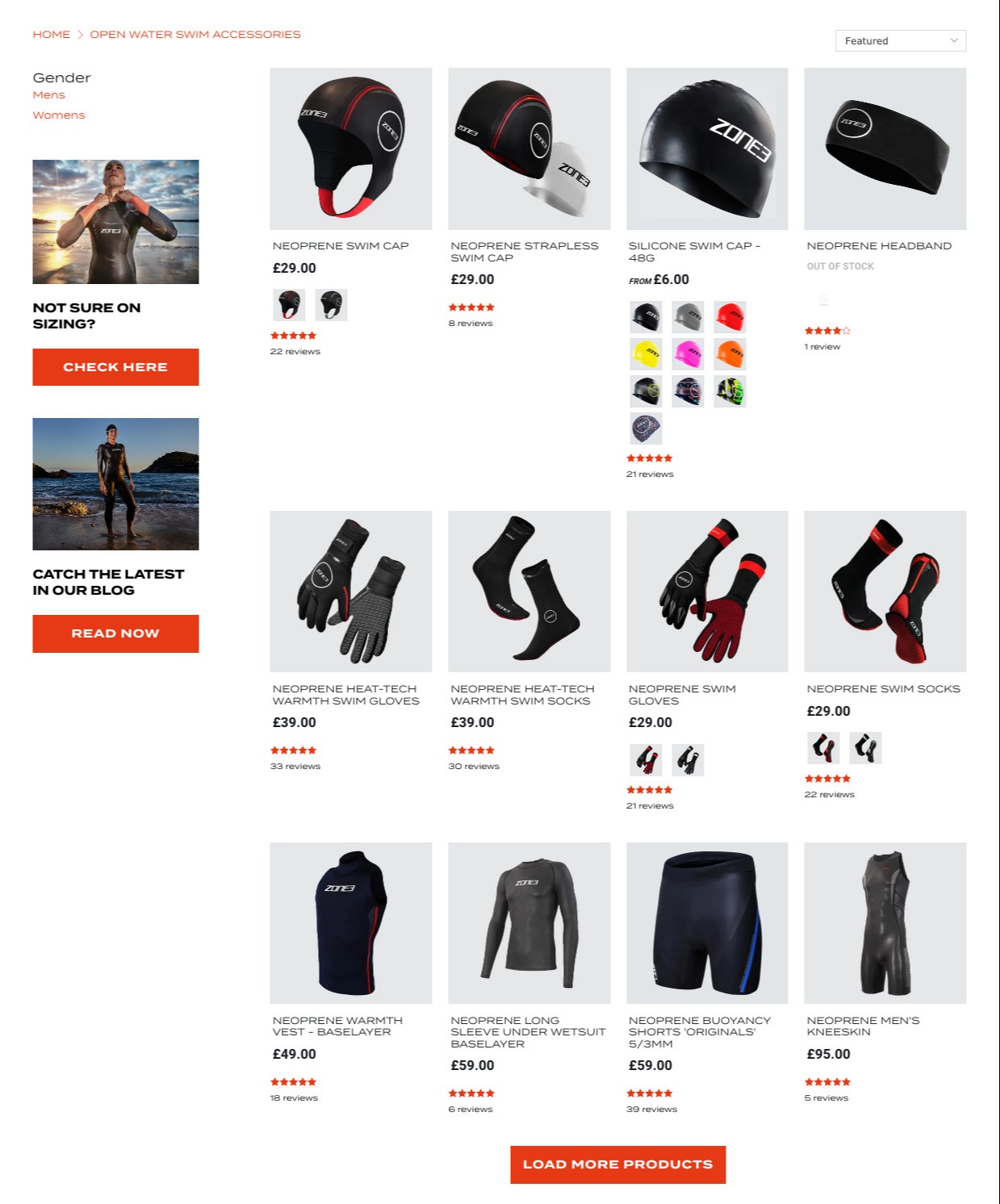 Find out more about the Zone 3 website here.
Case study: Eyelash Emporium
From humble beginnings to becoming part of the Grafton International Stable of Brands, we have worked with Eyelash Emporium for a long time. We built their ecommerce store using Shopify, working closely with their in-house marketing department to help them become self-sufficient (bar the larger projects that require a developer).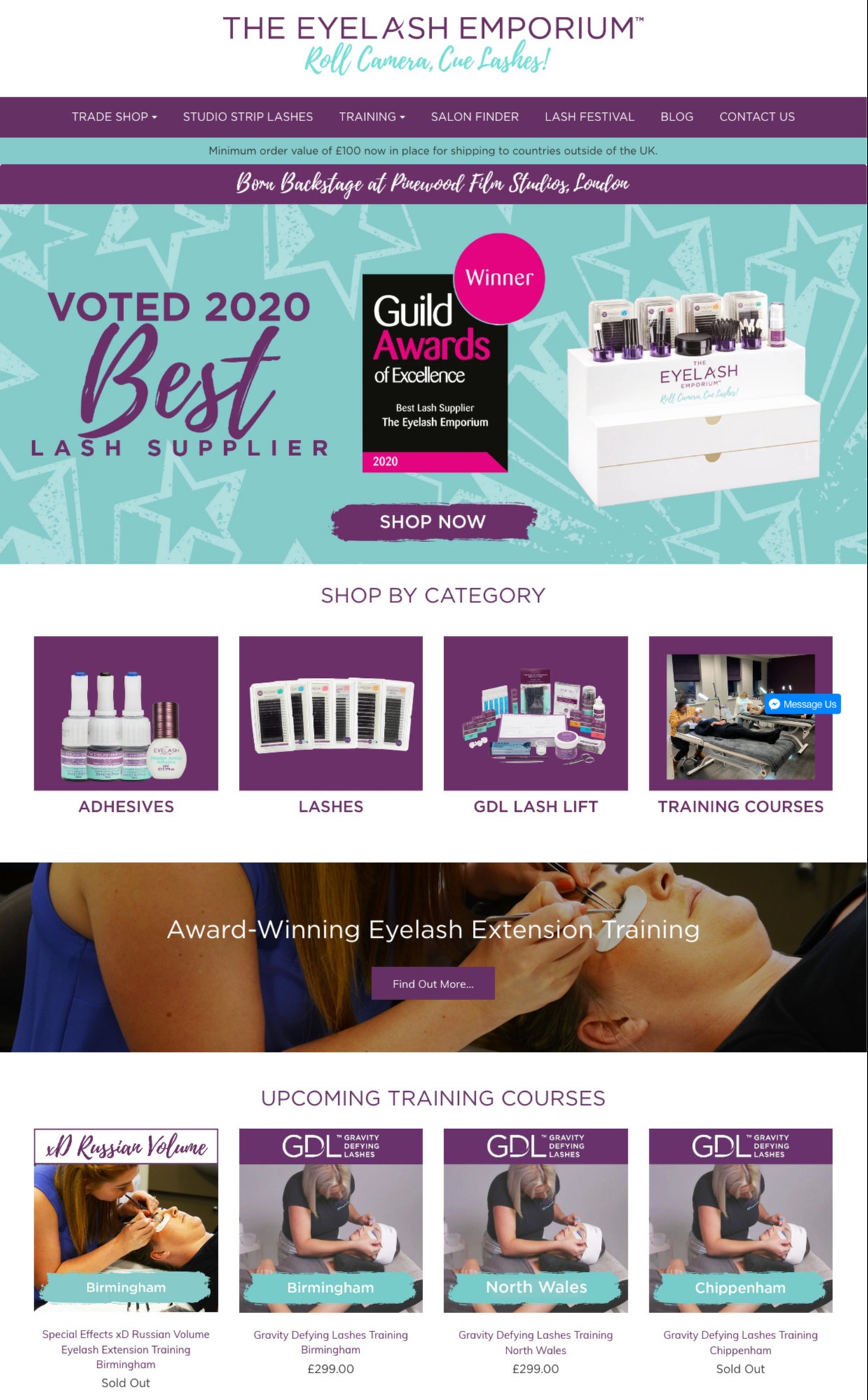 Find out more about how we have worked with Eyelash Emporium over the years.
#3 Ucommerce
We also work on the Ucommerce platform for online stores that need that extra level of bespoke detailing. Ucommerce is one of the most powerful, high end .NET based commerce platforms, integrating with Umbraco (our favourite website CMS!), Sitefinity and Sitecore.
Case study: The British Veterinary Association (BVA)
BVA are the largest not-for-profit veterinary membership communities in the UK, supporting and empowering over 18,000 vets at every stage of their career, across all disciplines of animal health and welfare.
Alongside a rebuild of their website, they needed an ecommerce area to sell memberships, courses, guides and stationery. Not only this but their store would need to seamlessly integrate with their main website, built on Umbraco, making Ucommerce the obvious choice.
With a wealth of customisation options available, we were able to style their online store to the exact same look as the rest of their website.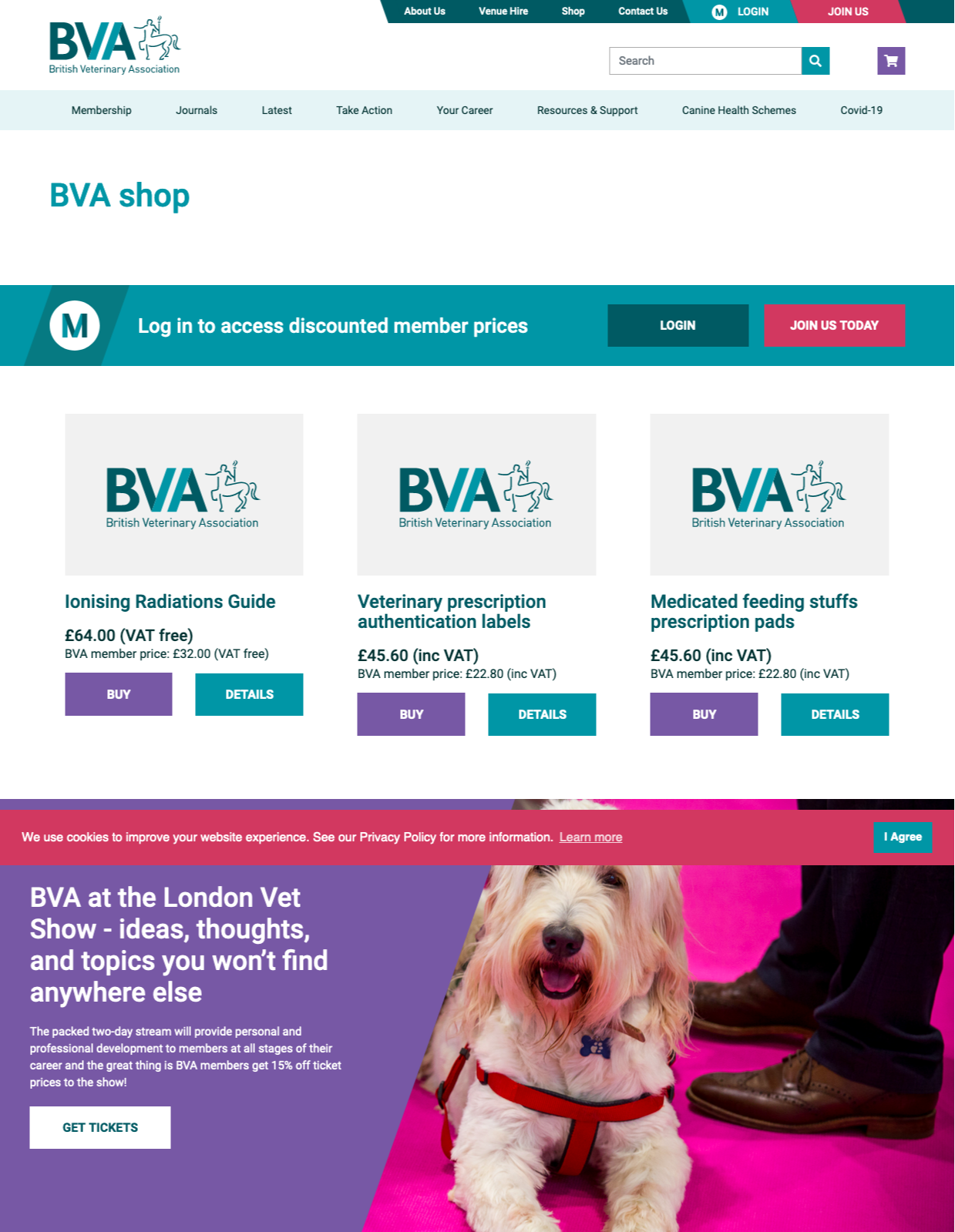 You can read more about our work with the BVA here.
#4 WooCommerce
Another brilliant option is WooCommerce, WordPress's commerce partner. Just like WordPress, it's an open-source platform, oodles of options when creating a beautifully powerful eCommerce website.
We have recently rebuilt an online store for Honey Brothers, harnessing the WooCommerce platform and its seemingly endless possibilities.
Part II: Your strategy
As mentioned, your strategy is of equal importance to your ecommerce platform. The two go hand-in-hand in fostering success. If you decide to go down the DIY route, there's a lot to think about: from fulfilment and logistics, to online store optimisations and customer services.
How to migrate your offline brand, online
Ultimately if you have something to sell, it's relatively easy to set up shop and get going. But in actuality, there's much more to it. This is where an ecommerce agency partner is worth their weight in gold.
Our top six tips to build a powerful ecommerce marketing strategy:
#1 What's your marketing plan?
Once again, it's so important to have a plan! By knowing and actually understanding your business, how you win and retain customers, and what pain points you solve is crucial. If you work with an agency, it's important that they can immerse themselves in who you are and what you do too. That way, they can make the best possible recommendations to help you grow and succeed. Find out exactly what you'll need to brief them here.
#2 Your marketing ecosystem
Of course, it's much better when you orchestrate a joined-up campaign, linking your SEO strategy with your PPC paid social media, inbound and organic social media. But sometimes it can feel like a huge job and hard to know where to focus.
We like to think of this as your marketing ecosystem. Harmonising your strategy to include all the above, consistently and properly. To be frank, it's all about planning, starting with your funnel.
#3 SEO is the cornerstone of best practice!
A lot of work goes into building a successful ecommerce store, and it's more than just a beautifully designed website. By identifying keywords and setting an SEO strategy, your website stands a better chance of being found in the first place!
This is crucial for creating new customer traffic; organic or paid. Although you may think PPC relies purely on the strength of the ad you create, your website needs a good quality score to deliver quality results. In simple terms, your quality score is assigned by Google's ability to crawl and index your site and analyse things like bounce rate.
#4 PPC campaigns
Running PPC (pay per click) campaigns is a great way to raise awareness of your brand and attract new business. But it's important to know that PPC doesn't just refer to Google ads. PPC includes YouTube (the second largest search engine!), Bing and social media ads.
It's important to not only identify what your goal is, but to understand the best way to achieve it. This isn't always as simple and straightforward as "I want to sell my products". It might work out better in the long run to work on building an email list that you can market to or encourage a download.
#5 Paid social media
Following on from PPC campaigns, it is almost always good to have scope for paid social media. With a wealth of platforms, you'll find some to fit your target audience.
Just like PPC, there are a number of campaign goals you can choose from, such as awareness, website traffic and more. So, it's a great idea to bolster your website traffic at any time, from initial prospecting and generating new visitors, to retargeting those who abandoned their shopping cart or left without converting.
#6 Inbound marketing
Put simply, you need to be creating content consistently to keep your website ticking over. But don't just do it blindly. Identifying your content pillars, ideal customer personas and in turn, what they need to find you and answer their burning questions is essential.
On-site editorial
Organic and paid social media
Email marketing and automation
Premium gated content
Webinars
It's also about identifying what content is best to use at the various stages of your funnel. We work on a structure of awareness, consider, decide. Understanding what content works best for your leads at each point will help convert them.
In a nutshell
Sometimes a helping hand can go a long way. An agency with specialist experience in building, optimising and marketing ecommerce brands could just be the confidence boost needed to help get things off the ground.
Not only will you benefit from an experienced team who has tried and tested recommendations to fit your vision, but there's also someone else to sweat the bigger (and smaller) stuff, meaning you can go about running your brand with passion.
Choosing the right agency partner means that they'll know exactly what to analyse to help you understand what's working, what needs optimising and what needs fixing. Additionally, they can make recommendations on areas for growth.
Are you looking to grow your ecommerce brand?
Why not get in touch to discuss your aspirations with us. Get in touch with us and a friendly member of our team will be in touch shortly.