UP is pleased to announce a new partnership with digital innovation and brand design agency Exesios, located in Stoke-on-Trent. The Exesios team grows UP's presence in the UK and places a local team in the north of the country. Specialising in the creation of optimised, content-focused websites and innovative digital solutions from responsive e-commerce sites with complex back-end data management, to landing pages, e-newsletters, apps and more, Exesios brings expert digital UX and front end design and branding to the UP family.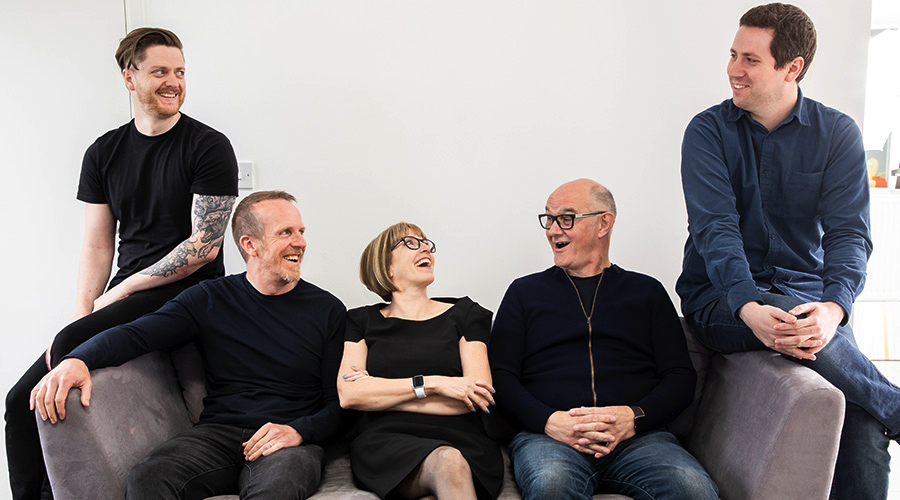 The Exesios Team includes (left to right): Tom Edge, Rob Sproston, Eleni Brammer, Paul Brammer, Phil Carty
As a cloud-based agency, UP brings more than 160 members and partners around the world together to deliver innovative and results-focused digital, brand and strategy work. "As communications and spend continue to shift to digital campaigns, well optimised, content-driven sites and digital creation as a whole is more important than ever. Adding a partner with the strengths that Exesios brings provides our clients with an even larger talent pool to work with." said Kate Adams, Managing Director, UK, UP.
Exesios create intelligent digital tools that simplify complex choices and streamline decision-making – designing and building systems to help clients take control of unwieldy volumes of data. They also create offline content, from literature and stationery through to signage and interior design.
Exesios was born and bred in Stoke-on-Trent, a city with some clout when it comes to design and innovation – from Reginald Mitchel's groundbreaking Supermarine Spitfire to Josiah Wedgwood's iconic pottery.Over the past 17 years, Exesios has worked with clients of all shapes and sizes across an array of different industries, in locations as far afield as Japan and Brazil.
"UP's unique, flexible cloud-based model means amazing work delivered efficiently and cost-effectively by the best team to fit a client's exact needs," said Paul Brammer, Managing Director of Exesios BDD. "This is very much in line with the lean and agile approach we've always adopted here at Exesios, so our partnership is a perfect match. "
"It's fair to say that we're over the moon to be working with UP," Paul added.
UP welcomes Exesios and looks forward to working together to deliver outstanding work for clients. If you have any questions, feel free to reach out at: hellopaul@exesios.com.
More about UP Partners