When it comes to content creation, it is fair to say that the majority of us want to get the best bang for our buck. Whether our inbound marketing efforts are created in-house or with an agency, maximizing what we've produced is just good sense.
But what's the best way to do it without boring our audiences? So glad you asked! Through a delicate mix of a well-planned content strategy and repurposing your content, you can achieve an effective marketing program.
What do we mean by "repurposing content"?
Put simply, repurposing content (also known as "content recycling") is when you create multiple assets from one original piece. This could start as a guide or white paper for example, and end up with some of the following:
Infographics that visually call out some of the key points

A video explainer

Smaller blogs or articles that entice a website visitor to download the premium content

A podcast

An email series
But it encompasses much more than that. If we look at our marketing strategy holistically (which, at UP we take very seriously), it's also about factoring in content delivery. That could include:
Multiple newsletters

Social media: both organic and paid

Pay Per Click (PPC) campaigns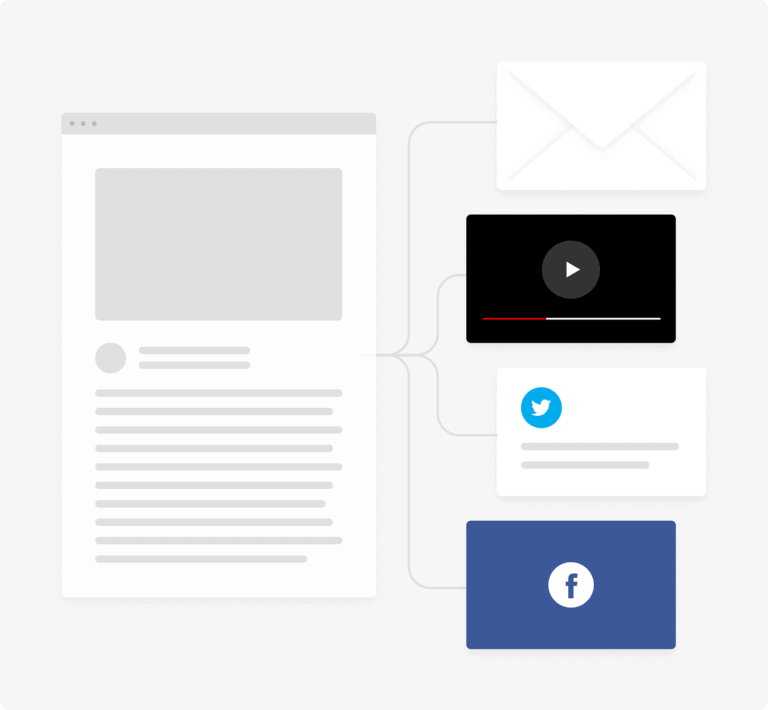 (source: https://backlinko.com/hub/content/repurposing)
From here, we would focus on different angles and aspects of the content for driving traffic. And then, look at the internal linking strategy of your website. So, let's say, your social media post links to the blog, and from there a gated content download, which would then help grow your distribution list, and let you set up an email lead nurturing series.
But why should you repurpose your content?
We've already touched upon maximizing the value that you've spent on creating the original content, and we're certain that's something everyone can get on board with. But additionally, it's all about talking to your audience, or rather, audiences. All good marketing strategies should start with research and persona building.
Most companies will have more than one persona they want to reach. And we know that a one-size-fits-all approach rarely works. You also need to make sure the types of content you deliver will fit your funnel (we tend to break this down into three stages: awareness, consideration and decision).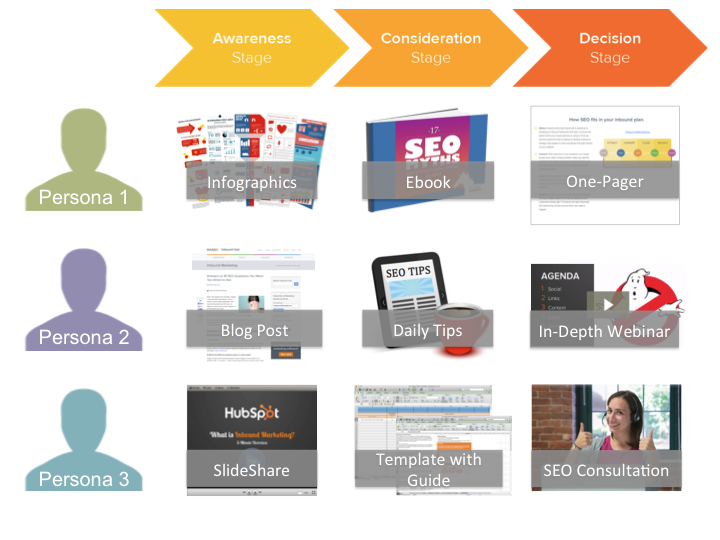 (Source: https://neilpatel.com/blog/does-repurposing-content-work-heres-a-data-driven-answer/)
As demonstrated above, it just goes to show that there are many ways of helping nurture prospects into ready-to-sell-to leads. It takes a mix of visual, audio, and different lengths of content to do the trick. And with some careful planning, all this can begin from just one piece of content.
Breaking it down further, it is as much about the content format as it is the content type. The data below shows average shares by content type, and takes into account starting points such as how, what and why pieces, as well as the classic listicle.
But it doesn't stop there! Let's talk about the SEO benefits of repurposing content.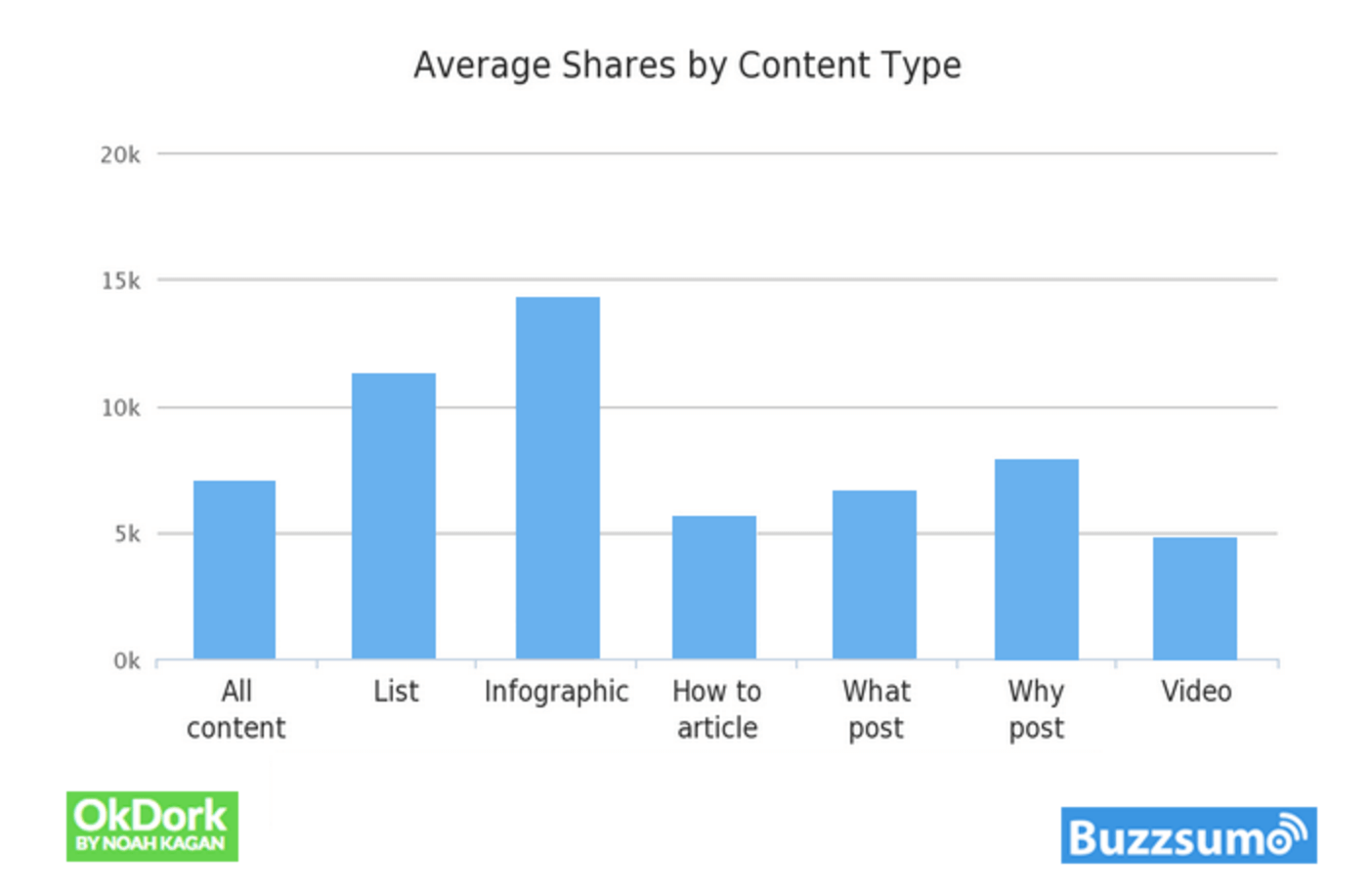 (Source: https://neilpatel.com/blog/does-repurposing-content-work-heres-a-data-driven-answer/ )
SEO benefits of repurposing content
Not only does creating multiple types of content on the same (or similar) topics help build your reputation as a thought leader, but it helps boost the value and reputation of what you post. And the better the perceived quality, the more likely you are to start ranking better for your keywords.
To simplify this, let's consider it like this. You find a great blog article on something you want to learn more about. It's super helpful and you want to know more. You look at the rest of the blog and wait, there's nothing else. What happens? You don't come back.
Yet, if that content led to more articles and resources on the aforementioned topic, you might even subscribe to a newsletter or follow the author on social media for more information. You might even become a paid customer.
In an SEO perspective, repurposed content attributes back to the old post. It lets search engines know that the content is not "original" in the strictest sense by linking back to the original post.
There are a few ways to do this, aside from creating new content. For example, you can refresh existing content as needed. If you're referencing data, studies, or best practices, consider that from time to time, this might need updating to help keep it relevant.
Right, so we now appreciate the value, but where to begin?
We've said it before and we'll say it again. Evergreen content is the MVP of your strategy.
Think about what an on-going topic for your industry is. For us, it's how-to and best practice guides for digital marketing. It should answer the age-old questions that don't hugely change (although it's good to review and update your evergreen articles when required, as search engines also appreciate that).
How to identify your evergreen content
As above, there will be something for everyone. But at its heart, evergreen content is timeless, high-quality content that is relevant to your audience. In essence, the types of articles that don't just get clicks but generate good quality web traffic. This can be established by looking at key metrics like bounce rate, session time and pages per session.
We recommend reviewing and analyzing your most popular posts monthly and looking for patterns.
10 smart ideas on repurposing content (as told by Hubspot)
Because, let's face it, this is a solid starting point for inspiration regardless of what you do
Turn blog posts into podcasts

Turn internal data into case studies

Use blog content for video content

Gather content for an ebook

Make a slide deck for SlideShare

Use testimonials for social media content

Update old blog posts with new information

Use statistics for social media content

Refer to blog content for online courses

Offer guest contributions for topics you've already covered
Caveat: it is important to remember that as with all marketing, the key is consistency. So for example, if you decide you want to make a podcast, you need to first make sure it's sustainable for you to do so. Otherwise, you are wasting time, energy and resources. There is absolutely no shame in keeping things simple.
Repost, reuse, recycle
The entire purpose is to solicit fresh interest in existing content. Once you've created your blogs, infographics, videos, etc., the key is to weave them into your content calendars throughout the year. And when the year is up, consider if they need refreshing again.
Think of it like this: there is always a good chance that you have new subscribers on your list or new followers on social media. And if you approach your content from different angles when you post it, the chances are you are offering up a new perspective – even to your seasoned audiences.
Take home
While there's always space for new content, don't forget about what you've done in the past. By repurposing content either visually (think infographics and video explainers), or by length (blogs and soundbites from larger pieces), you can maximize the value of that original piece.
Need help with content planning?