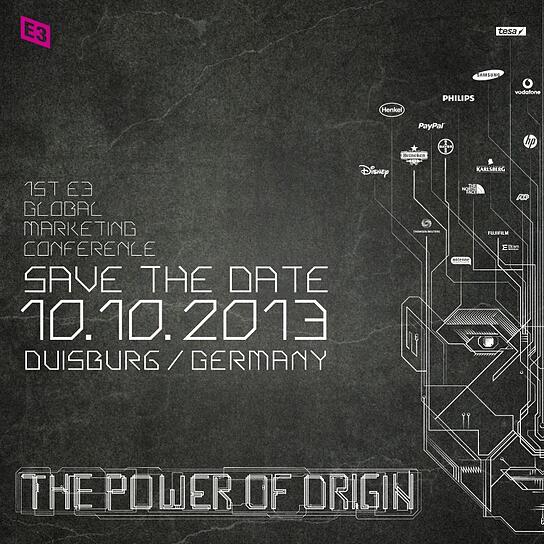 Julian Stubbs, a co-founder of UP THERE, EVERYWHERE, will be a featured presenter at the E3 Network's Global Marketing Conference in Duisburg, Germany on 10 October 2013. He will talk about Place Branding.
The Conference theme "The Power of Origins" looks at how the place from which a brand originates affects its image, as well as how to create an authentic brand story.
Julian will walk attendees through the steps involved in developing concepts for branding a city and lead the creation of "Ideas for Duisburg." The collected proposals and their possible implementation are intended to contribute towards strengthening the city's reputation as an international business location.
Organized by the international E3 Agency Network, the conference is the first of the network's twice annual meetings that has been opened to the public. The tickets to the event are available for just € 180.00.
For registration information, visit www.e3network.com/gmc
Agenda
Thursday, October 10, 2013
The Program Agenda is:
09:00 am - Reception and registration
9:45 am - Opening: Michael Meier President E3
10:00 am - Greeting: Mayor of Duisburg, Sören Link
10:30 am - Speaker: Michael Beverland, Professor University of Bath (UK) "Building brand authenticity habits"
11:15 am - Break
11:30 am - Speaker: Julian Stubbs, Sweden "Ideas for Duisburg"
1:00 pm - Lunch break
2:00 pm - Speaker: Carlo Einarsson, Sweden, "400 years of company history - Chances and Challenges"
3:00 pm - Speaker: Raf Stevens, Belgium, "Corporate Storytelling"
3:45 pm - Coffee break
4:00 pm - Workshop led by Raf Stevens, "How to create myths and legends"
6:00 pm - End
Venue Address:
Landschaftspark Duisburg Nord
Emscherstr. 71
47137 Duisburg, Germany
Phone +49 203 71280800
Website http://www.landschaftspark.de
WHO should attend:
Global Brand Managers

Marketing Managers for International Companies

Marketing Consultants

Tourism Marketing Managers

Chamber of Commerce Marketing Directors

Town or City (Destination) Marketing Managers

International Marketing Communications Specialists

Anyone interested in the Power of Origin on Global Brand Management
Speakers Bios
Read more about the Keynote speakers here.
Visit the event website for more information and to register: www.e3network.com/gmc