Populism, protectionism and nationalism are all current trends we hear and read about around the world. Do these topics make foreign markets seem even farther away and less accessible?
Not to us, here at UP THERE, EVERYWHERE, the world's first global cloud-based agency. We transcend borders around the globe, and facilitate business and cultural exchanges between Asia and Europe/North America.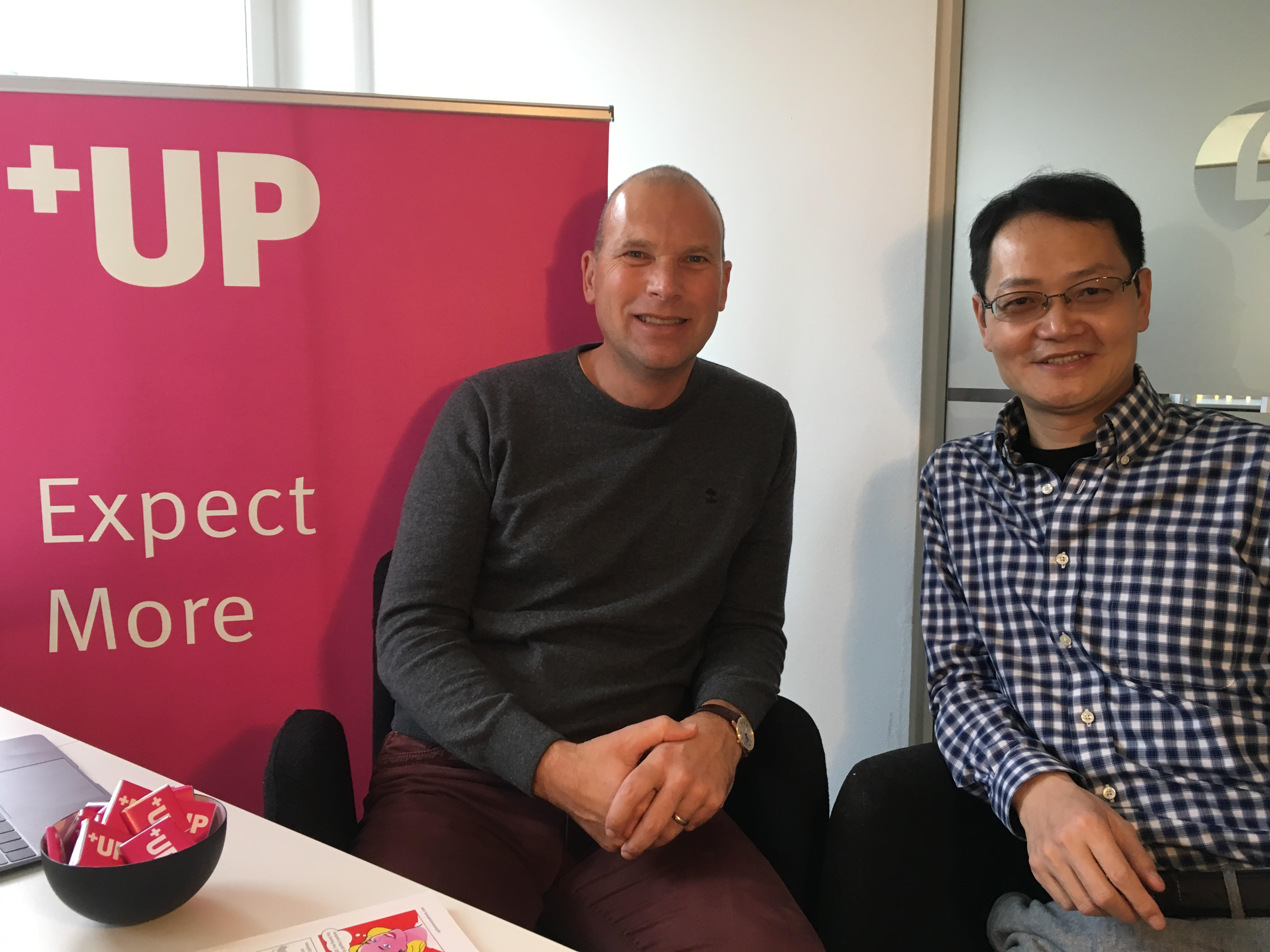 (Photo: Left: Lawrence Masle, UP COO, and right, Michael Zhou, Lead, UP FOR ASIA discuss how crossing borders between Asia and Europe benefits clients on both sides.)
Taking that a step further and navigating the cross-cultural waters, UP's newly launched, formalized service offering: UP FOR ASIA provides branding, digital marketing, and consultancy services for Asian businesses with like-minded values so they can successfully enter and operate in the European/North American markets. And naturally, vice versa.
To go behind the scenes and get a better look at what drives our international marketing services, we present an interview with UP COO Lawrence Masle and Michael Zhou, Lead, UP FOR ASIA, who recently relocated from Shanghai, China to Stockholm, Sweden.
Lawrence: First of all Michael, welcome to Sweden! Great to have you here! Let's begin by hearing more about UP FOR ASIA and your role?
Michael: At UP THERE, EVERYWHERE, we have more than 200+ members and partners working across the globe, and this number keeps growing every day. We are continuously running workshops, meeting with clients to understand their challenges and working out the best solutions to address their concerns. So, every day we accumulate more experiences, skills, practices and case studies from around the globe.
In the meantime, China and Asia have become the new economic growth engines in 21st century and this area has seen both domestic demand from Europe/North America and the desire as well to go develop new markets in Europe/North America. It would be great if we can share all these best successful practices and experiences across the world so that our clients, either from Asia, or from Europe/North America could achieve better results with higher efficiency and less costs when they enter into a new market. This is how UP FOR ASIA came into being.
As the Lead of UP FOR ASIA, I see my role first as a culture ambassador, trying to learn the culture here in Sweden and Nordic Europe and at the same time trying to foster cultural exchanges between east and west. Secondly, I see my role as a business facilitator between Asia and the rest of the world. I will work with teams on both sides of the globe to help clients from Asia to market into Europe/North America and to help European/North American clients market into Asia more easily and more successfully.
Lawrence: Tell us a bit about yourself.
Michael: I was born in China, educated in the U.S., and as an entrepreneur, I lived and worked across Asia, North American and Europe. I feel like I have treasured so many different and sometimes very contradictory culture elements in my body and they all co-exist well, which gives me a passion, eagerness and desire to share and unite all these cultures together from the east to west and hopefully to make this world more diversified and peaceful.
Lawrence: What made you travel so far to Stockholm from China?
Michael: Two Chinese quotes keep me going all the time:
Life is not just about the trivial things in front of your eyes; it should also have poems and fields in faraway places.
If we cannot increase the length of our life, at least we can broaden and deepen it.
So here I am, to seek the poetry in my life, and to make my life broader and deeper!
Lawrence: What has impressed you most so far in Stockholm?
Michael: I was impressed by the innovation and creativity in this city and it seems to be everywhere and becomes the gene or DNA of the city. We all know that Sweden ranks at the top on the innovation and creativity indexes, with impressions from IKEA furniture, art and functional design.
But every time when I take the subway to my office and walk home through Brunkeberg Tunnel, I seem to truly understand what innovation and creativity means here. Stockholm has unarguably the most creatively beautiful subway and the most innovatively astonishing walking tunnel in the world.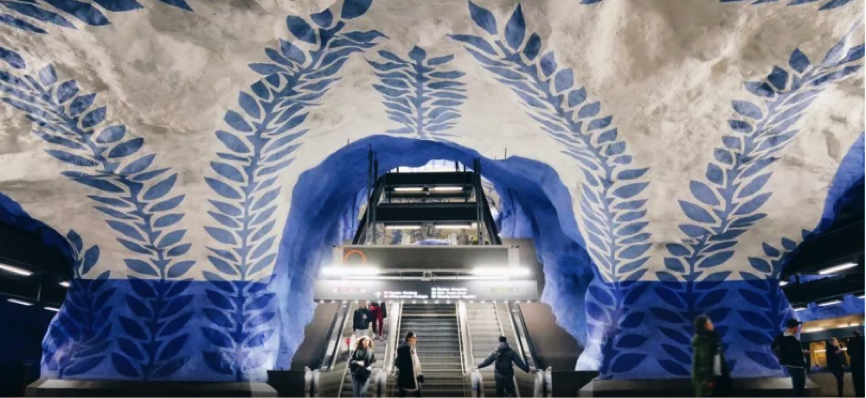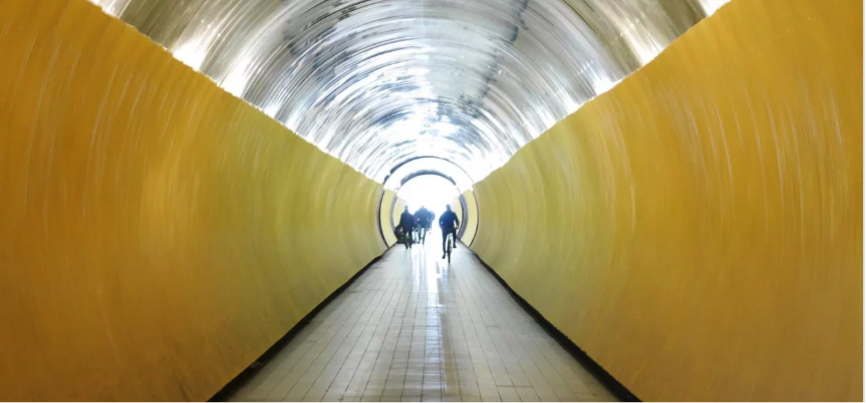 Tunnelbana in Stockholm Sweden
Lawrence: What would you like to learn more about in Sweden?
Michael: To many people, Sweden, along with other Nordic countries, is regarded as one of the countries that have reached the highest and most advanced stages that mankind has ever achieved. Sanders, the American Democratic candidate who ran for the U.S. presidency against Trump, once said he would like to build America like Denmark and Sweden. Things would be different if he won, right? I have just seen the September 9th election in Sweden and am still waiting to see how the new government will form. It would be a fun and interesting subject for me to find out why Sweden has become what it is today and what successful experiences can be shared with and transferred to China and the other parts of the world.
Lawrence: Could you give me a few examples about what UP FOR ASIA can offer?
Generally, UP FOR ASIA transcends all of our focus areas within UP, with brand and content expertise in life science and medical device (UP FOR LIFE), place branding and destination marketing (UP FOR REAL), IT, telecom, and technology (UP FOR IT), CSR and Non-profit (UP FOR GOOD), and consumer (UP FOR YOU).
Example 1. Place Branding and Destination Marketing. For the past two months, I have seen almost 10 Chinese cities touring to Europe and North America to seek investment or tourism. But how to position the city and stand out from the others and competitors? How to make your tour and visit to Europe/North America worthwhile with the highest ROI? This is one area UP FOR ASIA can help with. UP has solid experiences in place branding and destination marketing. For example, Julian Stubbs, co-founder of UP, and the team have successfully worked with the branding and marketing of the cities of Stockholm and Liverpool. We definitely can share our experiences and best practices with the investment/tourism bureaus, and city governments from China and Asia, and work together to make a successful digital marketing and campaign plan to promote in Europe and North America.
Example 2. Life Science and Medical Device. Swedish exports of medical and pharmaceutical products have almost doubled in the past four years. China's aging population has created a growing market for Swedish healthcare products. There is a lot of opportunity that UP FOR ASIA can assist with here. UP has advanced expertise in the life science and medical device areas. We have worked with Tecan, a European life science and medical device company to successfully enter into the China market. At the moment, are we are also working on another project, helping a German medical device company to do the same. To ride this trend, UP FOR ASIA could equip local teams on both sides of the globe to help Swedish or Nordic companies in the medical device, pharmaceutical, or life science areas to go into China and Asia market. Or vice versa.
Example 3. Artist Management. Sweden is a big exporter of music which meets the soaring demands from China due to its rising middle class and the younger generations, which is called "Fu Er Dai". UP FOR ASIA, with members and partners who have seasoned working experiences in music and entertainment for more than 20+ years, would be happy to foster such cultural exchanges on both sides of the globe. For example, we will look for potential music artists like DJs, bands including indie rock, hip hop, etc., brand them and market them digitally through Chinse social media like WeChat, Weibo, Douyin, etc. so that they can be known by Chinese and Asian markets, and then bring them to the stages of clubs, events, and festivals in the top cities of China as well as other Asian countries.
Lawrence: Thanks Michael. Wishing you and UP FOR ASIA lots of good luck and success!
Michael: Thanks Lawrence for your time. Looking forward to it, too!
Find out more about UP FOR ASIA here.