The 2020 office exodus brought on by COVID-19 — which forced large sectors of the global workforce into a remote working reality — is now two full years in the rearview mirror. However, even two years on, there continues to be ongoing conversations about what the future of work will look like. Will companies continue to be fully remote? Will everyone return to the office at pre-pandemic levels? Will there be a hybrid mix of the two?
Every day there are new articles and ongoing discussions regarding what work — as well as the workforce — is going to look like in the coming years. There are even those who have made full-time careers out of predicting the future of work.
You could say that finally everyone is fully engaged with exploring what many of us at UP THERE, EVERYWHERE have been doing for over a decade: working remotely, or as we call it working "in the cloud." Companies are coming to understand that it IS possible work without an office. And not just any work, really great work. Work that is executed by talented people for serious companies.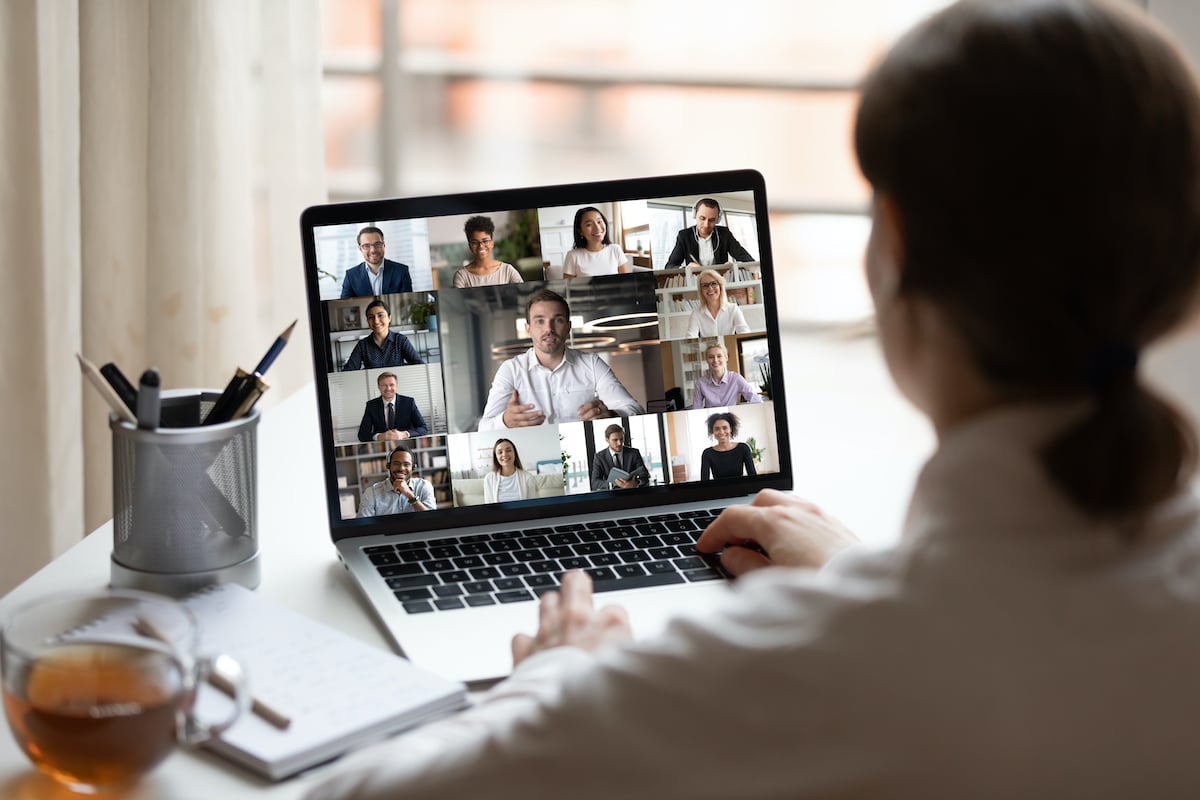 Diving deeper into the future of work
The global management consulting firm McKinsey & Company recently did a deep dive on the topic of the future of work. What they found, given the sudden and intense focus on remote work, might surprise you.
To determine how extensively remote work might persist after the pandemic, we analyzed its potential across more than 2,000 tasks used in some 800 occupations in the eight focus countries.

Considering only remote work that can be done without a loss of productivity, we find that about 20 to 25 percent of the workforces in advanced economies could work from home between three and five days a week.
- The future of work after COVID-19; McKinsey.com
While they go on to say that this is, in fact, four to five times the amount of remote work that was done prior to the pandemic, this number does put into perspective the size of the workforce that is unable to "work remotely". Even before the pandemic, McKinsey pointed out the differences in occupations by countries where remote work is more common than others.
Source: The Future of Work, McKinsey & Company
Read more: Tips for working remotely
An occupational shift and "great resignation"
Another phenomenon that has recently gained a lot of traction — at least in the US — is "The Great Resignation." According to a recent Forbes article, 4.5 million American workers "walked off their jobs" in November of 2021.
These headlines are attention-grabbing to say the least. However, if you read beyond the headlines, you'll find key economists are saying that many of those resigning are doing so because they have (or believe they can) find better, higher paying positions, remote working opportunities, or have entered the gig economy (self-employment).
In fact, McKinsey points out that COVID-19 may have jump-started an occupational shift that will likely continue on into the next decade. A shift from customer and food service jobs to STEM, services and healthcare related jobs.
Source: The Future of Work, McKinsey & Company.
Interestingly, some of these occupations, which will be key in the future, in particular to economies with aging populations, are not geared towards offering opportunities that are remote or hybrid work. They involve being on location and require human interaction.
In addition, more and more people are opting to move into entrepreneurial and gig-economy work. This type of shift means people can work remotely, from anywhere, without being tied to a particular city.
Cities and towns that can no longer sustain themselves the way they did in the past, may need to seek out new methods or find the experts who can lead them in these very important transitional times. UP's founder Julian Stubbs is fond of quoting Sir Winston Churchill on this subject:
"Never let a good crisis go to waste."
Cities may no longer be the mammoth hubs that they once were, as people move to new career centers or have the ability to work from places of their choosing. This will lead to a need for leaders and key stakeholders of both companies and places to reevaluate who they are, what their purpose is, where they fit into this new world.
The role of ecommerce in a rapidly changing environment
Most of us shutter when we recall the early days of COVID-19. A virus without prevention or treatment. Governments shuttering offices, stores, non-essential factories, everyone retreating into their own bubbles. Those bubbles created growth in the ecommerce arena. There was a huge shift from in-store shopping and transactions to goods being purchased online and delivered. McKinsey reports:
"In China, ecommerce, delivery, and social media jobs grew by more than 5.1 million during the first half of 2020."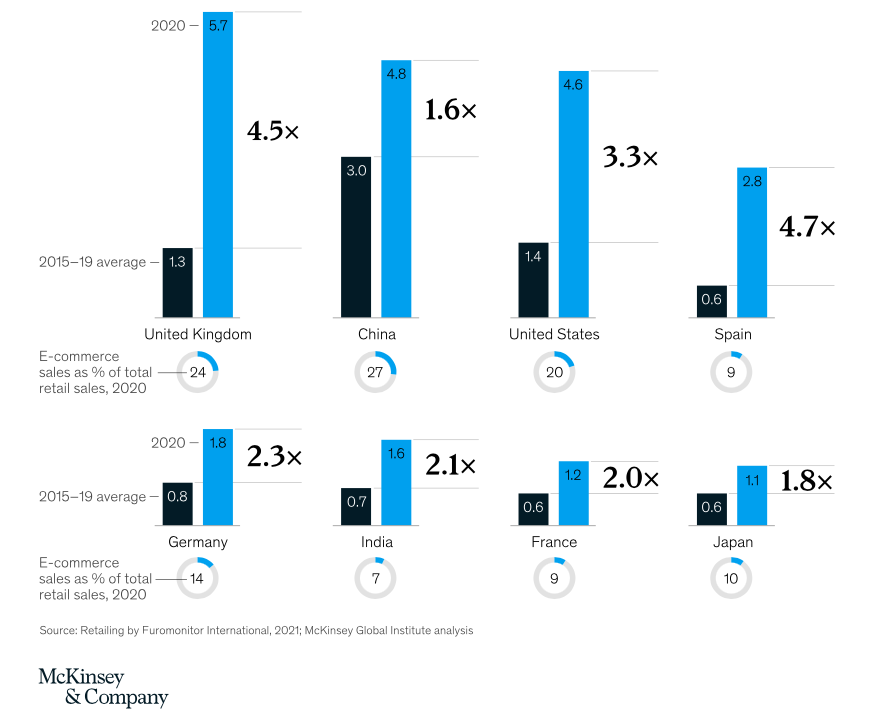 Source: The Future of Work, McKinsey & Company.
Ecommerce will clearly remain a path to viability for companies in the future. And yet, ecommerce is becoming increasingly challenging. Companies can no longer slap up a digital storefront and expect sales. There is a growing need for professional know-how. Is your site secure? Does it meet the ever-changing GDPR requirements? Does it fulfill the latest SEO, voice-search and mobile functionality requirements?
Regarding the future of ecommerce, UP FOR DIGITAL Managing Director Alice Smith says:
"Ecommerce businesses have a lot working against them in 2022, after a tremulous two years with supply chain issues, rising costs, growing customer expectations and online advertising limitations affecting return. It's hard work. However, there is huge opportunity for brands to stand out from the competition and win customers who are ready to be incredibly loyal and be their best salesperson.

How? Authenticity. Work on being an authentic brand that speaks your customer's language and be honest. Loyalty is built by brands that put the work into an-ongoing relationship with customers. So think about your post sales efforts even more than your acquisition strategy. Oh, and don't greenwash. Sustainability isn't a trend. If you fake it, customers will call you out."
Experts in ecommerce are not just website experts, they have a grasp of current UX standards and what is likely coming in the future. They understand how to make websites appealing to a target audience as well as effective at selling. That includes best practices for shopping cart setup, customer interactions, social media strategies, digital advertising, brand development, or even progressive web apps (PWAs.) The definition of what "is" ecommerce will continue to expand, along with what it takes to thrive in this ever-changing arena, and how it will affect the future of work.
How digital technologies and AI are reshaping the future
COVID-19 was a rude awakening to many businesses in the manufacturing and shipping arenas.
Since that time, many companies have reconsidered their processes and how to resolve supply chain interruptions that were unexpectedly caused by the need to avoid having people in close proximity to one another. A clear winner out of all of that was a move toward AI, robotics and digital technologies. An article from MH&L stated:
"A full 72.8% of respondents to IDC's 2020 Supply Chain Survey say that robotics will be important or very important to their organization in three years. Intelligent robotics will speed and improve the flow of goods through the warehouse and [distribution centers] while freeing humans to focus on other tasks that involve human strengths such as creativity, critical thinking, fine-motor coordination and customer engagement."
In the life sciences, for example, we see AI, robotics and digital technologies becoming more prevalent and increasingly important each year, and we believe that this trend will not only continue but also accelerate in the future. Consider the stunning speed at which COVID-19 vaccines were developed, tested, and offered to the public using AI — undoubtedly saving tens of millions of lives.
Even in the arena of strategic brand development, we see the rapid changes brought on by digital technologies and AI.
Data-driven marketing - Understanding what customer needs are, even when interactions are (through choice or necessity) remote, has become paramount. Inbound marketing can help companies incorporate data and personalization into their marketing and sales efforts.
Chatbots – Love 'em or hate 'em, chatbots (yes, a form of AI) have been shown to improve customer engagement when executed properly.
Webinars – Virtual product launches, seminars and webinars have exploded upon the scene and become an integral part of many company marketing strategies in the post-COVID era.
Advertising – advertising increasingly uses AI to target ads, generate personalization and manage analytics.
Anne Burrows, Senior Account Director at UP, who has helped clients such as Galderma stage multi-day global webinars to replace in-person events, says:
"To win through webinars, offer a new soft skill that helps your customers improve their business or practice. Give them something unexpected and that adds value."
Finding the intersection of human and digital
These are exciting times in which to be living and working. The rapid pace of change and advances in technology mean continued opportunities to grow, reinvent work and try new approaches. Ecommerce, AI and the internet are all innovations that have literally changed the way we do business, work and approach marketing.
Undoubtedly, the multifaceted human elements of work will always be important. Personalized attention to the who, the what, and the how. Careful consideration given to what the strategic plan is…or ought to be. Webinars, virtual meetings and remote-working may be en vogue, but creative thinking, critical consideration and active listening never goes out of style.
The first cloud-based agency
At UP, we call our way of working (which has always been remote): e-ployment. Read more about it.