Few could fail to be moved by the extent of the current refugee crisis — with the global news coverage being a daily reminder.
The plight of refugees from countries including Afghanistan, Iraq, Syria, Yemen and now Ukraine has been the catalyst for many organizations to further address their social impact and consider how to make a tangible difference to refugees' lives.
A few facts about the current crisis:
Europe is currently experiencing its largest migration crisis since World War II
Nearly 80 million people are currently forcibly displaced worldwide — the majority from low and middle-income countries
The U.S. has admitted more than 3 million refugees since 1980 and has committed to welcoming 100,000 Ukrainians fleeing Russia's invasion
Brands need to show leadership on social issues
A 2022 survey by the Tent Partnership for Refugees (Tent) and NYI Stern School of Business found that U.S. consumers are looking for brands to act responsibly. The survey also confirmed that consumers are more likely to purchase from companies that show leadership on a range of workplace, social and environmental issues.
63% of 6,038 people surveyed concluded they were more likely to buy from companies involved with helping refugees.
This figure exceeded the percentage of consumers that back brands selling fairtrade products or environmentally friendly products.
Refugees bring more than they carry
Considering the ongoing plight of those fleeing conflict and seeking sanctuary, supporting refugees is fast becoming a key component of many organizations' social investment and their contribution to enabling a more just global society.
As the International Rescue Committee (IRC) states "Refugees bring more than they carry" and this is now more apparent than ever before.
"Done right, supporting refugees can help businesses meet labor and skills shortages, grow new markets and enhance productivity through diverse work forces".

- IRC
Refugees often bring many skills to their new host communities and that's not forgetting their incredible resilience, determination and hopes of a better future.
What support are organizations offering refugees?
Firstly, there are the millions of significant charitable donations. Then there are many examples of CEOs and high-profile individuals making rare personal statements on the refugee crisis — even linking their words back to lived experience on occasion.
Not only are many companies helping people fleeing conflict to reclaim their lives and livelihoods, they are also helping these vulnerable people to avoid potential exploitation.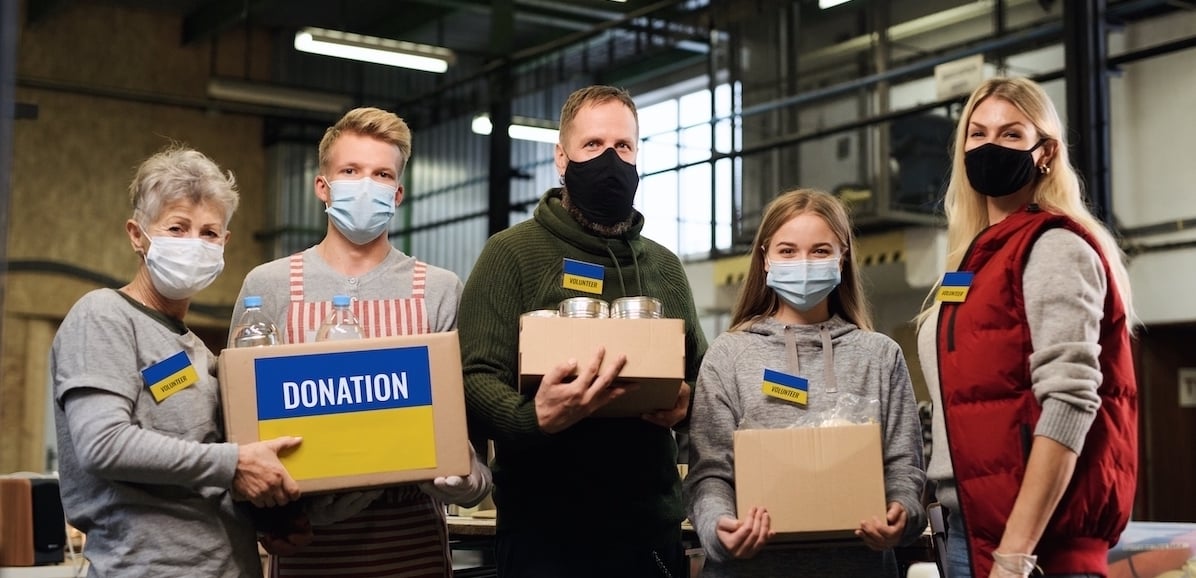 How are companies helping refugees on a practical level?
An ever-increasing number of organizations are playing an active role in upskilling and employing refugees to help them start to rebuild their lives.
"Once a refugee gets a job, that's the moment they stop being a refugee."
- Hamdi Ulukaya, Founder of the Tent Partnership for Refugees
As the global refugee crisis continues to worsen, there are many examples of how companies are successfully integrating refugees fleeing war-torn countries into their business operations.
In this March 2022 blog on the Ukrainian conflict, UP THERE EVERYWHERE expressed great sadness on behalf of the UP community and highlighted ways in which individuals could provide support. Now, we address how some of the world's most recognizable brands are helping refugees fleeing persecution.
Examples of companies doing good
The Tent Partnership for Refugees
The non-profit organization, The Tent Partnership for Refugees, works with companies worldwide to include refugees within the business community. Tent currently partners with over 250 companies committed to integrating refugees in their host communities (partners include the American yogurt brand Chobani).
Hamdi Ulukaya's (founder of both Tent and Chobani) philosophy is that if you "give a refugee a job, they're no longer a refugee," said Mark Broadhurst, VP Impact & Advocacy at Chobani, adding, "by living and hiring through this philosophy, Chobani has been gifted with an incredibly talented workforce and the company is stronger for it."
When asked about the ways the company creates an inclusive environment, Mark shared, "How we deal with our refugee population is how we deal with everyone – through a culture of care."
Chobani is an effective example of how businesses can successfully integrate refugees into a company's culture. Other partners include Amazon, LinkedIn, H&M Group and Starbucks. Starbucks committed to hiring 10,000 refugees and also partners with NGOs to provide training and employment opportunities.
IKEA
IKEA committed to supporting 2,500 refugees by 2022. IKEA's goal was to improve refugees' skills, so they could gain employment either in IKEA (or elsewhere).
The IKEA Foundation has been supporting local organizations with essential items for refugees. Many IKEA coworkers are volunteering their time and assisting refugees to re-establish their lives in new communities.
In March 2022, the IKEA Foundation committed €5 million to the emergency fund of Médecins Sans Frontières (MSF) / Doctors Without Borders to provide medical assistance where needs are the greatest (including in Ukraine). This sum was in addition to the €20 million pledged to the UN Refugee Agency (UNHCR) to respond to the humanitarian emergency in Ukraine and neighboring countries.
The Good Cause campaign "Brighter Lives for Refugees" is one of many initiatives that IKEA and the IKEA Foundation have launched. The campaign generated €30.8 million to provide light, renewable energy and education for families living in refugee camps.
Microsoft
Learning digital skills can play a vital role in helping the world's most vulnerable people to rebuild their lives and communities.
The technology giant provides free resources specifically designed to help humanitarian organizations deliver bespoke training to refugees. The offerings focus on digital literacy (including coding) and provide refugees with computer science skills.
Microsoft also supported IRC's partnership with Google and Mercy Corps to launch the app and website refugee.info (which provides location-specific information to refugees arriving in Europe).
Ben & Jerry's
The American ice cream giant has consistently campaigned for change on a range of humanitarian and environmental issues.
By 2023, Ben & Jerry's will have supported over 500 refugees to start their own businesses and the company will also help them secure part-time employment.
In March 2022, Lilian Geijsen, Director Ben & Jerry's Europe was one of 40 signatories who backed a joint letter (in the Guardian) calling on the UK government to do more for Ukrainians refugees.
Volkswagen Group
To date, Volkswagen Group has supported 5,000 individuals with its Refugee Aid initiative, which annually makes a seven figure sum available to refugees.
"More important than the budget are the people and projects. The core of Refugee Aid is encounter, education and integration. Refugees benefit from this. They expand their know-how and get to experience professional practices. But the encounters are also enriching for Volkswagen and its employees."

- Frank Witter, Patron of Volkswagen Group Refugee Aid
Kering
In March 2022, global luxury giant Kering (brands include Gucci and Balenciaga) announced that it would make a "significant donation" to the UNHCR to support the thousands of displaced Ukrainian refugees. The company announced on Instagram "we hope for a peaceful resolution of this conflict."
GE
Numerous GE employees call Ukraine home. Before the Russia-Ukraine war began, Ukrainians made up a third of the workforce at GE's LM Wind Power factory in Poland. Since the conflict started, the factory's employees have hosted over 150 Ukrainian refugees.
Fundraising events were also held at LM Wind Power's factories in Spain resulting in food and clothing being sent to Poland and medicine to Ukraine.
All organizations can support humanitarian causes
It's not just the multinationals lending their support to the refugee crisis. Take Kalinko for example, an online craft store selling homewares made by skilled artisans in Myanmar. The growing brand ensures that all suppliers are paid a fair price and treated fairly.
IACC
The International Association of Conference Centers' (IACC) "Better Tomorrow" initiative supported their staff working at Kviv's UBI Conference Hall. IACC also launched a GoFundMe page, and the IACC Foundation held fundraising events worldwide to help the humanitarian effort.
Benefits of social responsibility programs
Being regarded as a socially responsible company has many advantages. In addition to the core aim of supporting those most in need, integrating a social cause can help companies in many ways. These include:
presenting a more human side to their company culture
increasing community engagement
improving employee engagement and job satisfaction
recruiting and retaining a talented workforce
For example, Gartner's 2021 survey of 3,500 employees found that 56% of staff found that the COVID-19 pandemic had made them rethink their attitude to work and prompted them to contribute more to society.
Establishing a foundation, hiring refugees, fostering support internally, and donating time and money to charitable causes are just a few ways companies can help. Organizations looking to align themselves with causes also need to consider the brand impact such endeavors have.
Get help to do good
At UP, we believe in a bright future where good business is a combination of commercially successful business and doing good. This we call "Good Business". That's why we have an entire specialty area called UP FOR GOOD dedicated to work on non-profits, foundations and corporate social responsibility (CSR) campaigns.
Do you need help aligning your branding with a cause, or establishing a worthwhile social impact campaign? UP FOR GOOD can help you use your resources in the best possible way to help refugees or others in need.
Contact UP FOR GOOD to help refocus your strategy, so that it naturally integrates your social and ethical ambitions.