BASE-UP® Project Management Model
How we develop client projects.
Brief > Audit > Strategy > Execution > Follow-

UP
BASE-UP® is a our own Brand, Marketing and Digital Development Process members of our team have devised and refined to help structure new and existing client projects. It is a registered trade mark of UP THERE, EVERYWHERE International AB.
This simple five-step approach has been used successfully for over 20 years. It's a way of structuring projects through the main development phases in a structured and systematic way.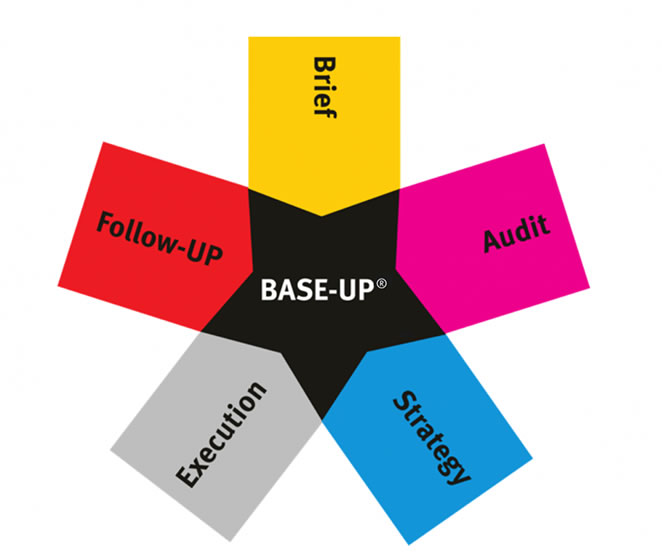 Stage One: Brief
The brief sets clear and defined objectives for the project.
It will define the following:
Target audiences (internal & external)

Essential messages

Media considerations

Budgets

Timing and all other key factors related to
the project

We also use it as an opportunity to gain insight into the company, organisation or brand we are dealing with.
Stage Two: Audit
The Audit covers two important parts:
External audit: Gives us a understanding of what the outside world thinks of our clients brand, product and services. This can encompass but qualitative and quantitative methods.
Internal audit: This is conducted with the client organization working with key internal stakeholders to capture their views and thoughts. This can be with one on one interviews or running BASE-UP workshops. We currently run one workshop somewhere in the world weekly.
These workshops can cover Brand, Identity, Positioning, Communications, Value Propositions, Persona Development, Content Planning, User Journey, SEO/Keyword Analysis and more.
Stage Three: Strategy
Depending on the brief, a strategy playback could cover the following: visions and missions, brand and identity, value propositions, organizational values, media & marketing planning, digital and more.
The strategy's main purpose is to bring to life the thinking to date in a informed and actionable way. In some instances it may even cover some initial creative thinking and ideas.
Stage Four: Execution
The development of the actual materials defined in the strategy playback.
At this point a team of specialist's could work on anything from Identity, Advertising, PR, Exhibitions, Film, CGI and Digital.
Digital covers the following areas:
Web development and hosting

E-commerce

PPC (pay per

click)

Content and Inbound Marketing

Social Media

App Development
Stage Five: Follow up
After a project is completed we will check back and see what is working what needs adjustment. This happens at an agreed point that is appropriate to the type of project. It is an opportunity for us to test the success of the communications and also a chance for us to listen and respond to your customers and internal audiences needs.
Find out more
Contact us to find out more about how Base-UP works. We run workshops and seminars using this approach.
Read the book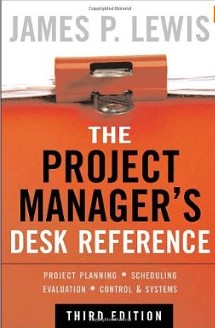 The BASE-UP model appears in a chapter of The Project Manager's Desk Reference by Dr. James Lewis, founder of The Lewis Institute for Project Management. The chapter was originally written by Julian Stubbs and Dr. Lewis, and the focus is on managing brand and marketing communications planning successfully.
The Project Managers Desk Reference, published by McGraw-Hill is available from Amazon.