Some of the ideas associated with content marketing have been around for many decades. Seth Godin discussed the idea of Permission Marketing in his 1999 book. But it was the marketing automation software company HubSpot that coined the term "inbound marketing" and put a full methodology behind it.
UP is a platinum certified partner agency with HubSpot. HubSpot offers a full stack of software for marketing, sales, and customer service to help you grow traffic, convert more visitors, and keep your customers happy. Try HubSpot free.
By using content to bring customers to your virtual doorstep (aka website) and then creating logical pathways to align with your buyer's journey, you can employ an inbound methodology used by hundreds of thousands of companies around the world in many industries with proven results.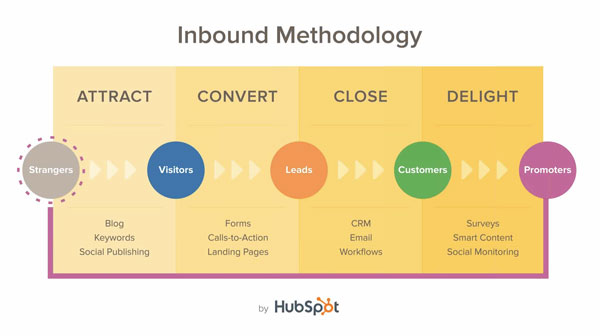 The inbound methodology means offering the right content for every stage of the buyer's journey: attracting the right visitors to your website, converting them into qualified leads, closing more sales, and delighting your customers.
What are the steps in the inbound methodology?
The four main steps are:
Attract
Attracting customers is the first step in the inbound marketing methodology. In this step, you create content aimed at answering a specific question your target customer has or addressing a common problem.Creating a clear vision of your ideal persona is an important element in being able to identify and discuss your target customer's pain points. Your goal is to provide the right content at the right time through search engine optimization and social media marketing. The tools of this step include website articles, blogs, social media posts, videos, and, potentially, paid content promotion (advertising).
Convert
Once you have attracted the right visitors to your website, you need to convert them into leads by obtaining their contact information through a form on a landing page. To do that, you must offer something of value to them in exchange for the gift of handing over their contact information. Typically, that means some sort of premium content they can download, view or sign up to receive. It might be a white paper, e-book, webinar, instructional video, guidelines, template, or another useful tool for your industry.
Close
The closing stage is where you transform leads into customers. You can use tools such as marketing automation (lead flows, bots and live chat), lead nurturing (email) and social media monitoring to ensure the right leads in the right stage are closed at the right time.
Delight
Inbound marketing revolves around providing outstanding content to both your leads and your customers. This means that even after a lead is closed, you should still engage them with dynamic content, social media, and trigger marketing. The goals of delighting your customers are both to continue helping to solve their issues and also to turn them into promoters of your business.
What is most unique about this methodology is that it puts you in charge of the results. By considering your customer persona, you carefully craft the right content that not only showcases your own company's expertise, but also builds trust with your customers. You offer them valuable information and resources, rather than just trying to sell to them. You help them get to the stage where they are ready to buy at their own pace.