More than 400 delegates
80 speakers from the US, UK, Switzerland, Norway, Denmark and Sweden
More than 600 tweets through #dhd13 (spam excluded)
68 pre-booked business meetings
The premier Digital Health Days conference, a new arena for setting the future healthcare agenda, was held in Stockholm August 20-22. UP FOR LIFE was responsible for the promotional concept, the content on the website www.digitalhealthdays.se and the ad campaign. The conference was a resounding success, attracting more than double the number of budgeted delegates.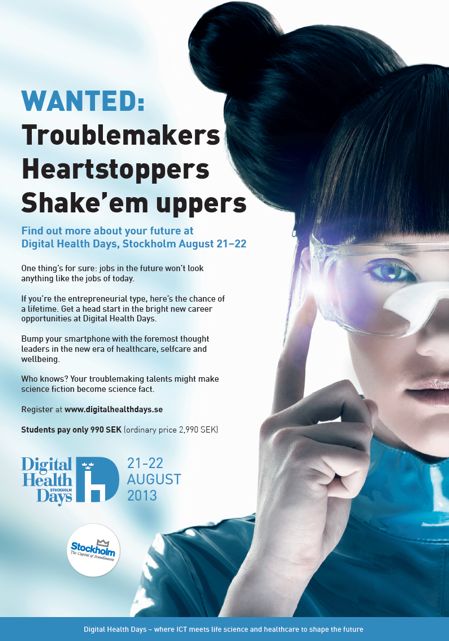 Positive Tweets
Over 400 thought leaders and delegates mined the rich interface of innovation between ITC and Life Sciences. The tweets at #dhd13 testify: "inspirational", "new, thought-provoking views", "a dynamic and positive atmosphere", "an interesting mix of vision and practice", "many new contacts". The momentum is strong for next year's goal – an even better Digital Health Days conference.
Those in attendance were privileged to hear new, daring and visionary ideas. Visions of a world where we live almost indefinitely. Where your doctor is a health coach, with computers assisting diagnosis and suggesting tailor-made treatments. Where doctors start prescribing apps – and apps prescribe doctors. Where we will surely move on the path from a dysfunctional care-for-the-sick system to an efficient wellness system.
The future or present?
These might yet be visions of the future, but what's astounding is that nearly all the technology is already here. The missing link is to get technologies to fit into our lifestyle and society. How can new technologies integrate into contexts where they solve real problems and create real value?
This is where the true challenges lie. They will demand lots of experimentation. No one knows who or what will drive development. No one knows if we are at the beginning of a radical paradigm shift or a slow, gradual process. Perhaps we will know better next year. Maybe you'll dare to test the boundaries a little more often.
Ola Ahlvarsson, the conference compere, concluded the conference with the words "Passion wins". UPs passion is strong to help develop Digital Health Days further into a conference that drives positive change.
Interested in partnering?
Do you see synergies between your company or field of expertise and the Digital Health Days conference? Would you like to be an official partner? Contact Robert@upthereeverywhere.com at UP FOR LIFE.