Many B2B companies are finding that the buyer's journey for their prospects and customers has lengthened. As a result, embracing lead nurturing in different ways has become even more important.
Lead generation is the name of the game for a majority of B2B companies with complex sales cycles. Companies rely on digital marketing efforts to attract potential buyers and build a pipeline by guiding prospects step by step through the purchasing process — all with the end goal of being able to hand qualified leads to the sales team..
An important part of lead generation is this step-by-step qualification — often referred to as lead nurturing. In recent years, this part of pipeline building has become even more vital. Why? The reason is linked to changes in buying behavior — and some big ones at that. The aim of this post is to highlight some of these changes and show how they can impact your lead nurturing efforts.
Key insights to successful lead nurturing
Lead generation in B2B
Before we talk about changes, let's revisit the idea behind lead generation. In the most basic definition, a lead is anyone who shows interest in what your company has to offer. If you're working with inbound marketing you can attract leads to your website with the help of online activities, for example, search, social media and paid promotion.
When someone visits your website, your job is to convert them from an interested stranger to a known lead, provided they meet the criteria of a lead that your marketing and sales teams have established together. As you capture more and more insights about who they are and what their pain points are, you can target them with increasingly relevant content, educating and inspiring them. This is the nurturing aspect of lead generation.
Extension of the buyer's journey
In the report New B2B buying process and its implication for sale, Gartner describes how the buyer's journeys of many B2B companies have changed in recent years. In particular, the report highlights two very important changes: The decreasing opportunity for vendors to achieve sales via direct meetings, and the increasing amount of content consumed by different stakeholders in the buying organization.
The rapidly closing window for direct meetings is described very clearly in this graphic from the report: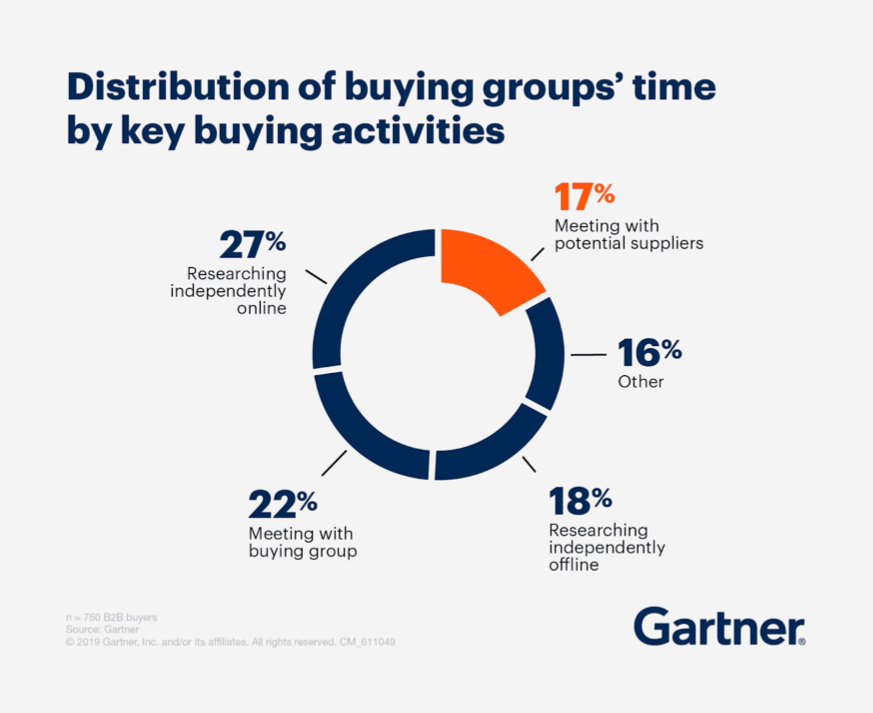 Only 17% of a buying groups' time is spent meeting with potential vendors. By comparison, 45% of the time is spent doing research online or offline. In fact, more time is spent on internal meetings than on talking directly to possible suppliers.
The key conclusion here is that relevant content together with efficient distribution to place the content before the potential buyers and their network is crucial.
Supporting this insight is the second change: that more time is spent within the buying group on discussing their own research and trying to achieve consensus. As Gartner puts it:
"The typical buying group for a complex B2B solution involves six to 10 decision makers' each armed with four or five pieces of information they've gathered independently and must deconflict with the group."
From this we can conclude that relevant content, which helps the buying group reach a joint understanding, is crucial for successful sales.
Nurturing becomes key
If you work for a B2B company that sells complex products and solutions, you should make special note of the Gartner conclusion that six to ten decision makers are involved in the purchase process and each one of those will arm themselves with four or five pieces of content.
This is precisely the reason why lead nurturing is so important. These stakeholders will not go looking for all this content in one go. Rather they will start out trying to grasp what is relevant to them, and then move forward from one aspect of the solution to another - matching it with where they are in their own journey. You need to chart this journey and prepare content for every step, and then work with lead nurturing tactics to get it in front of the prospect at the right time.
Automation offers more possibilities
In order to do successful lead nurturing today, automation has become a requirement. In particular what is often referred to as marketing automation. There are several reasons for this:
While websites and extensions like your social media accounts play an important part in lead nurturing, the heavy lifting is done via email. Even at the beginning of qualifying a lead, you try to capture relevant data like what company does the lead work for, in which role, and what topics resonate the most. This data can be used to begin a nurturing process via email, reinforced in search and social via retargeting and other tactics. This is where automation comes into play, and the importance only grows with the help of workflows and other methods to nurture and engage.
Key takeaways
1. Lead nurturing is becoming more and more important. You need to make sure you are using it in a strategic and structured way.
2. You must match content to each stage of the buyer's journey. It's essential for successful lead nurturing
3. Decision makers are looking for information before they contact sales. Make sure you have content that will attract them to your website and content to nurture them along.
Webinar
Want to learn more about how you can work with lead nurturing? Join us on March 16 at 4.00 PM CET / 10.00 AM EST for a webinar that offers insights into how B2B companies can work with a combination of content and technology to improve their lead nurturing.