There's a difference between knowing the path and walking the path. You might remember this passage (a version of a wise old saying) from the movie The Matrix. It applies to a recent life-changing decision I made, and I think many people might relate to it.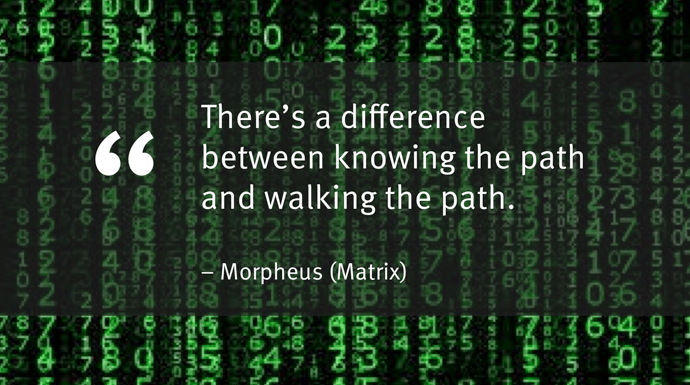 For more than 20 years, I worked in the corporate world at pharma companies like Pharmacia, Upjohn, Biovitrum and Roche. Then, in October of this year, I completed my last day at a job I love as Head of Nordics for Roche Diabetes Care in order to join UP There, Everywhere as a strategist and futurist.
Many of my friends have asked me why I'm leaving a safe, well-paid job for a completely different kind of life without the assurance of a monthly pay check. The answer is really simple; because I know that the future of work is changing and I want to be ahead of the curve in this mega trend. Let me briefly explain some trends I see happening and how I think they might impact the future of work.
Four trends at work
1. First up are the changes being shaped by social technologies that are entering our organisations. For the last ten years, there has been a dramatic shift in our behaviours. People share information about themselves and their companies like never before. We write blogs and connect with strangers on social media. We search for reviews or find almost anything by just Googling it. Today we share almost everything, and we are opening up and becoming much more collaborative. These new employee behaviours are challenging the idea of how employees work and what they expect from an organisation.
2. Then we have technology. I don't think I have to spend too much time explaining how fundamental the shift has been in moving information from physical storage points to the cloud. Technology has given people many new ways of getting work done without needing help from a corporate IT department or waiting for a customised solution to be created. Cloud-based technologies decrease the time to deploy, make upgrades and deployments easier and faster, and allow organisations to put together their own "favourite applications" made up of components from various vendors.
3. Mobility is another important factor. Smart phones and tablets today allow access to data anywhere at anytime. More and more people work "on the go" while sitting in cabs, waiting at airports, or just standing in line somewhere. This has enabled people to be location independent.
4. Globalisation is the fourth trend I see, and it essentially enables people to do business around the world without boundaries. For companies, this means talent doesn't need to be local, and you can operate in any part of the world and work without boundaries.
In addition to the trends above, I'm convinced the speed of change will force companies out of their comfort zones much quicker than in any of the previous periods of change we have lived through. Change happens all the time. In fact, the only constant that we can be sure of is change.
Why am I here?
When I first heard of UP – the world's first global cloud-based agency – it was almost five years ago and back then I thought it was a really cool idea, but I was not yet ready to fully embrace the thought of an organisation without employees, fully functioning globally with everything stored in the cloud. But the idea of "e-ployment" has been with me all these years and as I have learned more about the trends as well as have seen for myself what the employees in my own teams at Roche were asking for, I started to realise that this way of working is going to be how most companies will have to operate as the mega trend wave of the future of work continues.
I'm here because I know the path of work going forward. And UP provides the perfect platform for me to start walking on this path toward the future of work.
What do you think?
Has your company's way of working changed? Do you see any other trends affecting the way we will work in the future? Leave a message below in the comments.