For many start-ups, small businesses and even companies with internal marketing staff, planning a regular schedule of content can be daunting. If you feel writing for yourself is beyond you, or you simply don't have the time, the obvious answer is to outsource the work to an agency or a freelance writer. But how do you find the right person for your needs and situation?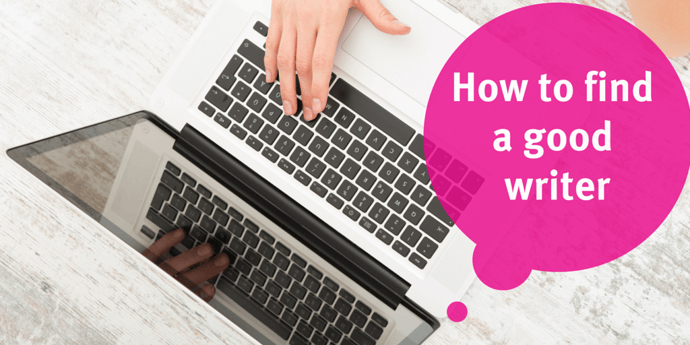 Here are some characteristics to look for when hiring an agency or freelance writer.
One – the work
Your starting point has to be the quality of the writer's work. Any professional writer will have examples on his or her personal or agency website. If you can't find what you need, ask the writer to send you relevant material.
Two – experience
If a writer has worked in your industry, it's usually an advantage. There may be a shorter learning curve. But even if a writer hasn't worked in your industry before, it shouldn't be a problem. Good writers train themselves to pick up an understanding of any industry, non-profit or government sector at speed. And if a writer is new to your industry, his or her fresh perspective could be an asset.
Three – enthusiasm
You want a writer to be keen to work with you, and it's flattering when someone seems to be ultra-enthusiastic about what you're doing. However, don't be so seduced by a writer's enthusiasm that you overlook his or her credentials. Make sure your writer has quality recommendations or is associated with a reputable network.
Four – skepticism
Good writers don't take anything you say at face value. They ask lots of questions, especially about your brief. The answers to these might seem obvious to you but a smart writer is listening for the weak points. If you're being challenged, the writer's doing a good job.
Five – empathy
If you select carefully, any writer you shortlist will be able to give you what you need. Yet, there's another factor to consider: how well can you work together? Chemistry and understanding can be important, especially if you're building a long-term relationship. It's great to get on well with your writer, but no matter how much you like each other, never forget that you're both professionals. Make your expectations known and don't be afraid you might offend a writer by asking for necessary revisions. A good writer wants to deliver to your specification (just make sure it's clearly stated and that you keep your rounds of revisions within the agreed number).
Six – responsiveness
A successful freelance or agency writer always meets a deadline. The best writers deliver well within them. Be clear and direct in your needs and expectations. Always ask a writer what he or she thinks is reasonable and be willing to negotiate on turnaround. It's one of the ways you inspire loyalty.
Seven – price
The best writers and agencies know how to price their work fairly, and competitively. If you're new to working with an outsourced writer, it can be hard to know what a reasonable rate might be. An experienced writer or agency will know what to charge, and most likely, you'll see that those you shortlist will cost about the same.
Don't think that a writer dropping his or her rate dramatically is a victory for you. It could mean the writer is desperate or has completely misjudged what the job involves.
Eight – surprise
A really good writer will always add something you weren't expecting to even the simplest project.
After all, part of the bonus of hiring an external writer is that they will bring something new and fresh to the content. Good writers deliver more by stretching the thinking and adding an edge.
Finding your writer
A really vital aspect of finding the right writer is chemistry. Feeling comfortable with the person who is going to translate your thoughts and needs into powerful and strong content. The quickest and often safest way to find your writer is by word of mouth or recommendation. Ask people in your business and social networks if they know someone they'd recommend. Or you can turn to a network or community such as UP, which has teams of writers with various backgrounds who work in highly structured ways, and who have been vetted and proven themselves on projects large and small in many different industries.
The best writers often work with a community of people who have complementary skills such as strategists, designers and people with domain expertise.
View UP's list of writers.
Happy hunting.