UP THERE, EVERYWHERE, the world's first global, cloud-based, members-only branding, marketing and digital agency, has created and launched a new social networking mobile app to keep fully remote-work colleagues connected and engaged around a 'digital water cooler'. The agency, founded in 2011 and based in Sweden, launched the app in April 2022 at the second annual Global Member Meet-UP in Palma, Mallorca.
With more than 200 members around the globe, UP's unique agency model without physical offices or a central location means that many colleagues who work together daily have never met in person. The app, along with global meet-UPs and online "town hall meetings," are a way of keeping remote workers connected, putting names to faces, and forging close-knit working bonds.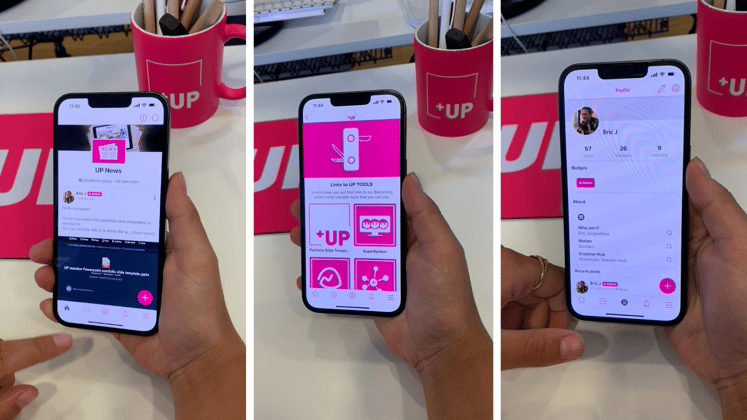 The app, aptly named UP FOR ME, has a dual meaning of "for me" (promoting personal member use) and is an acronym for Member Engagement (ME). The app was developed by an internal team who managed the build process with development providers, laying out what the app should do, how the user interface should function, and how it should look. After many weeks of planning, set-up and testing by a small group of UP Members, the app was launched at the 2022 Global Meet-UP in Palma, Mallorca.
"For a global agency with dispersed, remote-work teams around the globe, the app acts as a digital water-cooler in the cloud," said Julian Stubbs, Founder of UP THERE, EVERYWHERE. "It offers members a way to chat, to stay in touch, and to share ideas with coworkers who are very likely to be on the other side of the world."
The UP FOR ME App is a mirror of the agency, but with added features. The focus sectors of UP: UP FOR LIFE, UP FOR REAL, UP FOR DIGITAL, UP FOR IT, UP FOR YOU, UP FOR GOOD, UP FOR FS, and UP for PEOPLE all have groups within the App. If a member's projects tend to be within one of those sectors, they can join the group on the app to connect and share ideas, personal stories or fun anecdotes with colleagues.
Of course, members may join as many of the groups as they would like. And there are some fun groups, as well, such as UP for PAWS, where members can share what their furry friends are up to.
Additional functionality of the UP FOR ME App provides a link back to other UP tools (assuming proper authorization and access to those tools through UP), as well as profiles to let members see who is who, and what is happening in the agency. The app is built for social networking, and connecting on a personal level with other members, not for project management (UP uses other cloud-based tools for that.)
"If an account director is having a back-of-the-napkin discussion with a client who describes exactly the skillset they need, the AD will be able to go into the UP FOR ME App, pull up the member profile and hand their phone to the client to share the member's profile immediately," said Lawrence Masle, CEO of UP.
UP launched the app using a photo contest to encourage members to share a shot of something that happened in Mallorca. (Maybe not everything that happens in Mallorca stays in Mallorca). Other members voted and chose a winner, who received a special prize.
UP Global Meet-UP Mallorca 2022: photos uploaded by UP members in the UP FOR ME App
"The UP app has had a great reception within UP," said Stubbs, who conceived the app idea. "Members are able to share and stay connected, even when not at a global gathering. In fact it has been so well received, we have plans to create customized social media apps for some of our clients."
About UP
Founded in 2011 by Julian Stubbs and Eric Dowell, UP THERE, EVERYWHERE is built around the idea that the traditional agency model is broken. UP is different. Well into its second decade of providing global branding, marketing and digital services UP works through the the cloud, with its more than 200 people located around the world, working in globally distributed teams. The agency has always been an advocate of remote working but has also established a number of co-working Creative Hubs for meeting clients and each other. These are located in Stockholm, Gothenburg, London, Hamburg, Amsterdam, Helsinki, Zurich, New York, Shanghai and other locations.
For more information about UP or the UP for Me App, contact:
Lawrence Masle
CEO, UP THERE, EVERYWHERE
+31 610934455