For the first time ever, UP has appointed a recruitment professional to help make the world's first global cloud-based agency an even more progressive place to work and to open up membership to top talent. Introducing Sandra Palm, UP's dynamic new Global Membership Coordinator. UP writer Stuart Delves caught up with her last week—fresh in the door and brimming with energy—to find out what she and UP CEO Julian Stubbs have been hatching in regards to the evolution of what Julian coined 10 years ago as 'e-ployment'
First-ever global membership coordinator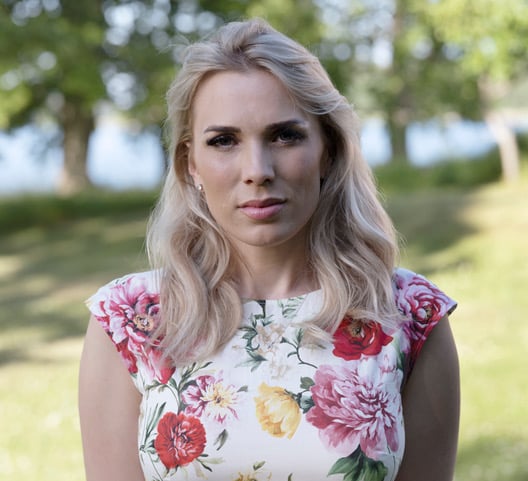 Sandra Palm joins UP as the new Global Membership Coordinator.
Sandra Palm is a bright, energetic young Swede, a graduate from the Stockholm School of Economics, who after 18 months working with an executive search firm set up her own head-hunting company, realizing that the lucrative nature of the business could be hers to enjoy rather than nibble at. She brings business savvy and the ability to speak with ease to C-level managers to UP.
Only weeks ago she was on the verge of taking the role of Global Acquisition Manager at a top tech company, when Julian took her out to lunch and she fell in love with the UP concept with people being truly the beating heart of it. Sandra is inherently gregarious. "We're all flock animals," she said. But, off the record, it was Julian showing her a picture of his dog that clinched it. (By the way, it's not a prerequisite of joining UP that you own a dog – or two – but it has to be said that dogs are the ultimate icebreakers.) So, that was it. Sandra joined to help oil the wheels. And how.
Changing how UP attracts talent
To date, UP members have come on board only through referral. We all know good people we have worked with in the past. It's natural to want to widen the pool and invite them to dive in. This will continue, says Sandra. But it won't be the only recruitment strategy any more. "We're opening up," said Sandra. Carefully mind. "We want to keep the exclusivity of The Club but improve the quality of certain candidates."
There are some key niches that need filling. Life Science Account Managers for instance: Science PhDs with client-facing capability. Digital ninjas. And yes, what about ace creatives orbiting beyond our particular spheres. A bit more diversity would be good too. "It's hard work sourcing and finding the right people," says Sandra. And, once found, it takes a certain sensitivity coupled with enthusiasm to persuade a well-positioned prospect to take the social and economic risk of changing their situation and embracing the idea of e-ployment. Hence the need for Sandra.
Growing UP
Ten years old, and after a bullish 2020 despite the odds, UP THERE, EVERYWHERE is "a €10 million company in a €2 million suit" according to its Stockholm-based co-founder Julian Stubbs. What nimble tailoring is required? A button here, a sequin there and a silky silver lining. For button read "induction," for sequin read "recruitment" and for silver lining read "community." These are the key areas Sandra has in her sights. There'll be more support, points of contact, introductions, leaders, mentors and a career-ladder. Excellent.
E-ployment has always been seen as combining the best of being employed (working for someone else) and being independent (working for yourself). Imagine the perfect mix between the two. To this day UP has no employees (not a single one, including the CEO) and equally UP has no freelancers, with everyone within the community signing a personal UP Membership contract. Being independent, but united and working under a common umbrella is the UP way.
Most members join UP to be part of something. To have support. And to be a part of a community, of course. Communities are about both giving and taking – and UP is firmly about everyone in the community doing both.
UP – where we belong
UP is a kind of mothership for many of us. Once you're in the thick of things, once it's nourishing you, and you are giving to it, UP becomes a bit of a pole star. And the agency does its best to get members together over and above work projects with webinars and global online meet-ups. Monthly leadership calls are open to everyone to catch the latest agency overview and news. But despite the benefits of remote working, everyone in UP loves physically getting together.
That's why the organization ran a three-day get-together in Palma in 2019. With over sixty people attending, it was an inspired way to enable members to physically meet - some for the first time despite working together for 8 years. Palma II was scheduled for 2020 had You-Know-What not trashed the planet and scuppered many a plan. But everyone wants it to happen as soon as possible.
Improving the membership experience
Key to Sandra's remit is to help improve the experience of membership. She is working on creating and enhancing the tools of Member engagement. The already-popular Membership Rewards System, where members earn points will be beefed up, and accompanied by escalating rewards. "In every respect the more you put into UP the more you will get out of it."
Also, UP can and will increasingly offer a greater platform to achieve more things, more possibilities for personal growth. In support of this, plans are afoot to develop the company and leadership framework and create clearer and more accurate role specifications.
"People have always been central to UP, and we need to more closely assess the strengths and competencies of the people we have."
Alongside this, mentoring, training sessions and performance reviews for personal development are all in the pipeline. As are pension planning advice for all members via a large well known Scandinavian pension provider and membership service oriented workshops around financial advice, sick leave and maternity and paternity leave. UP recently hired UK TV celebrity trainer and motivational coach Mr Motivator to run an online work out and motivational sessions for members. UP is investing big-time in its people.
When it comes to the UP Membership Rewards program, the ultimate UP Membership level is called Black Diamond level. There will only ever be 18 members of this very exclusive club, within UP.
Sunny side UP
Finally, the creation of Sandra's role is essentially an investment in wellbeing. "As we mature we need to take greater responsibility for our health and wellbeing" – the mothering side of the enterprise. Building the UP community is central to this. How is the big question.
Interestingly, the two UP writers' retreats I have run have proved invaluable in terms of bonding and people getting to know each other better and in a meaningful way. Equally the Creative Briefing Master Class was a hit with participants and there's a Presentation Skills course looming on the horizon. These diverse offerings reflect that within the community there are skills and competency clusters. I've been asked to think about how to provide a regular, on-going focus for the writers within UP. It's got to be meaningful: a sort of online Enlightenment Coffee House.
For us writers of course, words and ideas, books and essays are a good start. Meaningful interaction is beneficial for good mental health. It's not just a work-life balance it's where work embraces life rather than leave it at the office door. The thinking caps are on: coming soon, a webinar of how to cope with You Know What, a session on ergonomics (sitting in a supportive way) and yoga (sitting/standing in a highly unusual but deeply beneficial way).
Read more about UP webinars and courses