By now, we all know the importance of generating high-quality content on a regular basis. If you want to stay competitive or to have any online visibility at all, a strong web presence that makes use of content marketing is a must-have. But how can you achieve that? How do you ensure that you are continually creating and posting engaging content?
It's not just about hiring writers or outsourcing your content production. A successful content marketing program also requires careful planning to align with your business goals.
Maintaining a consistent and ongoing approach to content development can seem overwhelming. After all, content creation is time-consuming. But as with anything else, a solid plan makes all the difference. And that's where creating a content calendar comes in.
A well-planned content calendar that supports your SEO efforts, aligns with your product team's plan and addresses your target audience questions will help deliver inbound leads and gain followers.
Benefits of creating a content calendar
Before we get into how to create a content calendar, let's consider why you should create one. Here are a few clear benefits to creating a content calendar and planning your marketing content in advance.
Identifying the right topics
A content calendar allows you to see the blog, social media or email newsletter topics you've covered at a glance. In this way, you can determine the direction of future posts so your content marketing campaign can tell a cohesive story, with all the pieces fitting together neatly. Understanding that story makes it easier to plan future content that supports your overall message.
Staying organized
Keeping content relevant and inspirational is almost a full-time job on its own. But front loading your content marketing with advance planning allows you to stay ahead of the game by batching your work and saving all your ideas in one place. If you need to tap additional resources, produce a video or webinar, or prep an infographic to accompany a blog or email campaign, you'll be able to plan ahead.
Tracking engagement more effectively
Tracking your metrics is a crucial step in ensuring that your content marketing strategy is working, or to alert you if you need to make any tweaks. A content calendar allows you to establish benchmarks and note how you're doing in keeping up with these.
Keeping your brand consistent
When it comes to building a brand, consistency is key. A content calendar allows you to maintain a consistent voice and persona across social media channels, on your blog and website, and in your email marketing. Whether it's a meme you shared on Instagram or an article on your blog, you want to make sure that your brand speaks clearly throughout.
Maintaining quality control
Planning ahead gives you some space to error-proof your blog and social media posts. Processes for fact-checking and editing can be built into your workflow easily. It also helps you coordinate posting across multiple platforms.
Keeping everyone on the same page
Any inbound or content marketing campaign is more successful if all departments are on board and working together. A shared content calendar makes it easy for each department to see what other departments are working on so that they can collaborate seamlessly. And you can easily ensure that all content fits within the overall marketing plan.
So now you know why you should create a content calendar. Next, we'll talk about how.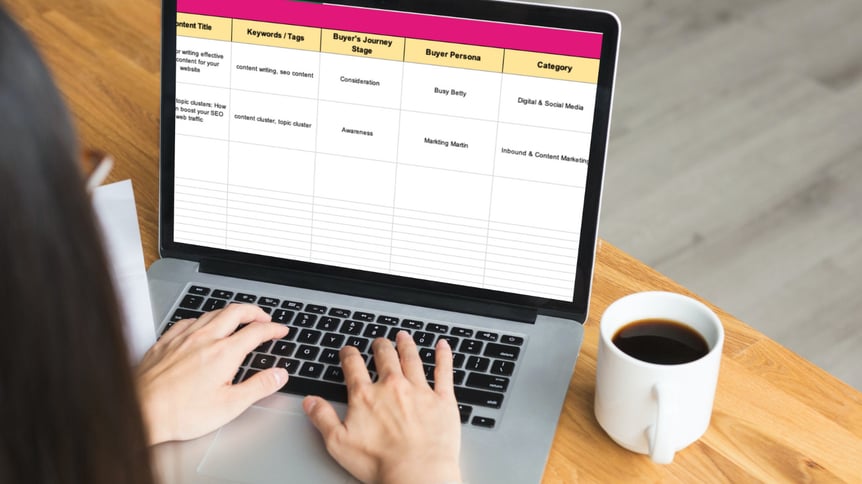 10 tips for content calendar creation
Content creation shouldn't be an exercise in product or brand promotion. The broader goal of your content marketing effort should be to educate and inform your audience: not create sales pitches. This is a fundamental principle of both inbound marketing and content marketing.
That's why it's important that you plan your content calendar around broad topic areas that address prospect questions in all phases of the buying cycle: awareness, consideration and purchase/decision. A good strategy for planning a content calendar is to think about the questions your audience has and answer them.
Here are 10 tips for creating a highly effective content calendar:
1. Choose a template
There are many calendar tools available on the web. Choose one that works for you. Feel free to go with something simple like Google Sheets, an online spreadsheet which can easily be shared with your team. Whatever template you choose, make sure that it includes important information for each piece such as platform, topic, and content type. Download our free template here.
2. Set goals
Before starting, determine what your overarching goal is. Maybe you want to start introducing content on a new platform, or develop thought leadership in a new market area. Keep your goals visible so that everyone can work on them together.
3. Decide on your publishing process
Set a realistic timeframe for publication of new content. On the one hand, you want to ensure that you're publishing frequently enough to stay visible. On the other hand, you want to give yourself enough time to create quality content.
4. Mark important dates
Include any important dates or deadlines for the publication of new content. These include deadlines for assigning graphics, scheduling interviews, first draft completion, and individual dates for posting on various social media channels. Establish a system of alerts and notifications to keep everyone on your team on-task.
5. Research relevant keywords
Determining which keyword phrases to base your content around can often be one of the most challenging aspects of content planning. But don't let it deter you. You can use one of the many keyword research tools such as SEMRush, MOZ keyword explorer, or even Google's Keyword Planner to help research relevant keywords and topic ideas.
6. Come up with content ideas
Next, it's time to fill in some of the gaps on your content calendar with topic ideas. Consider posts that go along with a trendy theme in your field, or a series of articles about a special service that you want to highlight. To get ideas for content that addresses your current audience needs, don't overlook two important sources of input: your sales team and customer support teams. Addressing frequently asked questions or common sales objections can make interesting topics for content creation. Consider a series with customer interviews or success stories, or ask your audience what they'd like to hear about.
7. Add relevant details
For each planned piece of content, fill in as much information as possible on the content calendar. Include possible resources, keywords, potential CTAs and topic angles. Filling in these details will save you time later and ensure that everyone stays on task to meet your publishing goals. You might even consider filling in an additional column with ideas about how you might repurpose the content later. And don't forget to note the buyer stage that each piece of content addresses.
8. Repurpose prior content
You can save a lot of time and effort by effectively reusing content that you already have. If you're stuck for new content, consider publishing data gathered in-house from a customer survey. Try repurposing old social media posts by reworking them into new formats on other platforms. Address frequently asked questions or do a round-up product comparison (between your products or even competitors). Take a research report or old presentation and repurpose it into a blog or social media posts. If you've done webinars or seminars, turn that content into blogs or an email series. Create a video blog by having one of your thought leaders react to a recent news article, create a Q&A piece in an interview style, or try a visual blog with a series of photos from an event or product launch.
9. Monitor engagement
Monitoring how your content performs is fairly easy to do. But sometimes the process of creating and sharing content can be so time-consuming that it's easy to forget this step. Carve out some time within your workflow to evaluate which posts are generating engagement and which aren't doing as well.
10. Update the plans when needed
Life never remains stagnant, and your content marketing strategy shouldn't either. Make a point of evaluating your content calendar on a regular basis to identify any needed changes or updates. Consider if you should add additional content formats (such as video blogging, image-based posts, or podcasts). You may even want to set an alert every so often to remind yourself about this important step.
By keeping these guidelines in mind, you'll be well on your way to a winning and achievable content marketing strategy.
Enlist outside help
If you need help with content planning or creation, don't hesitate to reach out to UP for support. UP's Content Marketing team has experts in inbound marketing, subject matter experts and writer/editors.