Dr. Robert should grow UP!
UP disrupted Robert's perfectly cosy post-pandemic existence by asking him to go to Silicon Valley on a mission to grow UP. That meant meeting existing members and recruiting new ones; finding a great location for a new UP Creative Hub in Silicon Valley, and connecting with a few of our big existing clients.
How could he say no?
When I landed in San Francisco in October 2022, the ownership tussle between Twitter and Elon Musk still dominated the news cycle. I moved into Hayes Valley, just a stone's throw away from Twitter's offices. From my condo, I could stroll around the corner to see Elon carrying that sink into the building when he bought the company. There's nothing quite like the theatrics – business and otherwise – of this part of the world.
I suppose they got their license from Steve Jobs, but since then the cult of personality, and the degree to which the leaders act impetuously, has reached astronomical heights. An indicator: the Apple IPO named Steve Jobs 8 times; the WeWork IPO named their CEO at the time, Adam Neumann, more than a 100 times.
(By the way: I'm conflating San Francisco with Silicon Valley. Geographically, I know that's not accurate, but the allure of San Francisco's culture, nightlife and cuisine has made it the home of many workers in the Bay Area. The migration to the city has become even more acute when people have no physical need to go to an office to do their work. Not a single park, café or strolling area is without someone tapping on a keyboard, texting on their phone or talking in a remote conference. "Have 5G, will work". Work-life balance? Some people will certainly mourn the loss of any separation between work and life, but hey, wasn't this separation just an interlude compared with the broad sweep of history? I could write a whole article on this subject alone. I digress.)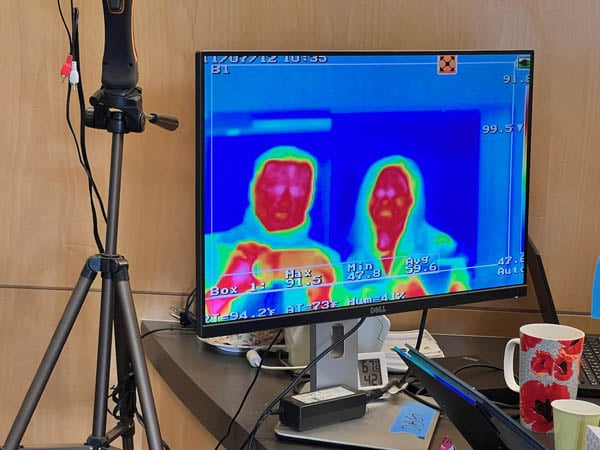 We recently visited a physical office in Silicon Valley to be met by their receptionist – a thermal camera. Virtually no one was there. But everybody was working.
I first worked in Silicon Valley in the 90's, just as the Cold War was winding down. I remember driving down Highway 101, counting the number of miles that the premises of McDonnell Douglas, a major defence contractor, occupied at the peak of its activities. Here, engineers with expertise in aerodynamics, structural mechanics, materials, and other technical areas developed several different aircraft. The facility was somewhere close to 20 miles long. Today, I can't see any sign of it. The 20-mile stretch is occupied today by pretty normal businesses. And I'll wager that many of the businesses that started in the 20's have no premises at all. They are literally invisible. But make no mistake, they do exist.
Silicon Valley was once upon a time groves of fruit and nut orchards that soaked up the Californian sun. The then cheap and ready access to land and sea steadily made it the home of the space-hungry military-industrial developments of the US Navy. Next, thanks to the coalescence of talent from the military, academic institutions like Stanford University and venture capital, the integrated circuit, microprocessor and microcomputer were born. Today, civil technology companies dominate, and they are currently experiencing a downsizing. But it would be wrong to assume from this perspective that Silicon Valley has played out its role.
Silicon Valley is a mindset, a confidence, an ambition and an entrepreneurial spirit that is alive and well. And as tech business has globalised, so has Silicon Valley. Just as the Valley's business is no longer visible, so it is no longer a single place. But it does have a heart, and the heart is still here.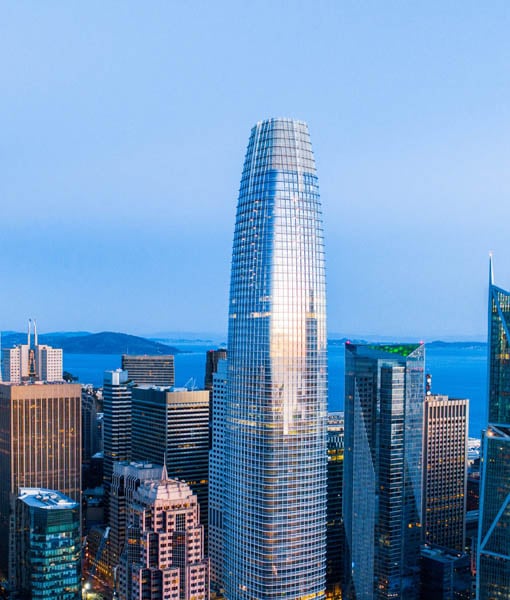 Certain businesses want to be more visible. Salesforce Tower is the tallest building in San Francisco. Salesforce employs 60 thousand people. Not all of them work here.
What makes this place so special? A wise Silicon Valley entrepreneur once explained it to me: For every 100 start-ups, at least 80 of them will go bust. 9 will do so-so. But 1 of them will be absolutely stellar. And since so many businesses start here, and since venture capital is so plentiful, it's quite risk-free for a normal worker to take a job in any one of the 100 start-ups. If you work hard and you're smart, you will be remembered. And if your start-up employer most likely crashes, you can take a new job at the next start-up.
This view is reinforced by my personal experience. I have several friends who have lived and worked here since the 90's. They have had several employers, progressed their careers, got wealthy on stock options, earn-outs or buy-outs, and they did very well, thank you very much. I was told an anecdote by a VC advisor how he handed a mutual friend a cheque for 1 million dollars as he was relieved from his CEO role.
As a result, the talent pool is stable and awe-inspiring. It attracts smart, energetic people from all over the world. In my business, the life sciences, the successful businesses stretch from Berkeley in the East Bay to San Diego on the border with Mexico. And with the advent of highly productive remote working, Silicon Valley workers are located in Maine and Massachusetts and in Georgia and Texas. But the entrepreneurial spiritual heart is still right here, in the Valley itself.
As I write, there are vast numbers of layoffs here. Meta staff, Twitter staff, and cryptocurrency staff are all looking for new jobs. For companies in the life sciences, bio-engineering and biotech industries, this must be an absolute boon. The overheating of big tech is over – or at least we are experiencing a respite where some of the talent will migrate to the life sciences. This sector, for decades flying somewhat under the radar, is set to boom in the 21st Century.
And there are many companies that are prepared to recruit these knowledge workers. Look at Altos Labs. With a prestigious board of directors from Stanford, Berkeley, a Nobel Prize winner or two, and armed with an astounding 3 billion dollars of investment, it is one of the next generation of companies working on human cell rejuvenation.
Or Loyal, which I really love the idea of. People love dogs, sometimes more than they love other people. There's only one problem: they don't live as long as we would like them to. What if we could extend their lives? Loyal is working on just that – and if on their journey they discover something that would benefit human longevity, then all the better.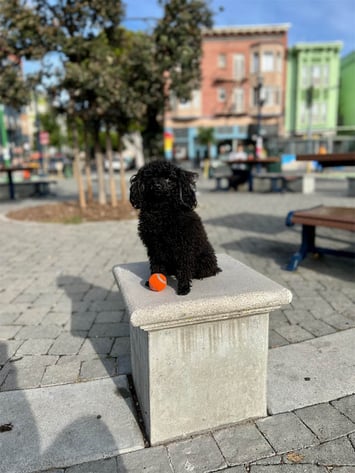 My loyal best friend and Silicon Valley companion, Morris. What if he could live till 30? Or 40? I would probably bequeath him my digital music collection.
Then there are the technically-oriented life science companies like Vizgen, Spatial Genomics, and 10X Genomics, providing tools that are exploiting massively parallel, single gene and single cell technologies to probe the human genome. We will absolutely need such tools to provide the next generation of personalised medicine strategies and individual therapies down the line. Of all the technological development that we could focus on, we know that the life sciences will benefit humans, as long as it is applicable to the entire world population and not just a few individuals. In my opinion, therefore, the importance of democratising life science technologies and applying them to more diverse populations stands above all other priorities.
(By the way: if you know anyone at the above companies, please let them know I'd love to interview them for this blog. Please share this and email me at robert@upthereeverywhere.com.)
And we will need the talent and genius of Silicon Valley to make these exciting ventures into practical realities. You just have to spend a month here to once again believe in the innovation, entrepreneurship, venture and confidence that the Valley inspires.
Silicon Valley, you are – as we know you – soon dead. It's time for you to reinvent yourself, once again.