As I opened my inbox this morning, Simon Sinek's regular message was prescient: "Life changes for the better when we realize that we don't have to know everything and we don't have to pretend we do."
This week, I'm attending HubSpot's conference in Boston 16-18 September, Inbound 2014, and it feels a little like the first day at school. I'm a scientist at the PhD level, and here I am rubbing shoulders with geeks from the tech world (who think scientists are geeks!), to learn more about a development which, I think, is inevitable and highly significant in the world of life science, biotech and medical device communications: inbound marketing.
If you want to know the benefits of inbound marketing, read fellow UP member Shari Monnes' blog article, What is inbound marketing and how can it help me?" Now, I'm writing about three core strategies that make inbound marketing appropriate for life science tools and medical device marketing.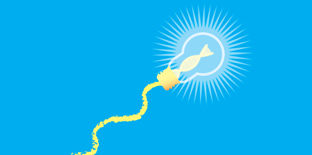 1. Think, Think, Think. Do. Analyse. Repeat.
As you certainly know, scientists and engineers are trained to think critically. Our approach to formulating the right questions and finding answers is evidence-based and dependent on good data, sound reasoning and testing hypotheses. People who work in marketing in the life sciences and medical device industries usually have a science or engineering background. This is typical since it's difficult for non-scientists to plan and create the right type of information for a scientific readership.
What these marketers are looking for is a marketing system that supports their way of working: providing solid data to measure the success of their marketing programs, with A/B testing, visitor behaviour tracking, and direct measures of a campaign's success in driving traffic and leads. HubSpot's inbound marketing approach offers analysis by the bucketload.
2. Embrace The Art of Good Content
On the receiving end, the target audience in the life sciences and medical device sectors are very sensitive to the type of information that they are prepared to receive from marketers. Content must offer value, always. The slightest whiff of a sales pitch is a turn-off. If your content is sales-y, it's ignored. They won't share your content with their colleagues, which is one of the key mechanisms for growing the number of people with whom you communicate.
Inbound marketing embraces the concept of creating content for the individual person searching for information. It focuses the mind on what sort of content works and what doesn't. In planning content, it keeps you thinking of your target audience as real people, not a faceless mass. What an individual finds engaging depends on where they are on their journey towards becoming a customer.
3. Walk the long and winding road
Finally, the sales cycle in life science and medical device business is long. Very long. The sales cycle from cold contact to a buying customer is typically 18–24 months, and rather tortuous. The first person that you make contact with will probably not be the final decision maker; all the more reason to adopt a marketing approach that helps them share information with their colleagues. It's crucial to employ a marketing strategy that engages future clients through a long sales cycle, so they don't forget about your beautiful brand and your unforgettable offering. This is one of the key reasons to use a marketing approach that regularly reaches out to your contacts. The content planning, repurposing and automation that's enabled by an inbound marketing strategy is just the ticket.
So here I am in Boston to geek out on inbound marketing for three whole days. I won't pretend that I know everything–what a relief–and I'm here to learn.
Even more fun–HubSpot will be making an announcement tomorrow that will radically change the value of their offering for many life science businesses. Sign up to our blog and we'll let you know what it is.