Three students from the International Marketing Programme at Kings College London were recent winners of the UP THERE, EVERYWHERE Prize in International Marketing. The students dissertations were judged based on the most relevant topics to today's marketing industry.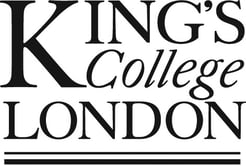 'At UP we love encouraging young people at the start of their careers. We have a strong relationship to King's College London and we're delighted to have taken part in this prize' said Julian Stubbs, Founder UP THERE, EVERYWHERE.
'Our international marketing MSc students work incredibly hard on very challenging business issues. So I'm very pleased to see that outstanding examples of student research get recognition from industry leaders such as UP THERE, EVERYWHERE' said Kirk Plangger, Professor of Marketing, at King's.
The International Marketing programme at King's College London is run by a strong team of world-renowned marketing lecturers and scholars with strong industry backgrounds and experience. The faculty is drawn from over ten countries and reflects the diverse student body covering all regions of the world. UP became involved in the prize to encourage students to pursue a career in international marketing.
The agency is continuing the involvement with Kings College London with an ongoing Place Branding focus with this years students. More details on this will be released this spring.
Winners
The Grand Prize winner, Ahoud Al-Ajmi, comes from Saudi Arabia, but now lives in London. She has lived in several European countries and speaks a number of languages. With her international background she has a strong interest in international markets and diverse cultures. 'I was truly delighted about winning the prize. I wasn't sure my thesis would even qualify, so I was extra nervous on the day of the graduation. This prize helps me stand out now that I'm looking for a job in marketing."
Runner up Tereza Bilkova is from the Czech Republic. Her thesis focused on consumers increasing desire to share their experience with others through social media. After winning the prize she said: 'I was really happy when I heard that external professionals had judged my work – I was truly delighted with that.'
Signe Holm, also a runner up, comes from Denmark, and again has a strong international background. 'This prize has allowed me to focus on extending my research for publication. I'm very grateful for this opportunity'. Signe has just finished an internship at Monocle Magazine and is looking for a continued career in either publishing or marketing.
What do you think about a global cloud based agency?
'It is just another logical step, that is responding to the developments in digital technologies and helps solve problems with increasing costs connected to having office premises and permanent staff. Also as an employee of a marketing startup, I know very well that the amount of work fluctuates and flexibility is the key', says Ahoud.
Tereza Bilkova continues: 'It's the future and there are many advantages, it's not just cost-efficient, it's also a way of differentiating yourself'.
Signe Holm said 'I think a global cloud based agency sounds like a great concept and the way UP works means you can have greater talent spread across the globe and that makes it truly international'.
We wish all three winners the best of luck.