H
aving seen an exponential growth over the last year, Instagram occupies a crucial place in the social and advertising ecosystem, and is therefore one of the most competitive platforms on which to market your products and/or services.
"A pessimist sees the difficulty in every opportunity, an optimist sees the opportunity in every difficulty" - Winston Churchill.
If you really want to be ahead of the game, you need to know this social media platform, your current as well as potential target audience inside and out, and stay up-to-date with the latest Instagram features. Among its most important 2020 updates, Instagram launched a new creative video feature in August 2020 called Instagram Reels. Here is all you need to know about it, and a few key tips to understand how to use it to achieve your marketing goals.
What is Instagram Reels?
IG Reels is a new Instagram feature that allows users to record and edit videos up to 30 seconds, with creative audio, effects and video editing tools in a 9:16 portrait format. Launched in August 2020 to rival TikTok, it invites you to make original and engaging recordings for your followers and a more extensive audience on Instagram.
To ensure that users increasingly use this new feature, the social platform developed an IG Reels landing spot at the top of the Explore page and made a dedicated Reels feed accessible by clicking on the IG Reels icon. Visible not only to your followers but to all Instagram users, this is a great way to reach an extensive audience and new communities on a worldwide stage.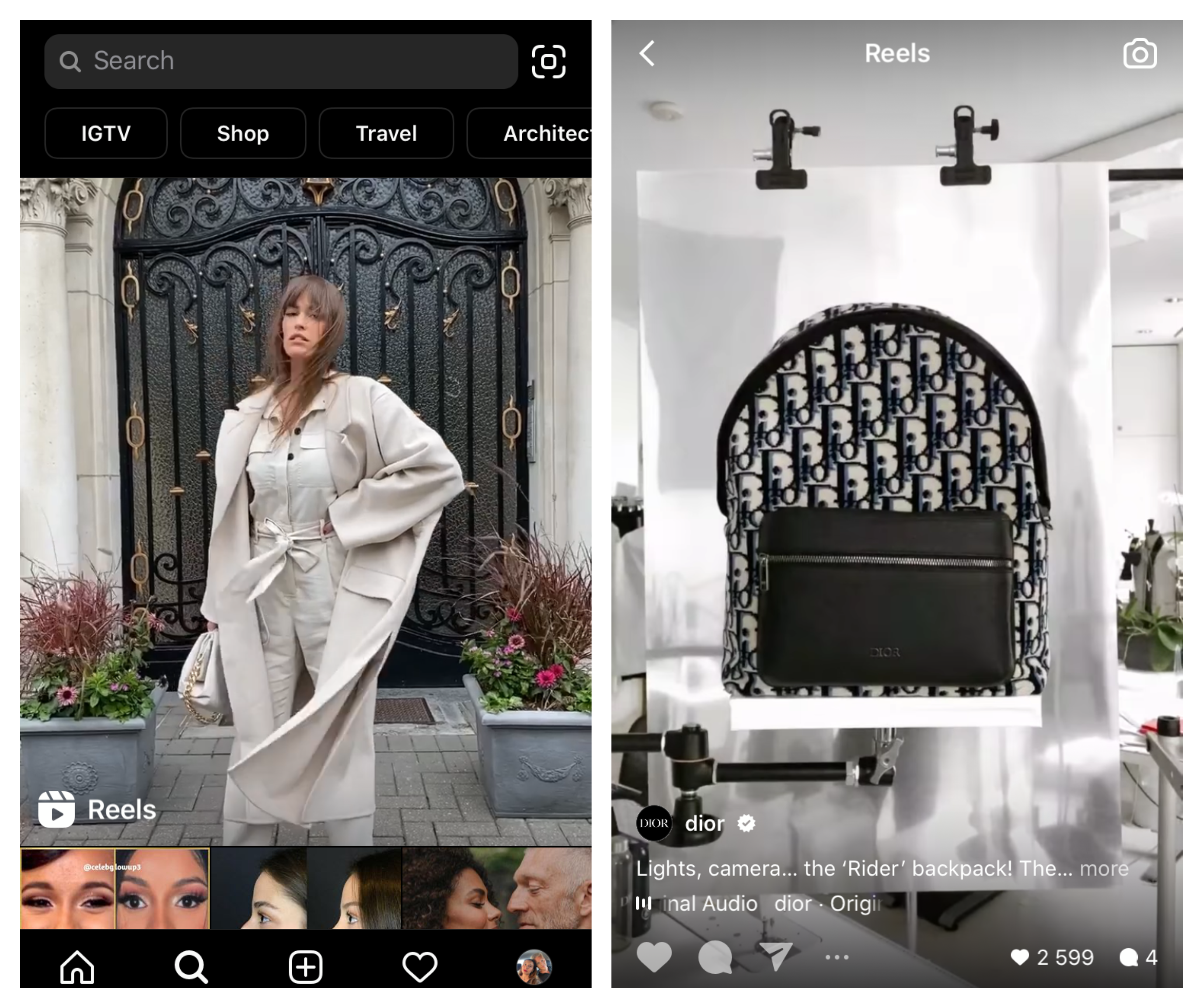 IG Reels landing spot at the top of the Explore page & dedicated Reels feed.
How can Instagram Reels benefit your business and brand(s)?
If well integrated into your social media marketing strategy, IG Reels gives you a great opportunity to optimize both your business and marketing efforts. IG Reels:
Is a great way to increase your reach and build your audience.
1 - The Instagram algorithm favors users who start using their latest features. So don't wait any longer to use it (in a well-thought manner, of course). Your Reels might get displayed in the "Suggested Reels" section of Instagram.
2 - Contrary to Instagram posts, IG Reels is not only exclusive to your followers. Showcased in the dedicated space of the Instagram Explore page, Reels will give you the opportunity to be discovered by a wider community and increase your reach.
Enables you to develop more original and engaging content for your marketing campaigns. This video feature provides a variety of new audio and video editing tools. You can use distinct visual effects, include relevant music and stickers, record multiple times, and adjust the speed of the video. Although you first might want to try several effects and video editing features, make sure to keep your focus on your target audience to create Reels that resonate personally, socially and/or culturally with them. And, of course, stay consistent with your brand identity and personality.
Increases your chance of gaining users' attention and communicating your essential brand message. People don't want to waste time, and they have short attention spans online. The conciseness of the IG Reels length (30sec max) might be a challenge but it will actually force you to keep your message simple, clear and pertinent, which in turn might be less convoluted, and more easily noticed and remembered by your followers and other Instagram users.
Offers a great opportunity to review your social media strategy and content production process. Not only advantageous for the degree of creativity it enables, IG Reels gives you the opportunity to finally embrace the social media universe, develop a robust social media marketing approach, and get rid of campaign artwork that is poorly adapted to the social environment.
IG Reels is a great wake-up call to realize the ever-growing place of social media in consumers' lives and provide what social media users are looking for. It's time to re-think your content production process. If you haven't already, now is the time to dedicate resources to creating social-media friendly storyboards and original creative concepts. Focus on producing high-impact content in formats that match your key social media channels, and most importantly, grab the attention of your target audience.
The benefits of IG Reels are way too valuable to be ignored.
How can I measure the ROI of my social media campaigns?
How can you use Instagram Reels in a marketing strategy?
Several brands, start-ups as well-established players, have already started to take advantage of this new Instagram feature in different pertinent ways that benefit their businesses and brands objectives.
Depending on your industry and target audience(s), you can incorporate Reels into your social media marketing strategy in diverse manners and to achieve different goals. Here are some ways Reels can deliver for you:
Generate more leads with IG Reels by creating informative and educational Reels related to your products and/or services. How? If you pair your content strategy with leads management, make sure to direct your IG Reels viewers to your website for "more educational content/info" about your products and/or services, and therefore increase the possibility of turning them into leads.
Increase authenticity and make your brand more relatable, approachable and engaging. How? Connect with your audience by creating behind-the-scenes videos with IG Reels. If you are B2C focused, film behind-the-scenes content during your product photoshoots. If B2B focused, such as a marketing agency trying to get more clients, show your daily routine as a marketer and teamwork, which will give you the chance to feature your achievements, skills and abilities. In return, your audience will gain more trust in you as they get the feeling they know you better and from a more authentic angle.
Showcase your products and/or services, and new collections:
1 - by producing your own high-quality videos and teasers in the IG Reels video format.
2 - by collaborating with influencers. IG Reels enables you not only to continue to work with your key influencers but also to find new pertinent influencers skilled in the creation of original and engaging IG Reels. What type of content could you focus on? Prioritize social-media friendly content such as engaging product-demo and tutorials.
Give your brand and/or company a voice. This is a new opportunity to develop personal connection with your followers and a wider audience on social, and develop a unique brand voice. Use IG Reels to share your company story, community and brand values & vision.
Specifically for agencies and B2B businesses, post your most successful case studies using IG Reels.
LAST TIP: Don't overlook the potential power of IG Reels. IG Stories was launched in 2016, and today's usage statistics speak for themselves.

Read more: Seven Tips for Social Media Success
Need help with your social media marketing strategy?
Find out more about UP social media marketing support.