For membership associations, non-profit organizations and many technology or life science industry businesses, holding an annual (or more frequent) conference continues to be a primary way of gaining new members and keeping existing members connected. Conferences allow participants to learn about new developments, share new technologies and ideas, and network with like-minded individuals in their fields.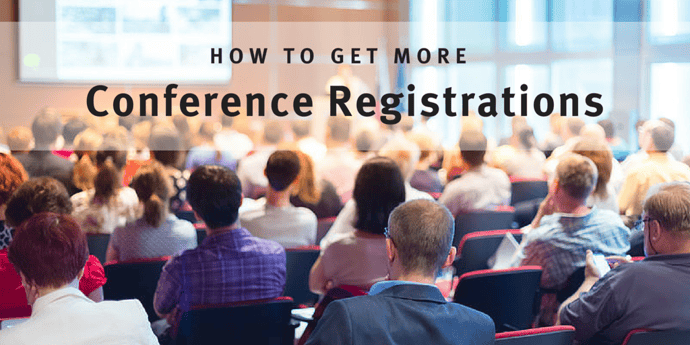 In fact, according to Statista at least 113 million people attended business meetings in the United States in 2012 (up from 2009). Of the largest exhibitions and conventions, around 30 percent had more than five thousand attendees and a quarter had at least 250 exhibitors.
Growing your conference attendance
The days of the pre-conference registration program book being produced and mailed to your customer list or an association membership list are behind us. Over the years, I found that a more integrated approach to marketing conferences is better at increasing attendance.
In this post, I'll focus on the best ways to include direct mail as part of your conference promotion mix. Future posts will discuss the use of enewsletters, social media, website, and telemarketing in promoting conference registration. Here are seven tips to help generate more conference registrations.
Better ways to use direct mail
Mail postcards instead of programs. Instead of mailing a pre-conference program book that includes the full preliminary schedule and travel information, create a series of oversized postcards that have compelling art with a call to action on one side and a few key bullet points on the backside.

Push traffic online. Feature your conference URL prominently in all mailings since the objective of the postcard is to move people to your website and social media sites.

Use postage savings to grow your list. Since your cost to mail a postcard will be much less than the cost to mail a pre-conference registration book, you can increase the size of your mailing universe to include customers, members, expires, and rented lists.

For the rented lists, select by geographic area so that you can market to people located closer to the conference location or drill down to specific segments. I suggest three to four postcards in the series. Depending on your budget, you may want to mail just one postcard to your rented lists to reduce your list rental costs.

Consider early bird discounts. If you are offering an early-bird registration discount, promote that on a postcard and mail it a few weeks ahead so your audience receives it in plenty of time to take advantage of the discount.

Personalize the message. Consider using variable messages on the postcard to target your message more closely to your list segments. In addition, many direct mail printers can individually personalize your message without additional costs.

Cross-promote. If you mail a member magazine regularly, think of including one of the postcards in a polybag package with the issue before the event.
Save money and gain repetition
I found that with this approach, and the savings in printing and mailing the pre-conference registration book, I could print and mail three postcards to a universe that is four times larger than mailing the one-time pre-conference registration program. Furthermore, pushing people to the website and social media channels lets you make sure the conference information they see is always up-to-date and reflects any changes to the agenda.
Have more ideas or questions? Please let me know in the comments.