Creating content for a marketing campaign may not be a picnic, but in some ways it might be similar to hosting a dinner party. Both tempting content and successful dinner parties rely on careful preparation and using the right ingredients.

Whether you're preparing a full course dinner or just a quick snack, following a few fundamental principles will help ensure your content has the right balance of flavor notes.
Preparing great content
You've likely taken a few online marketing surveys asking you to define your biggest professional pain points. As a life science marketing communications manager, I consistently check the same box: access to high-quality content.
According to Content Marketing Institute:
High-quality content focuses on creating and distributing valuable and relevant information to attract a clearly defined audience — and, ultimately, to drive customer action towards their decision to make a purchase. Instead of pitching your products or services, you are providing something useful to your prospects and customers to help them solve their issues.
Content marketing is not dependent on the latest technology, but new technologies have opened up more possibilities for engaging with an audience. Content is simply information, but at the heart of effective content marketing is audience engagement.
Here are six tips to help you prepare content your readers will want to consume.
1. Define your audience
Choosing who receives an invitation is the first decision, and one that's vital to a successful outcome. Consider your desired target market. Try creating a representative customer profile (your buyer persona) of your ideal market segment for a targeted campaign.
Where does research show you have the best opportunity to connect with them? That's the channel where you'll want to host your next campaign. If you are in need of current customer data, do some keyword research to find out what is trending with your customers on the web. Develop a list of trending topics for blogs or choose one for a webinar that aligns to needs at the various stages of their buyer's journey.
2. Address specific needs
Now that you have someone specific to invite, tailor your content to your audience's interests, needs or desires. Choose a concept and message that's relevant to them, just as you would select a tempting menu for guests. Popcorn, energy drinks and pizza which are perfect for Saturday game night won't be appreciated at Sunday dinner with your grandparents. Find topics that are relevant to the problems your target audience faces in their daily life or work.
For example, in life science marketing, think about the key challenge or pain point for your target persona is. Scientific research relies on published protocols. A protocol guide with a bench-top friendly design becomes a must-have tool for lab techs new to research. Whereas a lab director or procurement manager would appreciate a tool for cost comparison.
3. Add value (or humor) to go viral
Make your content both nourishing and delicious. It's hard for me to resist clicking on a compelling headline linked to a Facebook blog or video demonstrating how to extend the freshness of pricey organic strawberries. Demonstrating value is a more effective engagement strategy than a list of features and benefits about a food storage container.
Features and benefits will satisfy the appetite. However, a dash of fun makes content shareable. Laboratory parodies on YouTube have millions of shares. Immunostaining samples are an "Instagrammable" feast for the eyes. Did you know Agar Art made with living microbes is a thing? The American Association for Microbiology (ASM) even has a YouTube protocol for that.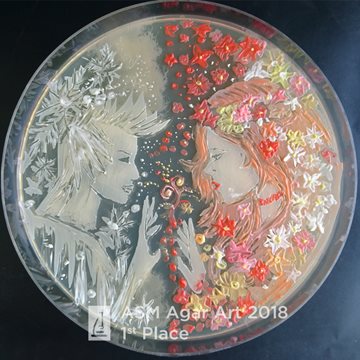 (Did you know Agar Art is a thing?) Source: American Institute for Microbiology
4. Listen as well as speak
Like a good host, create content with opportunities for two-way communications. Homegrown social media content has become a preferred method for consumers to engage with brands, chiefly because it is authentic and immediate. Develop a consistent strategy for posting content and responding to followers. Build brand loyalty and foster community by hosting live and streaming events with free and low-cost web tools like Zoom, Eventbrite, LinkedIn Live, Facebook Live, and Ustream.
Even scientists want to have fun. Humor can help your message go viral.
5. Offer more (variety that is)
Set a nice table arranged with a virtual buffet of content. Add variety to your marketing campaigns using different kinds of opportunities for prospects to engage with you. Using repetition and reinforcements in the content, lead an audience to take the desired action. Let them engage with you online by prompting them to download a useful tool or infographic, enter a contest, or profile themselves with a quiz to customize a future experience.
Using a multiple choice quiz we called "What kind of scientist are you?" (Like this one) allowed our gene sequencing customers to identify some specific needs while also helping us segment this audience in our database by their technology platform.
6. Create a comprehensive content strategy
Give your customers and prospects something of value in every bite of content, and they will look forward to the next invitation. Content never stays fresh long, so it is advisable to develop a quarterly content strategy. Start with a content audit of existing web, video, print, and other collateral. See if you can repurpose something that already exists into a different format.
Two- to three-minute clips from a longer Q&A video featuring a prominent thought leader speaking about your product technology platform easily become trailers to promote the full interview. That same interview can also be converted into a case study by incorporating relevant technology updates for added value. With a smart investment of time and effort in Q1, high-quality content for three different campaigns will be ready for your audience in Q2. Don't overlook the value of webinars and the way content created during and for them can be reused in multiple ways.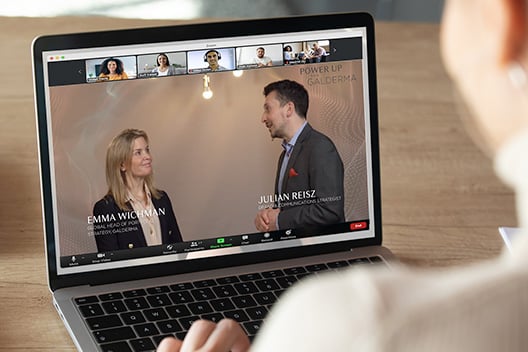 Webinars provide a way to create visual content that can be reused and accessed later in video as well as print format.
Read more: 10 Steps to create webinars that wow customers
"With webinars, people think of their engagement opportunities as just a little Q&A at the end of a presentation; but today we are seeing companies engaging their webinar audiences in a variety of ways—including polling, surveys, chat features, social media integrations, and gamification ," said Mark Bornstein, public speaker, marketing futurist, and vice president of content marketing at webinar platform provider ON24.
Hungry to know more?
Get our guide to producing effective content and using inbound marketing to grow your audience and gain leads.