The financial services market is ever-evolving and with the advent of disruptive players, the traditional, long established providers are faced with a simple choice: disrupt or be disrupted.
To disrupt, you need to embrace change, not only in the way you offer services but also within your business culture. It's not enough to simply pay lip service or tick the boxes, you need to disrupt your own internal business modus operandi in order to meet the challenges of the market. And that's a market driven by the customer.
In the information age, when switching to a new provider is as easy as downloading an app, the delivery of greater customer satisfaction is crucial – with products and services designed to suit their specific circumstances, aspirations and lifestyle.
Consider these tips for marketing financial services in the new age of disruption.
Top tips for marketing financial services
Prioritize customer-centricity in the financial services industry
Now more than ever, financial services must match the customer-oriented approach other online services have successfully adopted.
To adapt, survive and thrive within the contemporary disruptive market, financial services must put the customer at the heart of their business model with customer-first thinking integrated into their marketing strategy. That means you must demonstrate a genuine interest in solving problems for customers through a deeper understanding of their needs, attitudes and behaviors.
If your financial institution is among the larger and more established ones, this could be difficult, as it may be hierarchical, bureaucratic and led from the top. You'll need to make more changes in order to respond to shifting customer needs with flexibility, speed and relevance. In contrast, disrupters and small businesses such as fintech start-ups offer swift, agile, personalized solutions driven by leading edge technology, unencumbered by time-consuming internal, cultural and logistical issues.
Your goal in developing customer-first thinking for your financial products and services should be to ensure that every customer experience is:
Useful – delivering value to the customer by finding effective solutions to their needs.
Useable – easy to use and engage with so that the customer can quickly appreciate the benefit.
Engaging – making the experience emotionally engaging so that the customer interacts and want to take part.

Creating an optimal customer experience should include all touch-points.
Create an optimized customer experience
Although the focus of financial services is shifting ever closer to the customer, you can improve your current customer experience and marketing techniques by adopting customer-centric strategies:
Make a virtue of experience
By adopting more customer-focused strategies, even if you're part of one of the many established financial services companies, consider how you can disrupt your own culture with greatly improved customer experience initiatives and think long-term.
Such initiatives include multi-channel to omni-channel customer experiences for a seamless, integrated, personalised and consistent brand experience at every touchpoint. Greater functionality across all digital channels is improving customer experience by raising awareness of making mobile payments, while the use of chatbots and robot advisory services is extending online capabilities. Gamification is also being used as a fun way to engage customers while personalization is implemented offline and online with the latest technologies to enhance relevance, effectiveness and customer engagement, as on social media with targeted content.
Synchronize your customer experience
In an omni-channel consumer climate, you must seamlessly synchronize your financial services at all brand touchpoints to deliver the ultimate optimized customer experience. At every stage of the customer journey, each brand touchpoint can play a crucial role in the selection of financial service providers for potential customers but also existing customers. For example, if an app is unable to be downloaded on certain types of mobile devices, a potential customer will simply move on to another more compatible provider.
So, brand value propositions and marketing campaigns must be orchestrated and synchronized to optimize the customer experience and create a smooth, complete brand experience. The experience is no longer focused only at one specific place and moment, instead it must engage across multiple channels and devices at exactly the right time and place. Therefore, no one channel has prime importance so smooth customer experience must effortlessly reflect the customer journey to provide consistency at every stage.
Need help creating customer experiences? Contact us
Drive success with Big Data: the value of digital marketing and new technologies
Big data adds value and digital marketing success beyond mere transaction. It portrays customer preferences yesterday, today and tomorrow. If harnessed effectively it is the lifeblood of all customer engagement, retention and development. Indeed, the sheer volume of information that can be harvested at every touchpoint along the omni-channel customer journey provides unique insights into customer behaviors, allowing unprecedented degrees of personalization and customer-centric marketing.
Above all, big data and digital technologies allow marketing teams to offer a more intimate sales experience, providing highly personalized, contextualized and dynamic, bespoke end-to-end customer journeys. Comprehensive customer personas can be developed from the wealth of cross-channel data accrued, with everything from CTAs to transactional footprints, integrating first, second- and third-party data with cognitive analytics, real-time/right-time touchpoint dynamics and machine learning like never before.
Clearly, by making use of your big data and following the lead of the disrupters who have a distinct advantage, financial services marketers can deliver more engaging, personalized customer-centric experiences. Although fintech companies have naturally integrated marketing automation, it's not too late to play catch-up as long as you act now.
Use AI and machine learning in your marketing automation strategy
AI and complementary technologies are key to developing more accessibility, convenience, transparency, flexibility and customer-centricity in the financial services industry.
Mass personalization of financial services is becoming the new business as usual with AI and its automated synchronization of customer experience across multiple channels. Consumers have been used to mass consumption but the new age of mass personalization of services is being driven by AI algorithms enabled by big data informed by customer lifestyle, consumer histories, behaviors, attitudes and personal preferences, crunching information quickly to extract the insights needed.
Into tomorrow, AI will play an integral role in mission critical business intelligence. Currently, most companies rely heavily on human intelligence to interpret, anticipate and intuit information in ways that machines cannot. In the increasingly near future, the intelligence generated from company data assets such as infrastructure, IT systems and say inventory, may surpass human insights as organizations' prime source of business intelligence.
AI can achieve all this and more because it can continuously learn and relearn the data, tracking trends and shifting customer behavioral patterns so it can drive innovation within financial services and enable better targeting in your digital marketing campaigns. As well as harnessing the power of big data to create new financial service products, AI is also helping to upgrade existing ranges, while constantly analyzing the market and identifying gaps to be filled with new financial service offerings.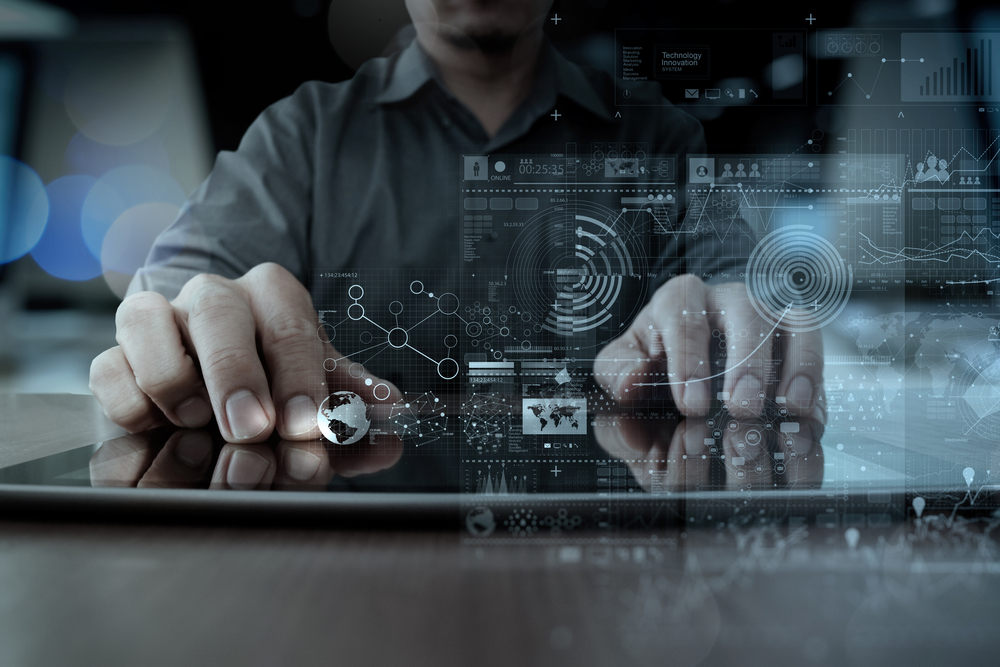 Using data the right way can help inform your marketing strategy.
Upgrade your digital user experience and UX Design
As the majority of customer interactions are digital and device-based, it has never been more important to offer a flexible, personalized and consistent online user experience. Fintech disrupters have led the way in offering more agile and adaptive interactions that directly respond to customer criteria, behavior and desires. Engaging customers with bespoke products and services that speak to them on their terms via their favored channels is more important than ever, in order to strike up strong and enduring consumer relationships.
How are key fintechs improving their user experience?
Revolut – is a UK-based financial services company offering the opportunity to open an account online in 60 seconds with no more than a European ID and a smartphone, transfer money in 25 currencies using real transfer rate and allow customers to spend abroad fee-free in over 150 currencies with a contactless Visa or Mastercard. Beyond its great services, Revolut deftly developed its UX design to offer customers a remarkable user experience by considering modern aesthetics on its interface, playing with colors to stimulate customers' sense of safety, paying attention to small details and tech added features, and especially by making the user experience smooth and effortless.
Klarna – is a Swedish online payment platform aiming to revolutionize the payment experience for shoppers and merchants alike with payment solutions for online storefronts, direct payments, post purchase payments and more. Klarna offers online consumers the option to pay now, pay later or over time with a simple, safe and smooth checkout experience. This established financial company managed to become a fintech disruptor by developing playful UX features and intuitive design based on its core branding message of delivering a smooth experience.
Mint – allows you to take greater personal control of your finances by tracking bank, credit card, investment, loan balances and transactions as well as create a budget and set financial goals from a simple to use, visually appealing single user interface. But beyond this great product, Mint critically delivers trust through the creation of emotionally intelligent design by making the platform simple, responsive and effortless to help users get things done, as well as by exploring 3D designs in opposition to the usual flat design companies implement.
Oscar – aims to revolutionize the health/insurance sector with an optimized user experience, health care plans and benefits that are easy to understand, plus added features such as smart watches and fitness monitors that save you time, alongside health insurance premiums that save you money. Interestingly, this growing insurtech company valued not only the creation of great UX design but also the significant use of prototyping, exploration and testing in the development of its most relevant UX features.
Make changes that transform your user's experience today
To stay ahead of these fintech leaders, don't run the risk of being left behind. Many long-established institutions have been successful in disrupting their own corporate culture with greater online user experience and with more customer-centric UX design when developing digital apps and online services. So, engage customers with innovative technologies such as app-based interfaces, upgraded UX design and digital user experience, without forgetting to use digital behavior analytics tools such as Hotjar to track how users behave on your platforms and optimize the experience.
Learn the lessons of disruption
Financial services marketers must embrace change or become dinosaurs. Products and services are no longer profit centers, customers are. So, operating on their terms, engaging them on the channels, media and devices that suit them best has never been so vital. Every point of the customer journey must be treated as an opportunity to gain deeper insights into their activities, outlook and attitudes so that communication can be ever more intimate, synchronized and personalized.
Technologies can be harnessed to improve customer experience beyond recognition, creating more meaningful, consistent and acutely relevant interactions at every stage. Customer-centricity must emanate from the inside out of every company that has designs on the future of financial services. It must be at the core of your culture, informing every decision across the board however big or small the business. The key to delivering optimized customer experience with your financial products and services will be the effective use of big data and automated marketing, personalization using digital marketing tools and AI to optimize existing technologies, plus smart UX design to synchronize the experience across all brand touchpoints.
Read more: 5 steps toward a customer-centric experience in the financial services industry
Financial Services Marketing
Need help marketing your financial services brand?
UP for Financial Services knows that selling products or services is the end game. But building lasting and friendlier brands with customer-centric approaches is paramount. We help you deliver value-added services and create messages that focus on important issues such as internal engagement, diversity and inclusion, and corporate responsibility.
Plan your marketing approach using strategic expertise.