With the importance of diversity equity and inclusion becoming more and more important in the corporate world, we spoke to one of the fastest growing Tech HR companies, Teamtailor, about their new unbiased approach to recruitment.
What does unbiased recruiting mean?
A strategy that's been adopted by the likes of Deloitte and the BBC, 'unbiased recruiting' or 'anonymous hiring' seeks to eliminate both conscious and unconscious bias amongst job applications by removing personal details such as gender, age or cultural heritage. Candidates are judged purely on job-specific skills with the intention of generating higher levels of diversity and inclusion in the workplace.
Such theories have encouraged Swedish HR tech company, Teamtailor, to address the issue of biased recruiting. With over 3,000 clients and 100,000 users such as HBO Europe, Paperchase, Daniel Wellington and iZettle, Teamtailor enables companies to attract and manage candidates in one platform, while creating a career site to elevate a company's employer brand. Teamtailor is known for its frequent product updates and in March 2020, the tech company added a new feature to enable companies to screen candidates without pre-existing bias or prejudice.
How does anonymous hiring work?
In Teamtailor solution, the names of candidates are replaced by colours and animals to form a neutral ground and remove any clues regarding personal details. As a result, the aliases make it possible for the recruiter and his or her team to discuss the same candidates without knowing the real name. If the user requires applicants to upload a CV, then Teamtailor will automatically remove names, pictures and personal information, whilst keeping all the relevant information about the candidate's experience. This can be applied at any stage of the recruitment process so the recruiter is able to focus solely on the skills necessary for the role.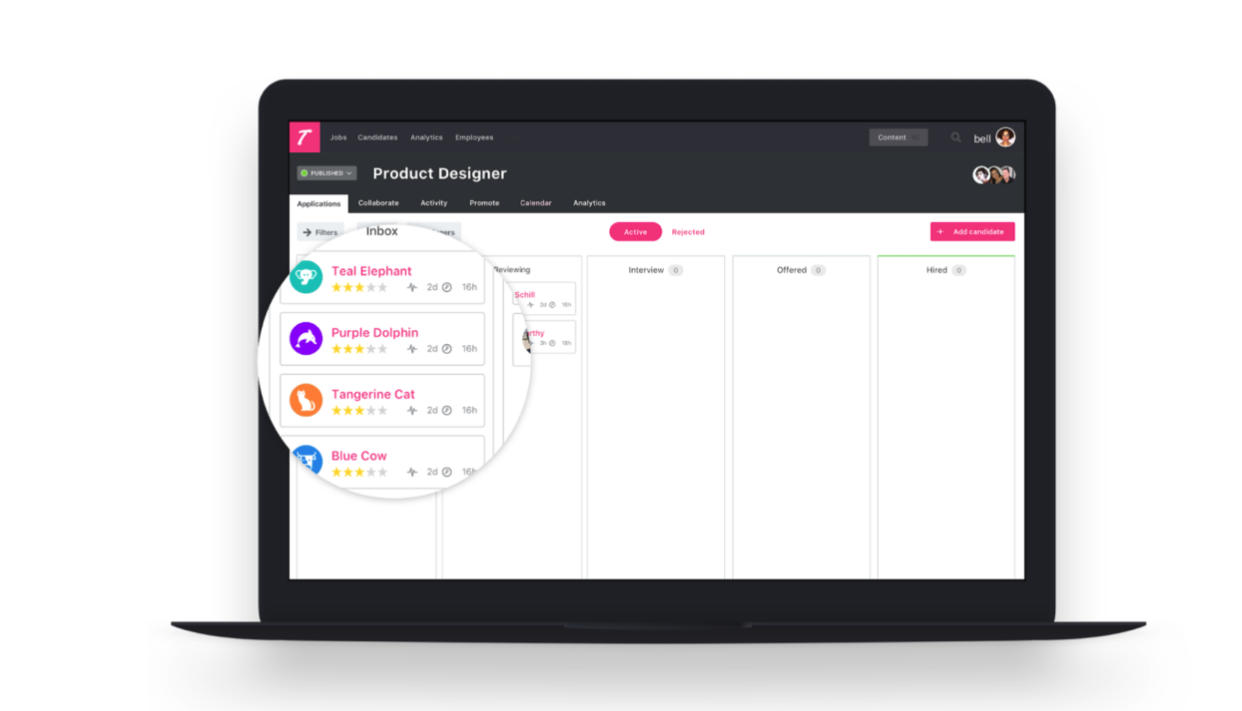 Candidate names in Teamtailor's applicant tracking system are replaced by those of coloured animals to remove prejudice.
Encouraging workforce diversity
A study by McKinsey and Company illustrates that diverse workforces are likely to perform better.
"Companies in the top quartile for gender diversity are 21% more likely to financially outperform those in the bottom quartile. For ethnically diverse companies, the likelihood increases to 33%."
Ultimately, this demonstrates a company's vision and aims to uphold equality and anti-discrimination in the workplace.
In reality however, discrimination and bias cannot be avoided completely. Businesses are aware that bias will naturally manifest during the latter stages of the recruitment process, particularly with face-to-face interviews. As a result, some claim that it's imperative to eliminate discrimination in the initial stages of the recruitment process, in order to allow candidates a chance to get a foot in the door.
Anonymous or non-anonymous hiring
Teamtailor have considered these views by providing users the option to keep the candidate anonymous throughout the duration of the recruitment process, or just in the initial stage of screening. Therefore, when the user moves a candidate to a stage that's not in 'Anonymous mode', the candidate's information will be shown instantly. In other words, the user still has full control over how much information can be viewed about a candidate.
So we're impressed, what do you think?
Bye for now......
Yellow Giraffe!