From start-ups to established companies updating their branding to large international corporations aligning a number of companies or brands under one umbrella, we (at UP) have seen it all when it comes to identity rollouts – including some failures. As a result, we've learned a thing or two about why some brands are able to successfully rebrand themselves or roll out a hugely successful branding campaign, and others aren't. We're happy to share some insights.
Doing great work isn't enough
You can follow a diligent process, conduct sound and thorough research, develop a great strategy and create a beautiful identity and communications plan, but it will all mean nothing if your company's own team doesn't believe in it.
It's unfortunate, but a lot of great brand projects don't create the impact that they could have. What are some of the reasons that brilliant and insightful brand work fails to deliver on expectations?
Having worked on countless brand launches, here are three reasons we see that brand work often fails:
1. Lack of internal buy-in and engagement
Launching a successful brand goes beyond creating a PowerPoint and handing out a brand book with a new logo. Your internal team needs to get behind the new brand completely. This should come from the top down, as well as the bottom up. Your team should be able to feel connected to the brand. To feel proud of it. To want to be part of it. If that doesn't happen, you can be sure your brand will flop.
Jockum Lerenius, a management consultant at UP, offers some insights on how companies can bridge this gap between ambition (new brand direction) and action (implementation within the organization):
"

To maximize the investment made when defining a new brand direction, it is crucial to start making a change where it truly has an effect – with the people who make up the organization and form the company's culture and values. Different organizations have different needs, but often the level of dedication in the implementation phase is a defining line between success or failure."
2. Not considering branding beyond the logo
A strong brand direction should act as a filter for your entire business. As you know, brand perception isn't only affected by your logo. The small things like how customer service answers the phone, the packaging the product comes in, and the type of people the company employs matter, too. All of these should be touched by a new brand direction and become part of the overall brand image.
Have you considered how your brand comes across in the way your team describes their jobs, your products and success to each other?
Are your outbound and inbound messages hitting the right notes?
Do your website (and contact forms) carry through your brand identity?
Does the product design and packaging reflect your brand's essence?
3. Too many internal barriers and lack of processes
Agencies often deliver strategic PowerPoints, identity manuals and brand films and expect clients (often marketing teams) to manage a brand rollout or change process by themselves. At UP, we don't think that's good enough. A thorough and successful brand launch or rebranding needs internal collaboration across silos and smooth processes that educate and engage while delivering materials.

A recent brand launch for a life science client gained

real momentum when improved internal processes were mapped out

by UP consultant, Niclas Tunebro. "Getting communication approved quickly and smoothly in Pharma and Life Science is always difficult. I interviewed legal, medical and regulatory teams, as well as corporate and marketing functions to map out everyone's needs," said Niclas. "Then, having mapped out a process, it took two workshops and some tweaks to set the final best practice way of working, which we are now piloting."
"It's an amazing difference to see medical and marketing teams that were competing and fighting for attention to now have a much more friendly and productive way of working. It will make the client's job of getting their message out much simpler. It will obviously make the UP content team's life much easier too!"
Read more: Developing a brand identity for Wellspect
Internal launch before external launch
At UP, we always recommend spending time and effort on the internal launch before doing the external brand launch. It's all about brand engagement. We've done it for multiple clients and implemented many such programs globally. These wildly successful internal launch programs and workshops help the company's team gain buy-in and understanding, and help them connect to the new brand identity, values and direction.
We call this area UP FOR PEOPLE. This is our specialty group that helps to get your own people fully engaged with your brand identity before it hits the external marketplace.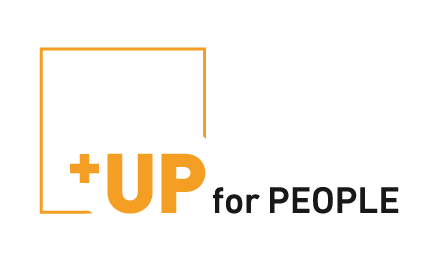 Organizing your internal launch
Bringing in management consultants and inspirational speakers might not be needed on all your projects, but when working on a totally new brand positioning or direction, you should plan to engage your entire team and spread the launch program through your entire business.
What are the implications for your organization? In some cases, a simple workshop with a whiteboard is enough to map out the changes that need to happen across the company — with or without external help.
Below are two very simple exercises UP does after delivery of a new brand identity to help develop implementation steps.
First, we sit down together with a white board and highlight the obvious things that shift with the new brand direction but also highlight other elements that you know will need to change. In this step, we work with Post-It Notes to get everyone's input.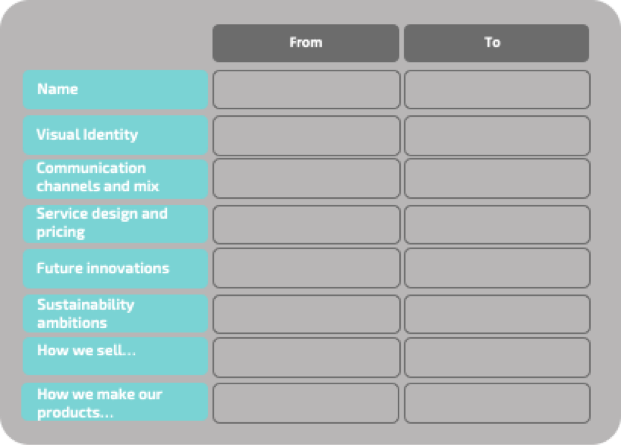 Next, we create a calendar to map out the different steps and elements that need to be designed and developed to truly implement the brand work. We highlight in different colors various areas such as design assets, communication, digital, culture and organization.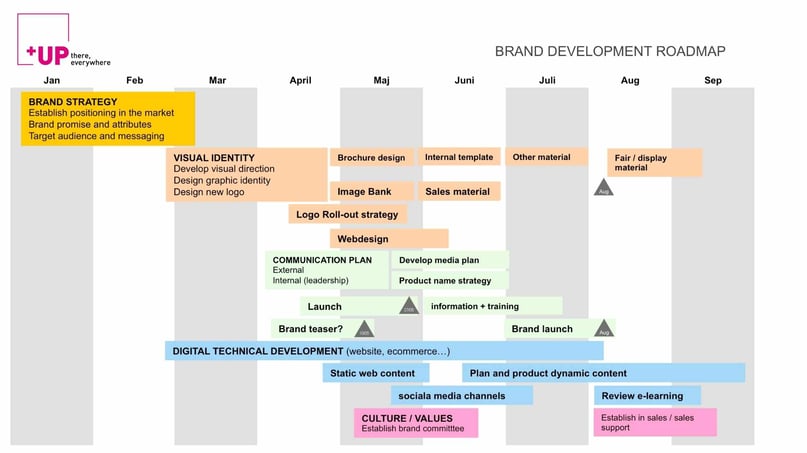 Both of the exercises take approximately 2-3 hours. You won't solve everything, but you will create the start of a robust process that puts things on the right track.
Outlining the changes needed and materials required to deliver a successful brand launch are important next steps after creating a new brand identity. Don't think you can skip them if you want to ensure a successful and long-lasting brand.
How well is your brand working?
Want to know more about internal brand workshops? Contact us.