The first China International Import Expo (CIIE) in Shanghai, just held November 5-8, 2018, aims to support trade liberalization and economic globalization but might result in the process of reshaping the global trade in the end.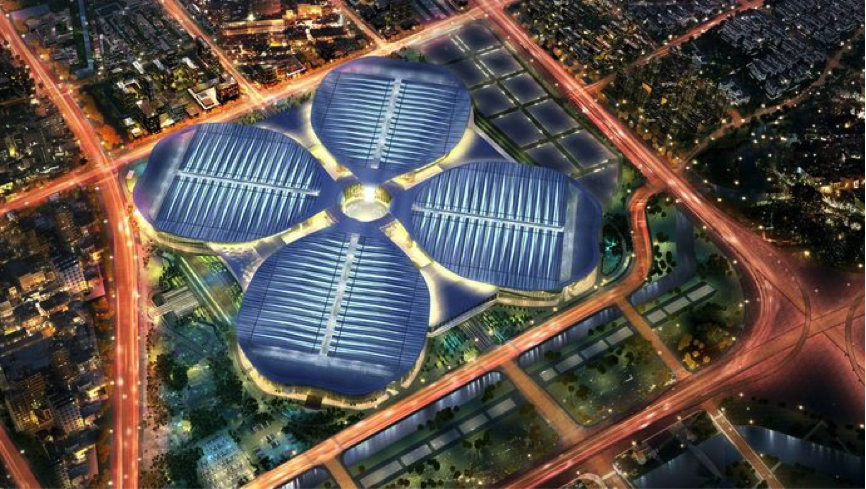 Based on the latest data released by the China International Import Expo Bureau, a total of 172 countries, regions and international organizations, 81 countries, and more than 3000 companies have showcased their latest products and services at the China International Import Expo.
Around 150,000 domestic and foreign professional purchasers including Chinese enterprises from the whole country and merchants from other countries have participate in the Expo.
So, what is the Expo doing and are you in one of those areas to showcase?
Besides the Country Pavilion for each country to exhibit their achievements in trade and investment, the Expo focuses on corporations and enterprises to showcase goods and services.
The section of trade in goods includes 6 exhibition areas:
High-end Intelligent Equipment
Consumer Electronics & Appliances
Automobile
Apparel, Accessories & Consumer Goods
Food & Agricultural Products
Medical Equipment & Medical Care Products
The section of trade in services comprises Tourism Services, Emerging Technologies, Culture & Education, Creative Design and Service Outsourcing.
What underlying messages can you see from the event?
Opportunity, threat, or both? To different audiences, there are different implications.
1) Increased competition for exporters.
Say if you are a Swedish exporter of medical and pharmaceutical products, you might need to be more cautious now. You might need to prepare for increased competition. You probably have enjoyed fairly easy growth over the last 5 years, as China's aging population has created a growing market for Swedish healthcare products.
According to figures from the National Board of Trade (Kommerskollegium):
Swedish exports of medical and pharmaceutical products have doubled and increased from 5.4 billion kronor in 2013 to just under 10 billion kronor (€941 million, $1.1 billion) in 2017.
But things are changing. New competition is approaching.
Finland has sent 91 companies to Shanghai to promote industries such as new energies, natural resources, water treatment, and tourism services through the platform, according to Jan Wahlberg, consul general of Finland in Shanghai.
A total of 170 German companies have participated in this year's CIIE, according to Thomas Koenig, Director East Asia of DIHK.
Nearly 120 Australian companies with more than 150 brands have come to Shanghai, according to Brent Moore, trade commissioner of the Australian Trade and Investment Commission. The areas cover food and agriculture, consumer goods, medical and health products, technology, tourism, and education services, where Australia is globally recognized.
So, if you have been exporting medical equipment or life science products to China, things may be changing. CIIE brings the world's best products and services to showcase and to get purchased. Your neighbors and competitors, through CIIE, might grow faster than you if they find the right product niche and pick the right marketing strategy going into China.
2) Rapid growth in China is real
If you have not yet gone into China and you are thinking about developing this new market, a huge Chinese domestic market as well as the rapid growth of consumption and import is waiting for you!
With the world's largest population, China is the second largest economy as well as the second largest importer and consumer in the world. China has now entered a new development stage on which consumption keeps increasing, indicating enormous potential for the growth of consumption and import.
In the next five years, China is expecting to import products and services valuing more than 10 trillion U.S. dollars, which provides a historic opportunity for enterprises across the world to enter the huge Chinese market.
Let's take a look at the example of Jiangsu Province, one of the 34 Chinese provinces, regions and autonomous cities who are planning to come as a purchaser to the Expo. You will get a feel about the strong purchasing demand from a large number of professional purchasers just from within China.
At least 10,000 companies and institutions from Jiangsu have applied to take part, the most of any province nationwide, the principal of the secretariat of the Jiangsu trade delegation said. The main delegation will also organize 6,000 key import companies and trade circulation companies to conduct procurement activities at CIIE. Some 278 provincial firms plan to purchase commodities worth over CNY1 billion over the next five years according to data from Jiangsu companies that have applied to take part. Some 1,416 companies would like to purchase commodities worth between CNY100 million (USD15 million) to CNY1 billion.
The above figures and examples show, China is undoubtedly one of the largest fast-growing markets in the world, especially in areas such as eco-friendly, new technologies, life sciences, etc. You definitely should not miss the opportunity to expand your business to China – especially now!
To conclude, with the opening of China International Import Expo which facilitates the launch of larger and larger scale of new Chinese domestic demand on high quality products and services from the whole world, the new trend of global trade will gradually emerge.
It is time to embrace the change and future and get prepared.
However, China has a very unique market situation, unlike the rest of the world. For example, China has its own digital marketing ecosystem which no other countries have.
Contact us and we will help you bridge the gap between the Chinese market and your home market, find the best solution for you to enter the new market, do digital marketing, social media marketing and brand building in China and Asia to realize your strategic goals.