With the World Economic Forum ranking climate action failure as the top global risk, the urgent requirement for governments, businesses, and people to act remains ever present. This heightened call to action is particularly relevant to the tourism industry. The sector is increasingly coming under scrutiny from environmental organizations claiming that tangible initiatives are lacking.
According to a 2018 Nature Climate Change report tourism is estimated to account for around 8% of global greenhouse gas emissions. Sustainable travel is gaining momentum due to ever-increasing concern for the damaging consequences of tourism on the environment (let's not forget the images of mammoth cruise liners descending on the delicate city of Venice).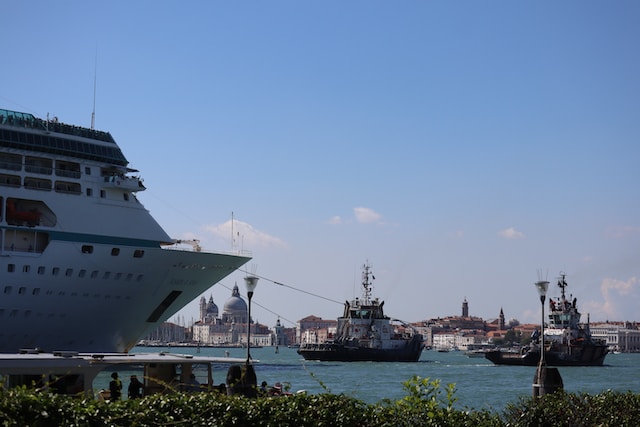 Photo by Miranda Salzgeber on Unsplash
According to the World Tourism Organization (UNWTO) "In recent years, sustainability has emerged as a critical concern that must be addressed in any viable tourism development strategy."
The UNWTO defines sustainable tourism as:
"Tourism that takes full account of its current and future economic, social and environmental impacts, addressing the needs of visitors, the industry, the environment, and host communities."
The Covid-19 pandemic led to many people's holiday plans being canceled or postponed and the restrictions gave way to the rise of the "staycation" - especially in the UK. Media coverage highlighted the positive effects that the travel restrictions had on tourism hot spots and particularly on their natural environment.
For many people, this period prompted them to consider the carbon footprint of future vacations. Current statistics indicate that more than 81% of global travelers consider eco-travel to be important. And YouGov research shows that 53% actively consider it when making travel plans.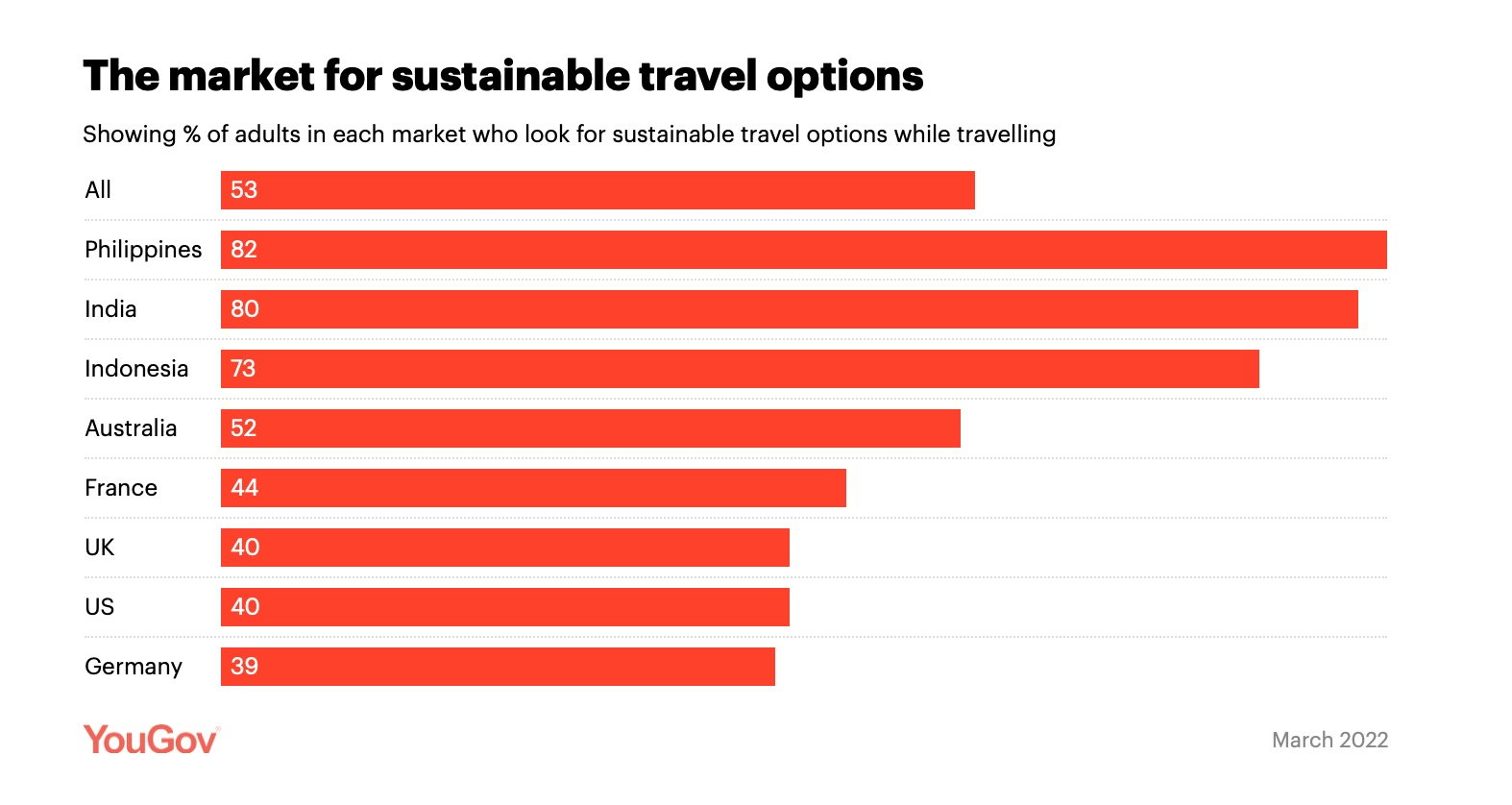 Of course, there are small practical actions that travelers can take (which if everyone followed suit would soon add up) such as opting for hand luggage and refraining from using single-use plastics. However, such is the scale of the environmental crisis, that much more is needed – and it's needed now.
Carbon offsetting
The voluntary carbon market is an industry that's frequently scrutinized by the media and climate change activists amid claims of promoting "greenwashing." Critics argue that purchasing carbon credits enables companies to simply offset, as opposed to actively reduce their emissions. However, the industry is growing, and at pace.
A 2022 report by National Geographic found that over a third of Americans would pay extra to offset their flights' CO2 emissions. Sustainable Travel International offers a calculator for travelers to calculate their emissions (for flight, vehicle or boat travel) and to purchase credits to offset said emissions. The credits are used to support clean and efficient energy programs and to improve forests and biodiversity.
Transport - Aviation
Jet Zero…
Aviation accounts for approximately 2% of all global emissions (according to Xavier Font, Professor of Sustainability Marketing at the University of Surrey). Despite reports of innovative alternatives to fossil-fuel powered jets, scientists in a 2023 World Society report warn that guilt-free flying is a long way off.
Switching to sustainable fuel is key to the UK government's aim to reach "jet zero" flying by 2050. However, the Royal Society's report concluded there is currently no single, clear alternative to traditional fuel.
So… how are airlines currently playing their part in tackling climate change?
British Airways (BA)
BA was part of the first airline group in the world (IAG) to commit to becoming carbon net zero by 2050. As part of their climate change strategy (which focuses on implementing a circular economy) the airline has:
Offset carbon emissions on all UK domestic flights since 2020, making these flights carbon neutral

Developed its CO2llaborate platform – international travelers can calculate and act on their carbon emissions by choosing from a range of products, including carbon offsets and Sustainable Aviation Fuel (SAF)
Invested in new, modern aircraft that are up to 40% more efficient than their predecessors
Formed partnerships to support the development of SAF, zero emissions hydrogen-powered aircraft and carbon capture technology
Eliminated single-use plastic and reduced food waste.
Virgin Atlantic
There has been considerable hype around plans for this year's Virgin Atlantic Boeing 787 flight from London to New York. This flight will be powered entirely by fuel primarily made from waste oils and fats. The journey has been billed as the first ever net zero transatlantic flight.
Virgin's corporate website profiles the brand's commitment to achieving net zero carbon by 2050. It highlights the company's efforts to-date which include:
Operating one of the youngest twin-engine fleets in the skies ​
Being a founding member of UK aviation's Jet Zero Council
SAF partnerships with producers such as Neste, LanzaTech and Air Company.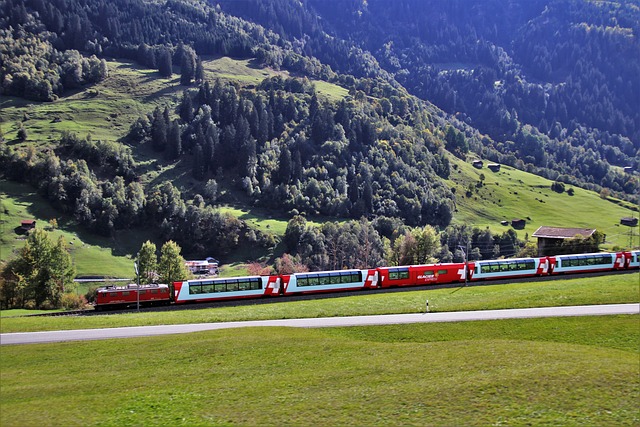 Train travel
Trains have long been proven a far greener option than taking flights and car journeys. However, the cost of traveling via rail often proves a barrier for many considering a staycation or interrailing. Hence the recent launch of several low-cost rail firms looking to provide people with greener options, albeit at competitive prices.
One example is the UK's East Coast provider Lumo - a brand new travel service operating a 100% fully electric fleet of high-speed trains. Its sustainable initiatives include being 100% digital and offering a 50% plant-based menu.
Eurostar's services travel between London, Paris, Lille, Brussels and Amsterdam, and the company aims to leave the lightest carbon footprint feasible. Eurostar's research "All About Emissions" highlights that one flight from London to Paris equates (in carbon footprint terms) to 14 Eurostar journeys and nearly 60% of carbon emissions per passenger compared to 4kg for the Eurostar journey.
Rail Europe's website features a carbon calculator showing would-be passengers how much carbon they'd save by taking the train.
Tour operators
Many holiday companies are reviewing their business models and supply chains to ensure that they are playing their part in climate-related goals. Consumers are all too aware of "greenwashing", so operators need to ensure their claims are verified. Take B Corp Certification for example, Several tour operators including Intrepid Travel have already achieved the coveted B Corp Certification.
Intrepid Travel
The eco-conscious tour operator places "responsible business" at the heart of its business model. The company invests in supporting local communities, promoting human rights initiatives and funding wildlife conservation projects.
"We're all about operating in a responsible manner and incorporating principles of sustainable tourism and development into the way we provide our travelers with real life experiences. These values are more than just words; they're ingrained in the culture and daily operations of every Intrepid office and trip."
- Intrepid Travel
For travelers booking accommodation directly, there are now many eco-friendly booking sites to consider. These include goodwings.com where people can calculate their carbon emissions based on their selected travel plans. The calculation includes emissions from transport, transfers, hotels and even meals.
Companies supporting local communities
There's been a significant increase in operators offering eco-friendly tours and holiday packages. Many also now promote trips that create positive social impacts.
Take Responsible Travel for example, a brand that has been "pioneering responsible travel since 2001." The forward thinking company offers a range of community-based vacations – people can volunteer with elephants in Thailand or work with impoverished people in Kenya.
Authenticitys promotes holidays with social responsibility at their core. Activities include ''Paddle Surf the Beach Clean'' in the tourist hotspot Barcelona. Environmentally-aware travelers take to the water on Barceloneta beach whilst learning about the city's pressing environmental challenges and assisting with the NGOs efforts to clean up the beach.
What eco-friendly measures has the hospitality industry enacted?
People are increasingly seeking accommodation providers that can tangibly demonstrate their commitment to their climate related pledges. For many travelers, a glossy website and mention of the odd environmental award no longer cuts it. The eco-conscious traveler seeks substantiated verification. Currently, a universal set of criteria for officially recognizing properties as eco-friendly doesn't exist, so environmentally savvy travelers often resort to their own research. Publication of a company's Environmental Report is a good place to start, as this is a sign of the company's transparency (the report lists a company's energy consumption and waste water levels).
In recent years, many of the big players have adopted the following eco-friendly measures:
Sourcing local, in-season food and donating surplus items to food banks
Reducing (or in some cases eliminating) single-use plastics
Moving to more energy efficient operations.
Hilton
Hilton was the first major hotel chain to set science-based carbon targets aligned with climate science and the Paris Climate Agreement (and approved by the Science Based Targets initiative (SBTi).
Since 2009, the company has used their award-winning LightStay system to measure, report and improve their environmental impact across their global hotel portfolio.
Hilton also operates innovative programs focusing on water stewardship, energy efficiency and waste reduction in order to further lessen its environmental footprint.
Marriott
Marriott claims that sustainability is embedded into all aspects of its business strategy - from its sustainable supply chain management through to the design and build of its hotels.
Guests seeking an eco-friendly option could consider Marriott's Hotel U14 in Finland. The Helsinki based haunt operates solely on green energy, embraces zero-waste policies and provides locally-sourced gourmet food. Guests can reside in a constantly evolving organic living space, where they'll come closer to comprehending why Finland is often named the world's happiest country.
Ultimately, unless drastic action is taken, the devastating effects of climate change are only set to intensify. As such, people's awareness of their own social impact will increase, so it's vital that the tourism sector adapts accordingly - and at pace.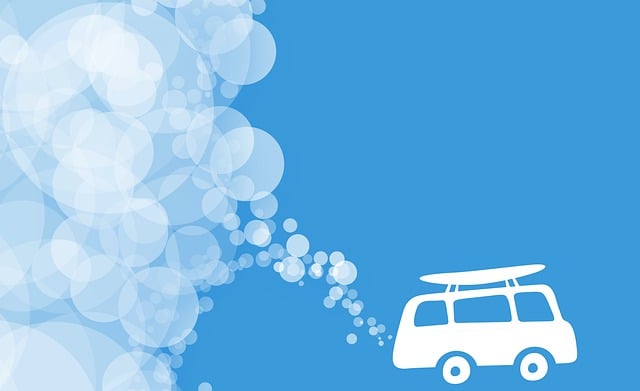 UP FOR GOOD can help you refocus your CSR strategy, so that it naturally integrates your social and ethical ambitions. Contact UP for help building sustainable brands and creating a better world. Together.
Interested in reading more of UP's sustainability-related blogs? Please click here to learn more.