An emerging term for the new workforce is the "gig economy," or "flex economy." As of 2015, the average business' workforce consisted of 20 percent contingent workforce and 54 percent traditional full-time employees. The remaining 26 percent consisted of a gray area of people who fit into both categories; perhaps remote workers or part-time employees. Predictions say this will only rise in the coming years.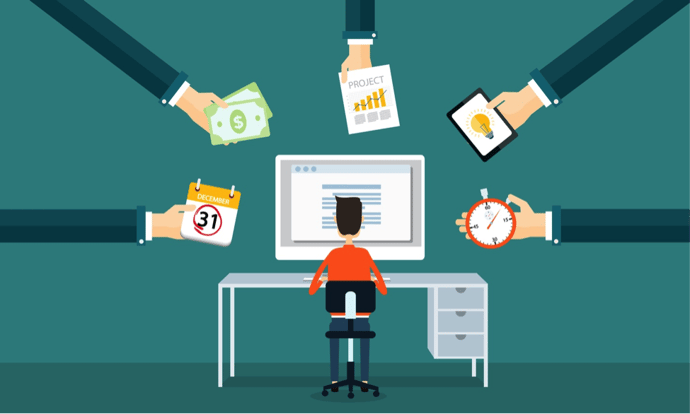 Online marketplaces such as ELance, freelancer.com and ODesk (now called Upwork) (not affiliated with UP THERE, EVERYWHERE) enable freelancers to compete for short-term work assignments, and it's an idea that's taking off. Etsy's website hosts more than 1 million sellers on their online marketplace. The short-term accommodation platforms Airbnb, Love Home Swap and onefinestay collectively have close to a million "hosts". This dramatic rise of entrepreneurial ventures points to an overall change to the economy.
Why companies are joining
PwC has launched "Talent Exchange", an online platform that links freelancers with PwC projects. Freelancers register, upload their CVs, then apply to work on the firm's client projects. According to Bob Moritz, the firm's new global chairman, the purpose of Talent Exchange is to give PwC the ability to "bring in the right talent in the right place at the right time."
The timing supports this action with more people choosing to take temporary or freelance positions and short-term contracts. Utilizing an external workforce can offer a variety of benefits for companies, such as keeping down costs, finding specialists or high quality workers or adding talent to a project under time constraints.
"The changing needs of today's workers, the war for talent and the globalization of the workforce are just a few reasons that today's technology is evolving so rapidly. All of these forces are driving workforce management to the top of the business agenda, especially as talent becomes a true differentiator for organizations," says Arun Srinivasan, senior vice president of Strategy and Customer Operations of SAP Fieldglass.
Why freelancers are joining
Freelancers are flourishing in the gig economy. Work-life balance is rated as one of the number one priorities by employees. Freelancers are able to manage their own schedules, make their own priorities and get the work done on their own terms. It allows employees to work around their other commitments and activities.
The gig economy also allows independent contractors to work from anywhere in the world with companies or colleagues from different countries and cultures. The exciting opportunities are not only encouraging current freelancers but also stimulating full-time employees to make the jump.
How the gig economy is growing
The biggest source that companies use to find this new class of talent includes online labor marketplaces, freelancer networks, job boards, "in network" talent and social media. Employers can search profiles, post opportunities and quickly connect with candidates without much effort or expense. These networks also offer employers a resource to find workers with specific skills they need for a project.
As the gig economy grows, businesses can expect more software support and products such as Freelancer Management Systems (FMS). These products efficiently manage and integrate non-traditional employees into the traditional employee systems. Business is always changing and the opportunities of the gig economy greatly out way the adjustments needed to get these
Ultimately, what companies are recognizing is that the gig economy "affords companies access to pre-screened, pre-trained workers with niche skills, who can get to work quickly and stay on only for as long as they are needed. And, as a company's needs change, an external workforce can be scaled up or down quickly," said Srinivasan.
ARE YOU READY TO JOIN THE GIG ECONOMY?
Read more about UP's model, which we call E-ployment.