There is more to Content Marketing than just bombarding the world with your content. You need to be savvy in your choice of content, channel and timing. And you need an ongoing process that delivers results and fits your organization. Inbound Marketing helps you form that strategy for your Content Marketing.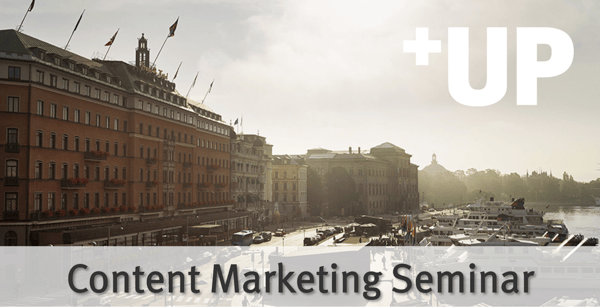 Grand Hôtel, Stockholm
November 17th, 13.30 -17.00, 1950 SEK per person.
Seats are limited, so apply early.
The seminar date has passed. Get the free State of Inbound Report.
Why Inbound? What's inbound vs. outbound?
Digital communications and the Internet have fundamentally changed the way we find and trust in information. We describe what inbound marketing is, compared to the bad old days of outbound marketing.
Personas – get to know the people who are important
One of the key steps in designing an inbound strategy is deciding on who you are trying to engage. Inbound is like a relationship, and therefore content has to focus on what interests them – not on what interests you.
The keys to effective content
Now that you have identified your personas, it's time to figure out what are they interested in. We look at the keys to developing effective content.
Designing content to meet the needs of your audience
Some companies stalk their website visitors by calling them as soon as they subscribe to the blog. That's not a great way to get people to engage with your brand. We present a simple model to help you decide what content is needed when – and how to think about converting people from one stage to the next. We also look at created, curated and re-purposed content.
Promoting through social media channels
Facebook, Twitter, Google+, Pinterest, LinkedIn, YouTube – there are loads of social media channels out there. We help you think about what channels make the most sense, and what gives you the leverage for spreading content to your audience.
Marketing automation and measurement
Metrics from marketing automation take away the mystery by informing you of what works and what doesn't. Marketing today isn't so much of a project as a process. Optimizing over time is the key to success.
This seminar date has passed.